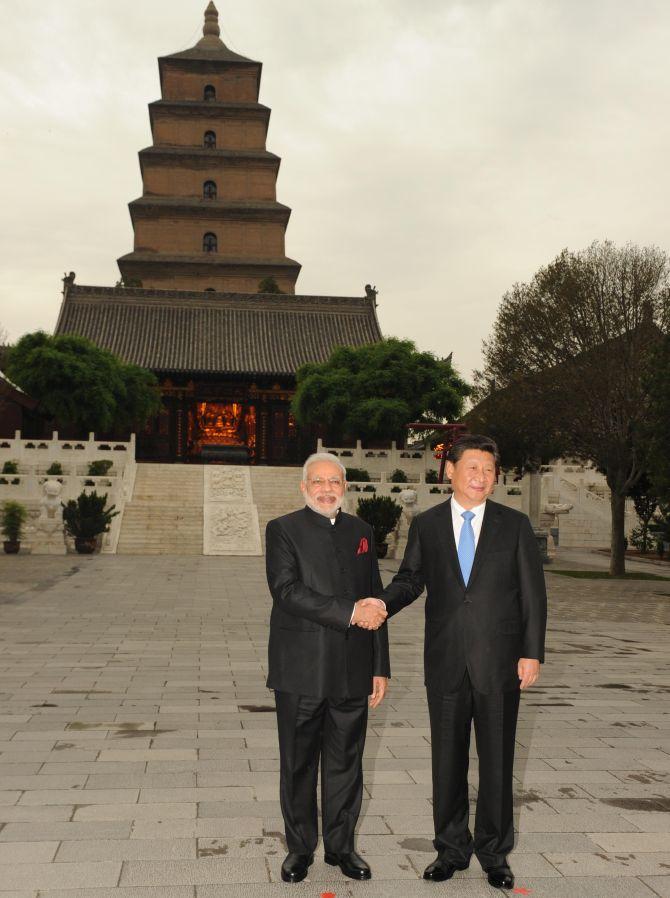 If the chemistry between Modi and Xi goes well, it will herald a new future for the world, says Tarun Vijay, mp.
Prime Minister Narendra Modi is going to make history in China through a pragmatic approach to achieve strategic goals.
No other Indian prime minister was so empowered like Modi -- he enjoys a majority in Parliament, unquestioned popularity and the trust of a billion people that powers him to make out of the box proposals. Chinese President Xi Jinping is in a similarly strong position. If the chemistry between two most powerful leaders goes well, it will herald a new future not just for the region, but for the world.
India and China have a long history of cultural interflow and friendly interactions dating back at least last 23 centuries. Under the Tsin dynasty in 217 BC Buddhist scholars from India went to the Chinese capital. In 138 BC, Chang Ch'ien, the Chinese emperor's envoy to India, took back musical instruments and Maha Tukhara melodies to the Chinese capital Ch'ang-an. The Yuechi rulers presented Sanskrit texts to the Chinese court in 2 BC.
The first historically owned Buddhist masters arrived in China in AD 67. Kumarajiva, born of an India father and a Kuchean princess, educated in Kashmir and Kashgar reached Chang-an in 401 and stayed there till 412 AD. He translated 106 works of Sanskrit into Chinese, the most outstanding one being Saddharma-Pundarika-Sutra or the Lotus Sutra.
This is a great work of literature containing the core of Buddha's teaching of compassion. China has many grottoes that rival Ajanta in their synthesis of India suppleness and Chinese grace. The sandy city of Tun-huang has the sacred grottoes of Ch'ien Fo Tung or the Caves of the Thousand Buddha.
A stone tablet of the Tang dynasty states that the first 'Cave of the Unequalled Height' was constructed by an India monk in 366 AD. In 828 AD, Emperor Wen Tsung had an image of Avalokiteshwara set up in all the 44,600 monasteries of the empire. The Chinese pilgrims to India like Fa-hsien, Wang Hsuan-tso, I-tsing and others have bequeathed historic records which are invaluable for an understanding of India's cultural and political history of those times.
It is a great history and civilisational bond, rare to find with any other country. Except for the brief 1962 war, there has never been a history of animosity or conflict between the two great civilisational and modern States of China and India.
In modern times, India was second amongst the non-Socialist countries after Burma (Myanmar), to extend official recognition to the People's Republic of China on December 30, 1949. Thereafter, diplomatic relations were established on April 1, 1950 and a trade agreement signed on April 29, 1954.
The famous five principles of co-existence --Panchasheel -- was signed during then Chinese premier Zhou Enlai's India visit in June 1954. These principles are accepted as the basis for any future cooperation and resolving disagreements by the governments of both the countries.
After the 1962 war the two countries restored ambassadorial-level relations in 1976 and K R Narayanan was nominated as India's first ambassador to Beijing. Atal Bihari Vajpayee, as minister for external affairs, visited China in 1979 marking the resumption of high level exchanges and it was during this visit that the route to the holy places of Kailas and Manasarovar was agreed upon to be opened for Indian pilgrims.
In 1988, then prime minister Rajiv Gandhi visited China marking the resumption of talks at the highest level. The two sides decided to set up a joint working group to discuss and resolve the boundary question. Since then, President R Venkatraman visited China in 1992, then prime minister P V Narasimha Rao in 1993 and then vice-president K R Narayanan in 1994.
From the Chinese side then premier Li Peng visited India in 1991 and then president Jiang Zemin in 1996, during which an agreement on confidence building measures in the military field along the Line of Actual Control on the India-China border was signed. The two sides agreed to work towards a constructive and cooperative relationship oriented towards the 21st century.
Vajpayee, as prime minister, heralded a new era by paying a six-day visit to China in June 2003. He announced in Beijing that, 'As the world's two largest and most populous developing countries, India and China need to remain in close touch on major issues of global concern and cooperate. This has been the spirit of all the leaders and parties in India and also on the Chinese side to enhance the level of interaction, to strengthen the friendly bonds and to work relentlessly to resolve issue of disagreement through peaceful dialogues alone.'
It really looks unimaginable how soon and fast both countries have got involved in economic, cultural and academic activities and taken the level of bilateral trade beyond $20 billion (about Rs 1.26 lakh crore).
From Jiang Zemin's India visit in 1996 to Modi's China visit, India-China relations have moved a great deal and the political scenario has changed in Beijing and Delhi too. The two nations have emerged on the world radar as major players influencing events and the authoring the future course of the planet like never before.
The Chinese hunger to gain more knowledge, more military power, more prosperity and definitely a decisive say in global matters has become the most significant stories of our times. Chinese cities are bubbling with unprecedented activities of resurgence, the economy is booming, new city centres and special economic zones are being created, students are finding new universities focused on special niche subjects, everyone from everywhere is invited to invest in China, make money and at the same time transfer technology.
Chinese entrepreneurs are set to take over even the US car industry replacing the Japanese and from African countries to the Indian region, their presence is increasing each day if not overshadowing others completely.
Relations between the two nations depend more on the perceptions of the people and leaders. We have seen these days, the Chinese and Indian people moving closer very fast and nowhere do we see any animosity or the burdens of the past affecting contemporary behaviour. This is a significant factor which should be recognised and further strengthened.
Modi's China visit may address the following issues in this direction:
1. Clarifying position on the China-funded Pakistan Economic Corridor, which is a matter of serious concern for India.
2. Dispelling India's suspicions about the China-Pakistan nuclear deal and military cooperation.
3. Beginning home stay programmes -- for the first time post independence -- for Indian and the Chinese students.
4. An exclusive package of scholarships to young journalists to study journalism and mass communication courses in China and vice versa.
5. Increasing levels of joint military exercises and strengthening India-Russia-China trilateral dialogue.
6. A unique 'hundred books publication and friendship plan' which we can call Granth Shatak. Under this scheme celebrated books of a hundred authors from different languages of India should be translated into Chinese and similarly a hundred contemporary Chinese authors' books should be translated into Hindi and may be one or two more Indian languages. Books have always helped to create a better understanding and friendly feelings; hence this step will go a long way to make minds closer.
7. India today is the youngest nation in the world with more than 60 per cent of its population under 30. Hence, both the governments must devise plans to involve this generation who is progressive in thinking and wants to work for a prosperous and peaceful future.
8. Indians are getting interested to learn Mandarin. This interest should be further encouraged by offering franchises to schools who would offer Chinese learning in their schools under a refined monitoring mechanism. An institute for furthering this cause can be established in Beijing and Delhi and named India-China Language Council (Bharat-China Bhasha Parishad).
There has never been a history of armed conflict between India and China in the last thousands years of their existence and the first such a conflict took place in 1962.
It was the sheer will and maturity of both nations to move ahead and decide to resolve issues of conflict through dialogue that today there is a Chinese presence in virtually every Indian home and an extraordinary consensus amongst Indian parties to further strengthen relations with her.
India too has a large presence in today's China through hundreds of manufacturing units producing medicines to software and diamond cutting to making cheaper fans and watches.
There has been a remarkable consistency in furthering the cause of India-China friendship, no matter what colour South Block wore.
Diplomacy is no charity neither the rhetoric of swollen faces rooted in a defeatist attitude. It works on strength and a self confidence to serve your nation first, thriving on fresh openings conceived through an out of box thinking.
Modi's visit provides an opportunity to push the partnership agenda a little harder. The Indian and Chinese people have a strong desire to move closer and work for a prosperous and peaceful future. As Deng Xiaoping exhorted the Chinese to get rich and be glorified, so should the worshippers of Laxmi in India follow -- tighten the security belt, reach out to newer opportunities, resolve points of discord on the table and move ahead with a confidence that has already dazzled the world.
Tarun Vijay is a BJP Rajya Sabha MP and president of the Parliamentary India China Friendship Group.