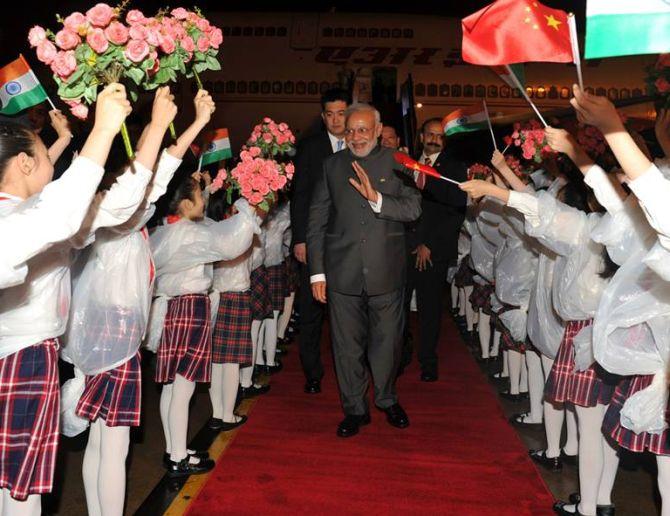 There are still a few lingering issues towards the progress of India-China bilateral relations, the approach for dealing with each other seems to be quite different. With Modi-Xi bonhomie strengthening, it seems that India and China are ready to recalibrate their approaches towards each other, says Sana Hashmi.
Prime Minister Narendra Modi concluded a three-day state visit to China on May 16. With his China visit, Modi has come up with 'Hometown' Diplomacy, which has not only been appreciated but also reciprocated by his Chinese counterpart. While Chinese President Xi Jinping was received in Ahmedabad (though Modi's birthplace is Vadnagar), Gujarat in September 2014, Modi was received in Xi'an, Shaanxi Province. This was the first time that the Chinese leadership has received a foreign leader anywhere outside Beijing. Shaanxi province, famous for its historical lineage, is also Xi's home town.
Modi took a strong delegation primarily comprised business tycoons for his three-day China visit. The two sides have inked as many as 45 agreements -- 24 agreements in the field of education, railways, space, culture and maritime cooperation were signed at the inter-governmental level and 21 at the business delegation level.
Clearly, the main purpose of the visit was to reinforce economic and cultural ties between the two countries. An MoU to set up Indian Consulate General at Chengdu and Chinese Consulate General at Chennai, an MoU to facilitate education exchange programme and an MoU on sister-state and sister-city relations between Karnataka and Sichuan province; Chennai and Chongqing; Hyderabad and Qingdao; and Aurangabad and Dunhuang, two MoUs between Indian Council for Cultural Relations and Yunnan Minzu University and Fudan University on the establishment of a yoga college and centre for Gandhian and Indian studies are testimonies to that.
Chinese Premier Li Keqiang's maiden visit to India in May 2013, President Xi's visit to India in September 2014 and Prime Minister Modi's China visit in May 2015 have indicated that both countries attach greater importance to each other, and are increasingly shedding historical baggage and endeavouring to strengthen mutual trust.
The visit has been regarded as a milestone towards the development of India-China bilateral relationships. One of the most positive developments was in the field of economic cooperation. Both sides inked business agreements worth $10 billion in Beijing and $20 billion worth trade deals in Shanghai.
Additionally, India and China's decision to set up a task force to address the issue of the huge trade imbalance between the two countries is seen as a much-awaited move. Further, on the economic front, India-China Strategic Economic Dialogue will be chaired by NITI Ayog, India and the National Development and Reform Commission, China.
Seemingly, both countries' efforts are not only welcoming steps towards bridging the huge trade deficit but will also open up Chinese markets to the Indian exports.
Secondly, in order to strengthen the cooperation under the institutional framework, both sides, in the first of its kind initiative, decided to establish the China-India State and Provincial Leaders' Forum. Modi and Li witnessed the first meeting of the Forum in Beijing on May 15. This move would be useful to attract investments at the state levels.
Thirdly, both sides have taken a crucial initiative by issuing a separate joint statement on the issue of climate change. The cooperation between India and China at the multilateral level is remarkable. Their emphasis on combating the challenge of climate change jointly is indicative of their willingness to work together at the regional as well as global levels.
While the visit proved to be fruitful for both the countries and the gestures during the visit speak volume of the strong political will from the leaders of India and China, there are still a few problematic areas.
First, for China, it is essential to make India endorse its 'One Belt, One Road' project, while India is still hesitant in extending its support to the project. Given that Xi'an was the starting point of the ancient Silk Road, there is a probability that Xi'an was chosen as Modi's first stop in China.
Additionally, Xi'an is a home to historic places such as City Wall, Terracotta Army Museum and Wild Goose Pagodas which very well project China as a historical civilisation as also strengthen China's image of a soft power. However, deliberations on the One Belt, One Road project could not figure much in the joint statement.
Second, no major breakthroughs could be seen with respect to India-China prolonged border dispute. While the joint statement did talk about resolving the border dispute in a proactive manner, no agreement touched upon the unresolved border question.
Third, in the joint statement, China has welcomed India's full membership in the Shanghai Cooperation Organisation. Seemingly, such statements just have symbolic values. In essence, there are three conditions for acquiring the full membership laid out by the founding members of the SCO; viz, country applying for the full membership should be geographically contiguous to either of the member states of the SCO, it should not have United Nations sanctions imposed on it and finally, country applying for the full membership should not be involved in any territorial disputes with either of the member states. While India fulfils the first two preconditions for the SCO membership, India who has a border dispute with China is technically not eligible for the full membership of the SCO.
While there are still a few lingering issues towards the progress of India-China bilateral relations, the approach for dealing with each other seems to be quite different. And, for the lasting and stable India-China relationship that is what matters the most. With Modi-Xi bonhomie strengthening through hometown diplomacy, it seems that India and China are ready to recalibrate their approaches towards each other realising that convergences rather than differences should drive the bilateral relationship to new heights.
Image: Narendra Modi in Xian, China
Sana Hashmi is associate fellow, Centre for Air Power Studies.