Prime Minister Narendra Modi had gone to China with a bagful of initiatives, but not all seems to have been fulfilled given China's reluctance to go the whole hog with him, says Srikanth Kondapalli.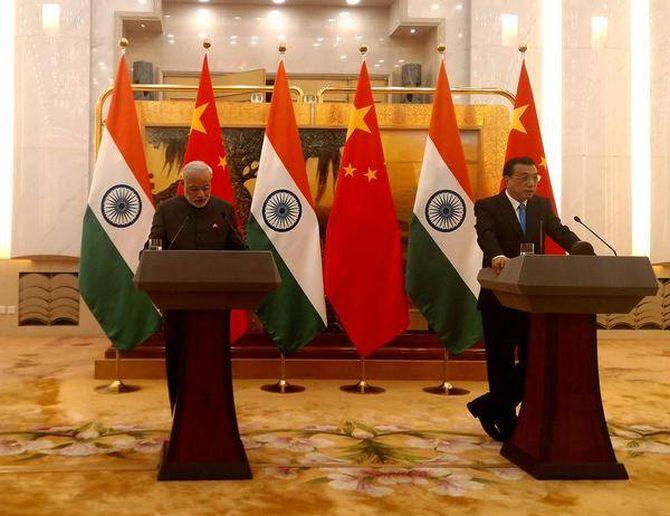 Prime Minister Narendra Modi declared in his press briefing after the signing of 24 agreements with his counterpart Premier Li Keqiang at Beijing on Friday that this visit proved to be "very productive and positive".
In addition to the $20 billion (Rs 1.2 lakh crore) that China promised to invest in India in the next five years, mutual agreements on Friday are likely to yield $10 billion (Rs 63,000 crore) more contracts for China in a number of fields.
His visit to the commercial centre Shanghai on Saturday could be more productive.
Two joint statements were issued between the two Premiers today -- one on the overall bilateral relations and another on climate change issues.
The latter is significant given the most likely agreement and ratification of a globally binding climate accord at Paris this year after a series of inputs derived from Copenhagen, Durban, Doha and recently Rio.
The climate deal between India and China is also important for the bargaining capacity of both in the backdrop of the US-China climate deal last November and in the run-up to the Paris meeting.
These 24 agreements range from outer space cooperation to civil nuclear cooperation, from sister-city cooperation to an additional consulate, from skill development to expanding educational exchange programmes, from broadcasting to tourism, from a new leaders' forum at the provincial level to yoga colleges.
Implementation of these, as with the previous ones, will test the credibility of the bilateral relations.
Little progress was achieved on what Prime Minister Modi stated on those issues that perennially "troubled smooth development" of bilateral relations.
While some discussion on Chinese investments in the disputed Kashmir region, river waters, territorial dispute, visas and others took place between the two delegations, no major breakthrough was achieved on these.
As a result, there was no reiteration of One China (as has been the practice since 2010) or mention of One India policy, no explicit endorsement of Indian membership in the United Nations Security Council with veto power or that of the Nuclear Suppliers Group, although on the latter there has been some incremental progress with the joint statement stating that China "took note of India's aspirations to become a member of the NSG".
India as well skipped once again any endorsement of China's recent flagship initiatives of continental or maritime Silk Road, although continuing pressure by China had been yielding results on the Bangladesh-China-India-Myanmar sub-regional format of this initiative.
More significantly, it appears that in lieu of the membership in the Shanghai Cooperation Organisation, India had invited China to "broaden cooperation with the SAARC".
However, the "aspirational" part of the bilateral meeting is significant.
The joint statement, for instance, mentions that both countries "are poised to play a defining role in the 21st Century in Asia and indeed globally".
More audacious was also the statement regarding both sides intending to "work together to shape the regional and global agenda and outcomes".
Two significant initiatives are taken at the bilateral levels that could further stabilize the relations in the coming decades.
One is to further expand institutional mechanism between the two countries.
Chengdu and Chennai were identified as the third consulates in the bilateral diplomatic relations, in addition to the current Shanghai-Mumbai and Kolkata-Guangzhou.
Also, apart from institutionalizing the media forum, which held three meetings recently, both the Premiers also decided to have one more such forum -- now among the think-tanks for any cross fertilization of ideas.
Significantly, not only a new "State/Provincial Leaders' Forum" established, but Modi-Li presided over its first meeting at Beijing on Friday, with two chief ministers and provincial party secretary joining the discussion.
In Modi's words, this "cooperative federalism" initiative is to move away "from the narrow confines of governments in the national capitals to states, cities and our people".
To recall, China had intensified reforms after the provinces were given substantially freedom in the decision-making process, specifically in the economic issues.
Another new agreement today is on the treatment to those facing prison charges in either country.
The newly-established NITI Ayog will continue its predecessor's three Strategic Economic Dialogues with its counterpart in China, with additional tasks assigned in addition to looking after the macroeconomic issues.
India and China also decided to "enhance communication through frequent exchanges at the leadership level", although a similar decision five years ago did not yield significant results owing to China denying visa to Gen Jaswal from Jammu region.
It needs to be seen whether the Indian leaders could meet their Chinese counterparts as much as they meet their Russian and Japanese counterparts.
Incremental are also decisions related to holding the 5th joint counter-terrorism training between the two armies and search and rescue operations between the two navies.
The level and subjects in these joint military operations will remain at the previous level.
However, both defence establishments intend to operationalise the hotline between the two Military Headquarters, a factor that many a time led to de-escalation of tensions between India and Pakistan before.
Both India and China also decided to establish more points for interactions between border personnel to reduce transgressions by the border patrols.
As with the visit by president Xi in September last year, Modi's visit to China now also has the infrastructure and manufacturing component as the prominent element.
Specific mention was made of the Chennai-Bengaluru-Mysore line, Delhi-Nagpur hi-speed section and revamping Bhubaneswar and Baiyappanahalli railway stations.
While no major initiative is made in resolving the territorial dispute, as a result of which certain stalemate exists in the border areas with no significant border trade, investments, tourism or people-to-people contacts, Modi-Li decided to "transform the border into a bridge of cooperation and exchanges", although the decisions for "augmenting the list of traded commodities, and expand border trade at the existing three border posts at Nathu La, Lipu-Lekh and Shipki La may not radically alter the regional dynamics.
All in all, Prime Minister Modi had gone to China with a bagful of initiatives, but not all seems to have been fulfilled given China's reluctance to go the whole hog with him.
Srikanth Kondapalli is professor in Chinese Studies at the Jawaharlal Nehru University, New Delhi