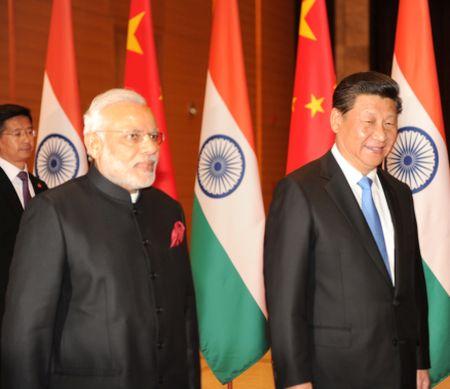 While the two sides' objectives may appear to differ, it is clear that both India and China are emphasising on the common minimum possible areas of cooperation between them, says Srikanth Kondapalli.
Prime Minister Narendra Modi arrived on Thursday morning at Xian, the ancient capital of China. President Xi Jinping, reciprocating Modi's reception at Ahmadabad eight months ago, received him to start a new chapter in the bilateral relations -- that of building mutual trust at the strategic leadership level.
Most significantly, both leaders are meeting a second time outside their capital cities and in a more relaxed atmosphere.
That the atmospherics for the visit are positive has been indicated by both sides. PM Modi gave an interview to the China-state run CCTV two days before the visit stating his objectives: that he is looking "forward to working out a roadmap for qualitatively upgrading our economic relations and seek greater Chinese participation in India's economic growth, especially in transforming India's manufacturing sector and infrastructure".
The Chinese side also laid down the contours of the visit by stating on May 6, by the foreign ministry spokeswoman, that China will make efforts "to enhance strategic trust, deepen practical cooperation and people-to-people exchanges, increase communication and coordination on major international and regional issues and make progress on building strategic partnership of cooperation oriented to peace and prosperity." She also suggested that "the two leaders made plans for the development of bilateral strategic partnership of cooperation for the next five to 10 years."
While the two sides' objectives may appear to differ, it is clear that both are emphasising on the common minimum possible areas of cooperation between the two countries. The Indian side mainly has economic issues to discuss, while the Chinese side is more concerned about "strategic trust".
This is obvious given the new Indian leader's dream of making the "Make in India" policy successful, while the Chinese side plans for a broader "united front" against its perceived adversaries in the international and regional orders.
By going first to Xian -- the place where Xuan Zang, the Buddhist monk who returned from a visit to India in the 7th century -- PM Modi is symbolically referring to the Buddhist connection between the two countries. With nearly 40 percent of Chinese believing in Buddhism, Modi is sending signals of rapprochement between the two peoples. More significantly, Modi is also underlining the non-violent streak of Buddhism. In an interview recently he had also stated the need to eliminate conditions for war in Asia as a whole.
This is significant against the backdrop of both India and China increasing their defence budgets and deployments, despite a 1993 "peace and tranquillity" pledge that rejects war between the two sides resolve the territorial dispute.
As for the agenda for Friday's talks in Beijing, it has been reported in the local press about 20 possible agreements on different aspects, including about $10 billion in investments from China -- mainly in the "smart cities", high speed railways (at least to start with a portion of the $36 billion for the proposed Delhi-Chennai line) and others.
It has also been reported about joint efforts to tackle natural disaster relief measures at the Asian regional levels by the two sides. Against the backdrop of the disastrous earthquake in Nepal recently, this is a likely agreement between India and China.
In November 2006, during President Hu Jintao's visit to Delhi, both sides for the first time decided to work in the larger Asian region. However, no specific area or issue was specified. The Indian side had showcased its disaster relief measures in Southeast Asia and South Asia during the tsunami, Operation Nargis in Myanmar, Sichuan earthquake and recently in Nepal. India and China joint efforts in this regard in Asia could win these countries laurels.
Against the backdrop of Chinese pressure on India to join the Maritime Silk Road initiative, India could propose land and sea links with China during this visit. However, India could suggest to a role in the continental route as well to tap into the Central Asian energy reserves, which currently China monopolises.
China realises that the growing Indian market and its millions of consumers are indispensable to its economy, which is witnessing a "new normal", slow down in the GDP figures. Indeed, many a Chinese company had made fortunes in the Indian market. Specifically, Gionee, Xiaomi, Huawei, Lenovo and other Chinese mobile phone companies are making a beeline for the 50-odd million new mobile market in India.
China also realises that with its Silk Road initiatives, there has been an increase in its export and import composition recently with the regions where the Silk Road traverses, including through India. Indeed, according to a recent report, in the first quarter of 2015, China's trade accounted for more than $236 billion, that is nearly 26 percent of its overall trade figures.
Another area of Chinese interest is the Indian Ocean Region. Apart from seeking Indian blessings for the Maritime Silk Road initiative, China had been suggesting for joint scouring of the Indian Ocean sea bed for resources. In 2011, China had signed contracts with the International Seabed Authority for exploring 10,000 square km in Southwest Indian Ocean. China's deep-sea manned submersible, Jiaolong, completed a more than 100-day expedition in the region in March. Another vessel, Dayang Yihao, also completed a mission in the region.
Yet, China finds it difficult to conduct operations without a local partner.
Image: Prime Minister Narendra Modi with Chinese President Xi Jinping in Xian on Thursday. Photograph: MEAIndia/Flickr.
Srikanth Kondapalli is a Professor in Chinese Studies at JNU, New Delhi.