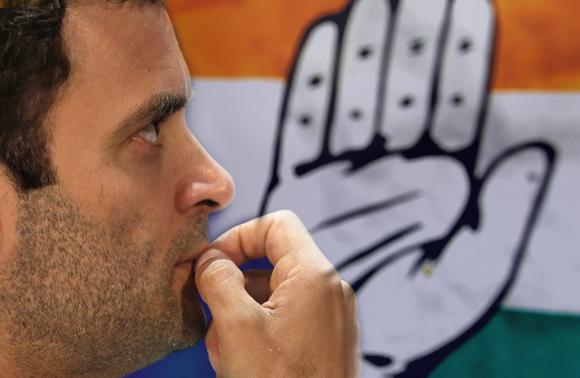 Syed Firdaus Ashraf wonders why no one objects to jokes about Rahul Gandhi, but are upset when Lata Mangeshkar and Sachin Tendulkar are mocked.
Stand-up comic Varun Grover was asked at the India Today conclave in March: 'Is it easier to make jokes about Rahul Gandhi or Narendra Modi?'
'Rahul Gandhi,' Grover said.
If he woke a man up in the middle of the night and only said 'Rahul Gandhi' to him, Grover said the man would start laughing.
The elite gathering assembled at the conclave laughed loudly.
I wondered then when and how Rahul Gandhi's name became a joke for us Indians, and why no one seems to mind the outpourings of 'humour' directed at him.
Or has the image of 'Pappu,' as Modi bhakts call Rahul, overshadowed the politician image he is trying so hard to cultivate?
At the India Today conclave, the gathering did not pause to think what Rahul must feel about the 'joke,' everyone laughed heartily.
Rahul was being publicly mocked by India's who's who and nobody objected.
Sniggering at the Nehru family has been elevated into some kind of bizarre comedic form.
So much so that if you type 'Rahul Gandhi' into Google, among the top suggestions the search engine has for you is 'Rahul Gandhi funny.'
Click on that and you will get any number of web posts and links making fun of the Congress vice- president.
One particular image shows Rahul saying, 'Acchey din aaney wale hain, hum naani ke ghar jaaney waley hain (the good days are coming, I am going off to my grandmother's home in Italy).'
There are any number of morphed images of Rahul; one of them shows him reading the children's magazine Champak.
This 'humour' does not stop at Rahul, but targets his mother as well.
In one link Sonia is holding her head and saying, 'Oh! Rahul is back.'
Not a day has gone by since Narendra Modi's election when 'funny' tweets about Rahul or Sonia Gandhi are not posted on social media.
What about the long arm of the law that so often takes cognisance of offensive posts and gets the 'perpetrators' arrested first and questioned later, did you ask?
Well, nobody but nobody is scared of passing along the 'humour' targeting the Nehrus that comes to them via social media, WhatsApp etc.
Naturally, I am puzzled why people are going after stand-up comic Tanmay Bhat for making fun of Lata Mangeshkar and Sachin Tendulkar.
Is it that in India only certain people can be ridiculed while some people are 'touch-me-nots?
Why is it that you can ridicule the Nehru family and be lauded for it, but not Tendulkar and Mangeshkar?
When I ask this, please note that I don't endorse what Bhat -- co-founder, All India Bakchod -- said, far from it.
Bhat made the video using Snapchat's popular face swap feature, morphing his face with Mangeshkar and Tendulkar and uttering puerile lines.
Unlike Varun Grover who ridiculed Rahul Gandhi in the open, Bhat created the spoof for his followers on Snapchat.
It was a private joke, if you want to call it that, unlike Grover who put down Rahul Gandhi in a televised interaction.
If you see Bhat's video you will discover it is just not funny, boring is more like it. There is nothing to laugh at because there is no humour.
The best way to handle such tripe masquerading as comedy, satire, humour or whatever you want to call it is to ignore it totally rather than getting serious about it and bring down the majesty of the law on it.
People seem to be upset at the video because Bhat ridiculed the 'touch me not' icons of India.
Say whatever you want about Rahul Gandhi, no one will file a case against you, no policeman will come to arrest you.
But when you say something about the icons of India, you will be told forcefully about the difference between 'vulgarity' and 'freedom of expression.
Anupam Kher, the self-styled defender of 'tolerant' India, tweeted: 'I am 9 times winner of #BestComicActor. Have a great sense of humor. But This's NOT humor. #Disgusting&Disrespectful.'
I wonder if Mr Kher will apply the same yardstick to the 'Pappu' jokes about Rahul Gandhi.
Such are the times in our country that no one will speak up or stand up for you if you are going through a bad patch.
So till the times change, make fun of Rahul Gandhi without fear. But spare Sachin Tendulkar and Lata Mangeshkar.