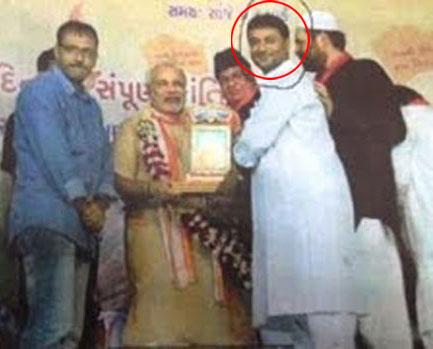 Modi and Rahul's Gandhi's case cannot be dismissed casually. Both are high visibility persons, subject to intense scrutiny, and above all, under heavy protection. So anyone meeting them is properly vetted, says Mahesh Vijapurkar
A man is known by the company he keeps, is a point made in one of Aesop's fables, in which an ass and its purchaser are the key characters. Now, in politics, especially when the electioneering heat has reached the level of a baker's oven, political leaders are being sought to be judged by that axiom.
The Congress party released a photograph showing Narendra Modi in the company Afroze Fatta, now sought by the Enforcement Directorate for suspected hawala links. The photo is of some undated public event. Soon enough the BJP released one showing Mohammed Azaruddin, who left cricket under a cloud and is seeking re-election on a Congress ticket.
This you-are-worse-than-I game worsened with the BJP, which too seems to have an active dirty tricks department, repeated the Narendra Modi allegation that Rahul Gandhi, his unannounced rival for the prime minister's office, had ridden pillion on a bike driven by a history-sheeter. Rahul was on one of his outreach activity and this was also photographed.
These are serious issues, though, as we have always known, someone or the other unsavoury person pops up at a public event with a cameraman around and is clicked for posterity. To what use the photographed person puts it to can be anyone's guess. It could possibly be to show proximity to the VIP, and possible benefits flowing from that.
Modi and Gandhi's case cannot be dismissed as casually as that. Both are high visibility persons, subject to intense scrutiny, and above all, under heavy protection. Modi by his own state's police which travels with him anywhere he goes to in the country. And Rahul is under the Special Protection Group, which is no set of casually hired, untrained building watchmen.
Visitors are whetted before they meet, or even come anywhere in the proximity of either protectee. If Afroze and Billa got that close, the latter so close enough to have been at least go on a long drive. Either the system's failed, or they were known and trusted, notwithstanding their alleged unsavoury status. This, if correct, is unacceptable, especially to the protectee.
Politicians like to see themselves popular, the index of popularity being the crowds they attract or are gathered for them by means fair and foul. When they are lower on the security scale, all sorts do hover around them either as 'party workers', which is euphemism for hangers on, or in the company of such hangers on. They can be an embarrassment.
Let me recount a few. A decade ago, Bharat Shah, diamond merchant and movie financier, caused more than a flutter by popping up to greet Chhagan Bhujbal's son, Pankaj Bhujbal at the latter's wedding reception. The stir was because Shah was on bail after his arrest in cases where he was suspected to have underworld links. Pankaj is now an MLA.
Bhujbal had, as deputy chief minister, promised to throw the law book at Shah and he was hard put to explain that Shah may have been unwittingly invited because he was on the mailing list, compiled businesswise. He blamed the party office which handled his invitation mailing list. His name had inadvertently remained on it.
Once, a photograph showing the present deputy chief minister, Ajit Pawar's with a tamasha artist -- a genre of risqué song and dance shows in Marathi artist was brought to light by the BJP's Gopinath Munde. His intent to embarrass a Pawar returned to haunt him. The media had discovered that the woman was using a Munde surname.
Admittedly, these politicians may not know who is getting photographed with them because they are always in the midst of crowds. It is hard to keep an eye out for such jack-in-the-boxes. Such incidents happen often. But Modi-Afroze Fatta and Rahul Gandhi-Billa on the bike do not fall in the same category.
Their security enforcers are either incompetent or just unassuming that their mere presence would keep the people, whose status if known, can be cause for acute embarrassment. Every which way you look at it; these are serious security flaws which cannot be explained away.
That they have lent themselves to political use to sling mud at rivals is another thing. Unfortunately, it has received much less attention than the infamous image of Modi declining a skull cap. Such are the times we live in.
Image: The Narendra Modi-Afroze Fatta photograph