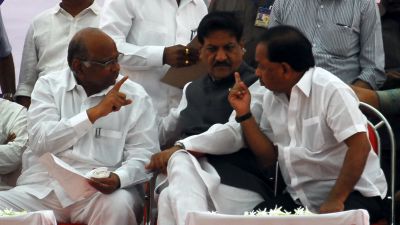 A rebellion by NCP leaders in Sindhudurg may scuttle Congress MP Nilesh Rane's chances of regaining the seat. Neeta Kolhatkar explains the politics behind the turmoil in Maharashtra's Konkan region.
Sindhudurg, the bastion of Maharashtra Revenue Minister Narayan Rane and his sons, has been in political turmoil this past fortnight.
When an elected legislator of the Congress party's main ally, the Nationalist Congress Party, protests against his leadership (imagine taking on Maratha strongman Sharad Pawar!), the news calls for immediate attention.
Narayan Rane, once a hard-core Shiv Sainik, who was quite a favourite of the late Bal Thackeray, rebelled and joined the Congress party. I always felt it was a mistake. Joining the NCP would have helped him, because he wouldn't have been suffocated as he is right now. The Congress is an old party and can tame veterans. Look what it has done to Rane.
Rane was the chief minister in 1999 when he was in the Shiv Sena. Before Rane chose to join the Congress, he held three rounds of meetings with NCP President Sharad Pawar who told him he would be made deputy chief minister and that he would feel more comfortable in the NCP than the Congress.
Rane was riding high, as the Congress high command had promised him the CM's post. Not in a mood to listen, he made a choice which one day would come to haunt him.
Rane has taken his time to get used to the Congress party and its culture. He complains that the party hasn't used his leadership skills. In his Konkan bastion, he is not averse to flexing his muscle. And that is where he is facing problems.
Rane's sons are politicians. Dr Nilesh Rane is a member of Parliament and Nitish Rane is a legislator. There are complaints about their reign of terror. I've had the opportunity to meet them often, talk to them and while the father does have a soft side, his sons need to tone down their anger and attitude.
The senior Rane has done many good things in his home town. Not many believe me when I say he has set up an old age home in the Konkan region where senior citizens live happily. He goes there every month to have a meal with the seniors. Some have sad stories of families having disowned them, after taking all their property and wealth.
Narayan Rane has helped many homeless people, built small homes for them and helped them get jobs.
Rane goes on condolence visits and also attends all happy occasions of his constituents. Like Pawar he knows people personally. Not many know that he has an excellent rapport with bureaucrats and officials. I know of bureaucrats who say he would make the best chief minister because he takes decisions quickly and wastes no time.
Rane has many rivals within the Congress party. His style of being upfront and abrupt isn't appreciated by many Congressman who are used to sweet-talk and back-stabbing.
While many ministers and MPs from Kerala have stood their ground and faced the wrath of the Congress high command on the Kasturirangan report on the Western Ghats, only Rane has opposed it in Maharashtra.
His sons' behaviour is what has got him into trouble. Local NCP leaders are livid with their alleged reign of terror. NCP MLA Deepak Kesarkar and other leaders refused to campaign for Nilesh Rane. His father raised this issue with both Sharad Pawar and Deputy Chief Minister Ajit Pawar.
Kesarkar has been adamant to the extent of rebelling against the Pawars. He says he will not under any circumstances work for any of the Ranes or campaign for them. "They are goondas," he alleges.
Although Sharad Pawar, Chief Minister Prithviraj Chavan and Ajit Pawar participated in rallies in the Konkan, there is speculation that both Chavan and Pawar want Rane's son to lose. The way things have shaped up, it is Shard Pawar's politics that is unfolding.
Image: Sharad Pawar, Prithviraj Chavan and Narayan Rane at a rally in Sawantwadi, Maharashtra. Photograph: Sahil Salvi.