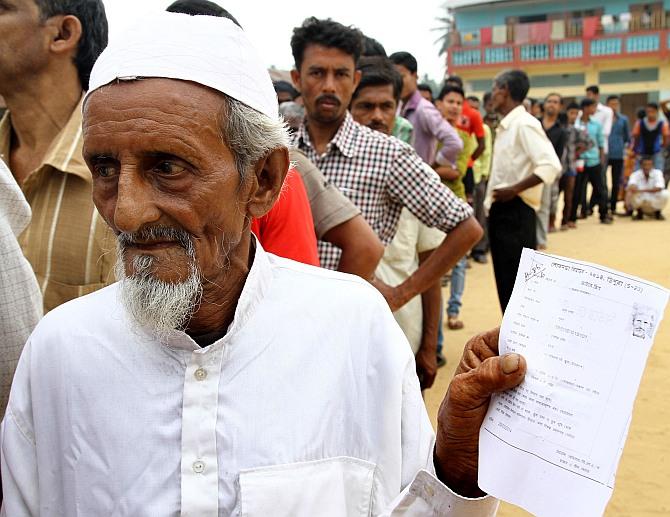 '"It is not corruption, but destruction that we fear. We fear for our lives and the BJP has not been able to convince us otherwise," Muslims and Dalits tell me.'
Does a high turnout indicate anti-incumbency or does it indicate minority consolidation against a particular leader or party? Neeta Kolhatkar explains the situation in Maharashtra.
The first phase of voting in Maharashtra showed a turnout of 62 percent. This was what most politicians and political observers said was a 'wait and watch' first phase that can indicate the fate of the rest of the elections in the state.
Somehow Maharashtra voters, be it rural or urban, prefer national parties in a Lok Sabha election as in their minds they provide stability. In assembly elections, local issues matter more.
I think it a testing time for the Bharatiya Janata Party, as the stakes are a lot higher for the BJP in the state. There is a tremendous marketing strategy, trying to make people believe that there is a wave sweeping in the country. I fear this wave may just sweep them away.
The turnout doesn't tell you the caste and religious groups that turn out to vote. Unfortunately, the BJP got excited, like it did in the Goa elections where we saw a 76 to 78 percent turnout.
What the BJP did not realise is that the high turnout could be a non-acceptance of Narendra Modi.
In Maharashtra, the caste and religious divide runs far too deep. It is something the media and the elite don't want to consider. It is not for nothing that after severely criticising Sonia Gandhi for meeting Imam Bukhari, the BJP got party President Rajnath Singh to meet three Imams. It may be sneered at by the 'liberals' and media as a gimmick, but eventually reality has hit even the BJP hard.
The BJP's intense pro-Hindutva ideology, coupled with a hardliner Rashtriya Swayamsevak Sangh candidate for prime minister, has created a huge divide in society. We may not want to accept it, but all around Maharashtra the rift is wide open.
Even though the BJP and Shiv Sena took Ramdas Athavale with them in their MahaYuti (grand alliance) he too harbours the dream of a separate united Dalit party.
The Dalits and Muslims, two strong minorities, will determine the future. I am sure not many will support me on this. But the nuances in various constituencies are working around caste lines.
It is ridiculous for a majority population to demand and even expect the minorities to assimilate. When the majority is there and the culture is strong, then what is there to fear?
Yet, during elections we hear BJP leaders make statements that the population of the minorities is growing. It is not the population that they fear. They fear a consolidated and undivided vote.
Even though it is perceived that Muslims and Dalits have always supported the Congress, during state elections and often in general elections, even the Congress has been surprised.
In the last elections, the Muslims and Dalits were not happy. They registered it by not going out to vote. This time, the number is strong and undivided.
So a high turnout does not necessarily mean that the tide reflects anti-incumbency. In my conversations with Muslim and Dalit leaders, they are immensely angry with the Congress for 'using' them. But they are angrier that the BJP has portrayed Modi as its candidate for prime minister.
Fear is what motivates the minorities. "It is not corruption, but destruction that we fear. We fear for our lives and the BJP has not been able to convince us otherwise," Muslims and Dalits tell me.
Most attend rallies, attend silently, whether it is the BJP, Congress or Shiv Sena, but they go back determined who they vote for.
Ask them and they won't tell whom they vote for, but they say this much: "We are voting against, not for."