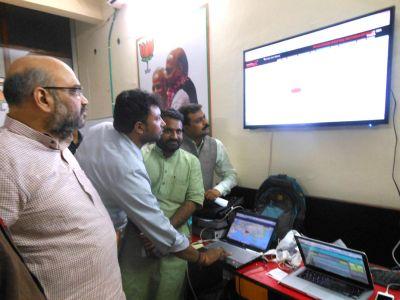 'Narendra Modi is single-handedly changing the formula to win elections. With money, human resources, mobile technology, the Internet, advance planning and tremendous confidence, he has spread his image more in UP villages than in urban areas.'
Rediff.com's Sheela Bhatt reports from Lucknow on how Team Modi is changing the rules of the election game.
Also read: Coming soon: The Congress collapse in Uttar Pradesh
In the ongoing saga of Election 2014, the confidence level of the Bharatiya Janata Party and its prime ministerial candidate Narendra Modi is inescapable.
Look how unabashedly Modi has already started saying, "When the US president comes to see me" and "When the Australian PM comes to see me" etc. This confidence, or over-confidence, or shades of arrogance, is due to the huge hard work that has gone in behind the scenes by Team Modi.
How the BJP has geared up with resources and is staffed by extremely motivated and disciplined youth is what people will be talking about much after this election ends.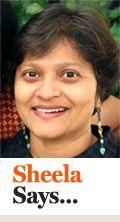 In Uttar Pradesh, when thousands of sari traders get their parcels from Surat, they find a chit with each sari saying, 'Vote for Modi'. That's the level of penetration done by Modi's marketing team.
If the BJP and Modi win the election, as they are so confident of doing, then incredible things will happen in terms of building up the election machinery which the Congress will find difficult to match for a long time to come.
It is not that the Samajwadi Party, Bahujan Samaj Party, South Indian parties or Left parties are not doing things intelligently. Of course, they are and have got success for it, but a 'holistic approach' to election management is a new feature of Modi's campaign.
Modi is single-handedly changing the formula to win elections. With money, human resources, mobile technology, the Internet, advance planning and tremendous confidence, he has spread his image more in UP villages than in urban areas.
Modi is more profoundly spoken about in UP's villages than in urban areas. If Modi is the hero of the BJP campaign, the mobile phone is the heroine of his campaign story.
The mobile phone has changed the grammar of Indian elections.
Brajesh Shukla, a senior journalist who has visited more than half of UP in the last six to eight weeks, finds Modi turning into a symbol of hope for people living in misery and waiting endlessly for development.
Pankaj Jha, editor (Uttar Pradesh), ABP News, has visited 62 of UP's 80 Lok Sabha constituencies. He agrees that Modi is getting an unqualified response in UP villages. "Some two months ago, there was some hesitation in UP about Modi, but now people say let's not waste our vote. They want to try out Modi. At many places the BJP candidates are disliked, but because of Modi they might vote for the BJP."
While Modi may or may not be able to bring in a profound change in running the country, as too many external factors are involved, a change is sure to come in the culture of political parties and the way they conduct elections.
The way political parties build their election plank and go to the people will never be the same again.
To understand the use of technology and to understand how Modi set out to harness youth power in UP, Rediff.com visited the BJP's Lucknow headquarters, located opposite the majestic Vidhan Sabha building. Its first floor is occupied by young people, there are dozens of computers and servers around, and huge posters of Modi, Rajnath Singh and Amit Shah catch the eye. In fact, a small call centre is at work here.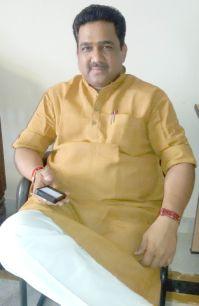 The man in charge of the young team and their computers is Sunil Bansal, 43, image, left. He is entrusted with implementing the political strategy of Modi and Amit Shah, who is in charge of the BJP's election campaign in UP.
The Modi-Shah duo are doing some innovative things in marketing political ideas in the land of the Ganga. They are using easy-to-understand phraseology and know much better than others how to spread horizontally and vertically in their core constituency and beyond.
Last year, Amit Shah had a one point agenda, to put it simply: How to take Brand Modi to the villages and towns of UP.
Here is the exclusive story from the man who did it for Modi, that can beat or compete with any powerful idea from the communication and marketing czars of the Western world. No fuss, no hype, only sheer determination to take Modi to UP's villages.
When Amit Shah wanted to carpet-bomb Modi's image and ideas in UP's more than 107,000 villages, he went back to the Sangh family. He picked Sunil Bansal from the Akhil Bharatiya Vidyarthi Parishad. Sunil is from Jaipur. His family have been 'Sanghis' for since many years. His father was a grains and textiles trader, and a loyal supporter of the Rashtriya Swayamsevak Sangh.
Sunil joined the ABVP and has been handling youth elections in the Delhi University Students Union for 25 years. He is mild-mannered and has a knack for reading young minds.
He came to Lucknow some two months ago and was given the details and contacts of some 76,000 BJP active workers whose numbers and details were already with the BJP's Lucknow headquarters.
Read on about how he networked the BJP-minded people of UP to spread Modi's image, in Sunil Bansal's words:
As the ABVP joint organisational secretary I have travelled across India and to rural villages. Here I was assigned to do 'election management'. The party told me to implement Amit Shah's idea of rural connectivity.
I saw that I needed to build a team. I called all my young contacts from Jaipur, Mumbai and New Delhi, and selected 20 of them. They were bilingual, knew Hindi and English. They became part of my core team. They were experts and hard-working guys who left their jobs and joined us for free. I told them, 'Give your six months for the service of the country'.
Some of them were experts in running call centres. Some in preparing reports and PowerPoint presentations, some in research.
Amit Shah wanted to reach out to all BJP workers in UP as fast as possible. Also, he wanted one BJP worker in every booth. We needed some five lakh (500,000) telephone numbers of our workers. I created the e-mail id kumarsunilbjp@gmail.com. With the help of my 20-member team we started contacting each and every booth in UP.
We gave them a form to fill, along with my e-mail id. The data started pouring in as we contacted them. We phoned them, asked them to help in other constituencies also. We needed names, addresses, names of Lok Sabha and assembly constituencies, number of the booth they represented and their mobile number.
We have thus been able to collect some four lakh (400,000) authentic mobile numbers of our cadre. Out of, say, 1.13 lakh (113,000) booths we now have details, contacts and reach to 80,000 booths in UP. Some 10 per cent of our data proved incorrect.
We were able to do this mammoth exercise because the mobile phone is cheap now. It costs Rs 1,200, and a SIM card is for Rs 200. This makes the mobile the best way to contact people.
I needed the data from all booths in UP because I wanted to communicate with them all the time, I want to be able to instantly share the thought that comes to my mind with those four lakh BJP cadre spread in 80,000 booths.
We wanted to take Modi to the villages. How do we have rural connectivity? How do we share our ideology with our people? I can tell you that yeh mahaul badla hai kyon ki hum gaon main pahunche hain (there is perceptible change in the air because we have reached out to the villages).
We are communicating our plans directly at the booth-level. First, we collected data. Then, with the help of that data we called people at the booth level. Now, we have set up a call centre. Our boys in the centre talk to people all over UP all the time.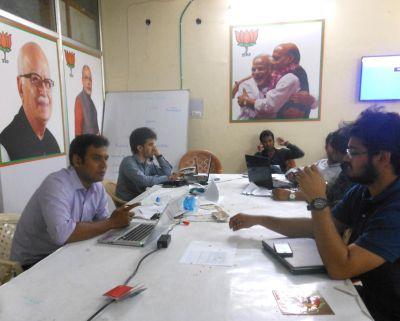 Our call centre members, image, left, are given a fixed format of questions (see here, here and here for a sample).
They keep it on the computer screen. dial the booth-level worker, ask him fixed questions, and key in the answers. This daily feedback is given to Anil Singh and others who prepare the report. Every evening we discuss it, and Amit Shah is sent a report on his e-mail id.
Every morning and evening new decisions are taken to correct problems in these constituencies.
In Uttar Pradesh some 30 per cent voters live in dark zones. I know 10 panchayats in Amethi where there is no electricity, no poles of power companies. There are lakhs of people who don't read newspapers. In Jhalore area we have seen people who don't read or watch TV at all.
In UP there are villages where development is zero. No roads, no gutters, no bijli or sadak. How to take Modi there?
We wanted them to know what Modi stands for. We knew that if we took Modi there we can change the contours of this election. Some 30 per cent of UP's voters are in such far-flung areas. Amit Shah asked us to prepare mobile vans to reach out to them. It is a hit. I organised 400 vans.
For these poor people we got a special 16-minute video message by Modi made in which he speaks emotionally about UP, how he will develop UP.
Our vans, all equipped with GPS, drive to these villages, and have covered 45,000 of them. I can say the BJP has a worker in each of the dark zones in UP now. Out of 400 vans, at any given time, 350 vans are on the road. Our head office tracks them on a real-time basis. How much time it spends in each village is monitored from a map in the headquarters.
One trained volunteer goes with each van. He parks the van in the village, shows Modi's speech to people, gives Modi masks to children, gives Modi's slogan to the young people. In each village he makes one new BJP volunteer. And before leaving the village he sends SMS to us giving the new mobile number of the new BJP volunteer.
This programme is for giving hope, it spreads hope. We named it 'Modi Aanewala Hain (Modi is coming)'. Each car covers seven to eight villages. Before leaving the village the volunteer puts up a Modi banner and gives stickers for homes.
Our vans have touched 50 lakh (5 million ) voters so far. Now people say, 'Mere Gaon mein Modi Aanewala Hain (Modi is coming to my village)'! We have a fresh list of 42,000 UP volunteers because of this programme. This has created a zabardast (amazing) effect in rural areas.
There are three crore (30 million) young voters, we think they will help us win. We are focusing on them. In towns and urban UP, young people have android phones so we keep them engaged on their mobile, sms, WhatsApp, e-mail, Facebook and Twitter.
UP's youth is reading views with news and is very alert. For each of the 80 Lok Sabha seats we created Web pages like NamoLucknow, NamoBaghpat, etc. On those pages we started debates, we informed them of current controversies, and updated our volunteers though these pages.
Ashutosh, our engineer colleague, managed it well. Devesh Kumar is an engineer from Benares Hindu University and a PhD in geography. He is a silent worker, but an efficient team leader. Abhishek Kaushik is a master of social media. He knows how to generate 10,000 Likes in two days! He works very fast, and quit his well-paying job to work for us.
We work 9 am to 11 pm. We don't have women in the team because our working hours are stretched out. Anil Singh came from Mumbai, he is very good in preparing reports from data, he is perfect in his job. Every day he receives huge data from thousands of booths. He reads it, weighs it and prepares his report. He tells us what is not working on the ground.
Thanks to all this we know what's happening in every constituency. If the posters have not reached or if our competitor is going strong or the caste equation is lacking, then we will get the information through our call centre which talks to booth-level people all the time.
Anil prepares the report that comes to me and Amitbhai every day, and we take action accordingly. Arun Kant, formerly of NDTV, does research and tells us the issues that our leaders must talk about. He gives input for speeches.
We take care of their food and accommodation. We pay around Rs 800 as pocket money. We have rented the computers and servers. So, the entire data building exercise will not cost more than Rs 5 lakh (Rs 500,000).
To take care of urban youth, we also started putting up a small skit. This nukkad natak (street corner play) helped us reach out to youth. We have performed some 1,200 such acts with the help of our team Samwad on themes like price rise and corruption.
We have formed a NaMo band too. It goes to malls, college canteens and places like Barista and CCD (Cafe Coffee Day) to perform. They start with four people, but many times 400 people gather there. We spread Modi's views and leave.
The same way, flash mob is an idea that has clicked. Our boys go into crowds and start singing. People ask out of curiosity, kya hua? And then they join in the singing.
With the help of our data we have sent messages like Ek note, ek vote. We have asked volunteers to collect funds. We call our people to know what is the latest gossip, what is the newsworthy debate in their area. We ask them about social equations, caste issues, caste meetings, if the RSS affiliation is working well or not, about competitors and about the issues that are not working in our favour.
We also prepare exhaustive reports of what all is printed in newspapers about our election prospects. We also ask how the Modi impact is in their area. All constituencies from the booth level upward send us their grades, that is, how they rate the BJP's chances of winning.
Main image: Amit Shah, left, the man in charge of the BJP's UP election campaign, gets a brief from his crack team at the party's headquarters in Lucknow. All photographs by Sandeep Pal.
Check out: Sheela Bhatt's fascinating columns on Election 2014
Check out: Poll Gupshup here
Do you think Uttar Pradesh will buy Modi's hype? Vote below!