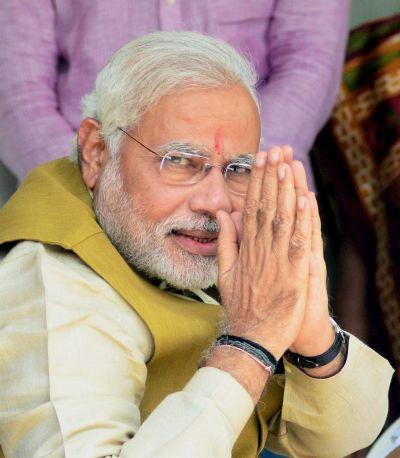 It's a mandate of young India, for young India, by young India, says Sheela Bhatt/Rediff.com, in her 43rd and concluding column on Election 2014.
India has sent Narendra Modi to New Delhi.
It is an uncomplicated and absolutely one-sided verdict.
India wants Modi.
India has severely punished the Congress, its ruling dynasty and its arrogant ministers.
A heady mix of Hindutva, development, caste votes and youth power has brought Modi to 7, Race Course Road. The mandate says Narendrabhai, please deliver.
Modi gets full marks and unqualified compliments for achieving what was impossible in India which is secular. Modi's rise clearly means that India wants a firm leader who can deliver. Modi fits the bill.
Modi made gigantic efforts to convince voters that 'I am the alternative'. He displayed money power of a kind unknown to Indian campaign managers, but everything will be overlooked if he delivers. Kudos Narendrabhai, said the youth voices of India.
The middle class has thrown up its own prime minister. On the shoulders of Narendra Damodardas Modi, to begin with, rests the Himalayan expectations of building more than 50,000 kilometres of roads, providing some 10 million-plus jobs immediately, making arrangements to supply tap water in more than 200 million homes, and providing thousands of miles of irrigation canals to the parched fields of India. India needs about 19 million low-cost homes which will need an investment of a billion rupees.
The impossible-looking victory has now brought up impossible-to-fulfill expectations.
Those who worked behind the scenes for Modi and the BJP were many organisations, many forces, ideas and ideologies. The most important force was the Rashtriya Swayamsevak Sangh to which Modi's loyalty belongs. To which Modi's heart belongs.
The RSS had an interest in making Modi PM but their deeper, intense and collective interest was to see that Modi, once their star pracharak, becomes prime minister by ensuring that he demolishes minority politics, the permanent reality of Indian politics.
For the first time in India, after 1947, a contender for the post of PM has declared in unambiguous terms that he was not a prisoner of minority vote bank politics. He refused to wear a skull cap and stuck to his stand.
The minority vote bank, which was considered strategic to rule India, has been made ineffective. Modi, from a position of strength, is sending out the message to one and all to rewrite the Indian success story by setting new parameters to fight elections. Only time will judge the measure of Modi's sincerity.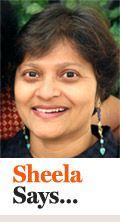 This is the most important election after the one in 1977. If that post-Emergency election strengthened the resolve of the poor, middle class and rich people of India to live and prosper under the framework of democracy, the election of 2014 is the final call by the people to the politicians to give them roti, kapda, makaan, health and education, or face our wrath.
The rebel against vote-bank politics has become the prime minister. A man who was born poor, was brought up in middle class society and was groomed by Hindutva ideas, has produced a thunderous political phenomenon.
He has a non-elite attitude, but is quite arrogant. He is not Brahminical, so to say, but knows his star value. A divided India debated him endlessly, but voters have taken an unconfused stand in electing him.
It is a mandate for drastic change. It is a mandate of young India, for young India, by young India. India has changed. Indian voters through EVMs have changed the history of the nation. By electing Narendra Modi, they have done something unimaginable since 1947.
A party that identifies more with Hindus and a leader who became famous, the first time, because of his majoritarian, partisan politics soon after the riots of 2002 in Gujarat, have won the mandate.
"Hum laaye hain toofan se kashti nikaalkar (we have navigated our boat safely from the storm)," his one-time ally told Rediff.com today, remembering the onslaught against Modi after the 2002 riots.
The pundits of New Delhi and media in general made the biggest error in thinking that Gujarat is not India. In fact India follows Gujarat today.
Modi saw the biggest opportunity for himself when many media reports implied that Gujarat is more communal and Indians are largely secular. Of course, Gujarat is largely secular like India is. Modi thrived on this error of judgment by many pundits, television reports and political forces. He grabbed the moment post-2002 riots, provoked regional identity, and remained in power after thwarting anti-incumbency.
Modi's 14 years in power in Gandhinagar is a case study. He made use of state power to build up national ambition.
Today, his flight from Gandhinagar to New Delhi is paid for by Indian voters.
Narendrabhai, welcome to New Delhi. Please deliver what you have promised.
Looking at his days as pracharak, his arrival in New Delhi as general secretary, his appointment as chief minister, his role in the 2002 riots, the secular forces' aggressive politics to tear him to pieces, his countermoves by raising regional identity through talk of Gujarati asmita, and his furious involvement in development politics and then planning a never-before-seen kind of multimedia campaign to challenge the Congress and go for nothing less than the prime minister's chair, is the stuff legends are made of.
Seeing his journey, any Gujarati would say, 'Narendrabhai, paisa vasool!'
It can really be so only if Narendra Modi delivers as much as the voters have delivered in his kitty today.