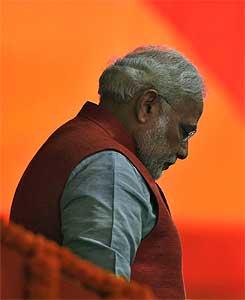 In the couple of hours that you spend in the riot-hit city you find it is not the BJP that is asking for the votes of an excited section of Hindus, but it is the people who are clinging to Narendra Modi.
Rediff.com's Sheela Bhatt reports on the sentiment on the ground in Muzaffarnagar, whose Hindu-Muslim fracture is a long way from being mended.
The first in a two-part series:
In India, many political pundits say, the people crave for development this time.
Rahul Gandhi is talking about the development of the poor and of those who have not been able to break into the middle class, while Narendra Modi has crafted an image of himself as a Dada of development.
But in Muzaffarnagar in Uttar Pradesh, the vote is NOT for development.

Once you leave New Delhi, bypass Ghaziabad, move further and cross Meerut to reach Muzaffarnagar, you realise the people are not even talking about sadak-bijli-paani here.
Today, Muzaffarnagar reminds one of Gujarat after Godhra.
The riots of September 2013 have left a deep scar. Bharatiya Janata Party leader Amit Shah's recent speech to the Jats to take revenge by pushing the button on the EVM has heated up local society.
For the first time, Jats and Muslims in the sugar belt will vote differently to defeat each other's party.
Kaushal Raj Sharma, the district magistrate, Muzaffarnagar, told Rediff.com that more than 40 companies of central paramilitary forces have been deployed in the area to "ensure trouble-free voting." The situation is calm, but inside homes and mohallas, the people are desperate to vote.

Massive arrangements have been made to ensure that both Hindus and Muslims feel safe to venture out to vote. More than 300 mobile vans will move around the 4,000 square km area of Muzaffarnagar that houses some 500 villages, the district magistrate added.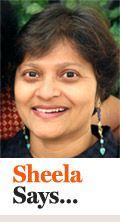 There is one man against whom all the political parties are fighting this election.
In the 10 Lok Sabha seats in western UP, it is Narendra Modi versus the Samajwadi Party, Bahujan Samaj Party, and Congress-Rashtriya Lok Dal.
Saharanpur, Bijnor, Baghpat and Meerut are among the 10 seats going to polls on Thursday, April 10.
Just 36 hours before polling begins, the divide between Jats and Muslims has increased manifold and it is obvious that people everywhere are talking the language of Amit Shah.

The BJP's Sanjeev Baliyan, accused of making a provocative speech to the Jat panchayat, and the BSP's sitting MP Qader Rana are the front-runners to win the Muzaffarnagar seat.

In the couple of hours that you spend in the city you find it is not the BJP that is asking for the votes of an excited section of Hindus, but it is the people who are clinging to Modi.

A local journalist said, "We are surprised to see the BJP not asking for votes. It is the people who want to give their votes to Modi."

City Congress chief Tariq Quraishi complains, "The media has hyped Modi so much. There is no BJP in western UP. We have and we can fight the BJP easily. But the media is spreading this fake hype of Modi without giving us equal coverage."
District Congress chief Taj Bahadur Singh feels the same way. "The canard has spread. People have started believing lies. As if Modi will solve all their problems! One day the BJP will say vote Modi and your buffalo will start giving milk. What nonsense!"

A local woman police officer who has already voted says, "Even my five and eight-year-old children want to vote for Modi."

Another local resident says, "In Mathura and Baghpat people tell (RLD leader and Union Aviation Minister) Ajit Singh's daughter-in-law Charu (Chaudhary) to take their money but not votes. We can't guarantee you our votes."
Between New Delhi and Muzaffarnagar's 100 km stretch, the Congress seems to be missing.

Before going to hear the Muslim riot victims' story I heard praise of Modi from a cable television operator, Amit Sharma.
With a spark in his eyes, he said, "Modi ko kaun nahi janta? (Who does not know Modi? Even the children in my house know Modi. Is baar vote toh ek baju hi girega (this time all the votes will go one way)."
When I asked for directions to Shahpur village, he said, "You will find the 'other side' over there."
Image: Narendra Modi. Photograph: Ahmad Masood/Reuters.
Check out: Sheela Bhatt's fascinating columns on Election 2014
Check out: Poll Gupshup here