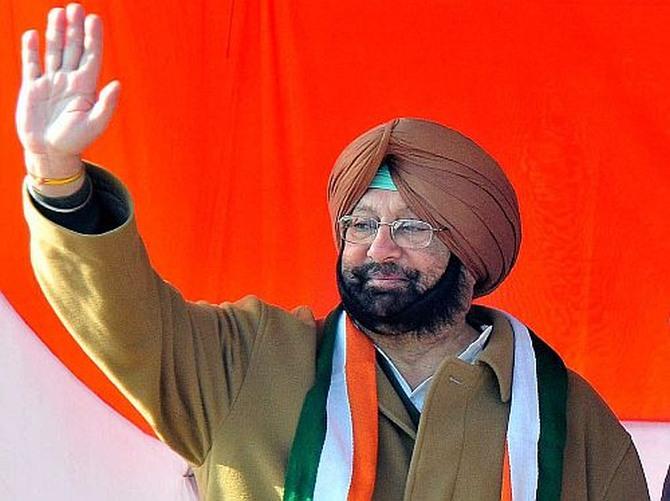 '...Take him in the sense that I will defeat him. This is just our military term...'
'If there's anybody today who's anti this government, it is the youth of Punjab. All of them are being coerced, there are no jobs being created, all of them are taking to drugs because of frustration.'
'There is no Narendra Modi factor, there is no national anti-incumbency. In Punjab there in only anti-Akali incumbency.'
Former Punjab chief minister Captain Amarinder Singh, once the Maharaja of Patiala, pulls no punches when taking about his rivals, especially his BJP opponent from Amritsar Arun Jaitley and the Badals, in this no-holds-barred interview with Sheela Bhatt/Rediff.com
Also read:
The Jaitley interview: 'It's an election that has a fairly predictable result'
Sheela Says: The woman leading Arun Jaitley's Amritsar battle
You have an image of a laidback royal, is that true or have you been campaigning hard?
There is no laidback royal attitude. I'm laidback in a sense that I take whatever comes and I fight it to the best of my capacities. I never panic and I have never been panicky.
Why then this reputation for being inaccessible?
About inaccessibility let me tell you, the first time I fought in Patiala, I won by a margin of 28,000 votes. The next time I fought I won by 34,000, then 38,000 and this time I won by 42,000 votes.
If I'm inaccessible, then why are people giving me more and more votes?
Because you are a royal.
See, these are traditions, after all. What is 'pati-ala'? Ala Singh was the founder of our family and what is pati? It means land. So it's his land. Patiala goes back to around the 1760s, the family came from Jaisalmer in around 1305. Our traditional region is in and around Bathinda. We are Bhatis.
It is being said that it has been quite an acrimonious campaign, personal charges are being made between you and (the Bharatiya Janata Party candidate from Amritsar) Arun Jaitley.
No personal charges I would say... When Jaitley said I'm an Amritsariya I asked him how are you an Amritsariya? And if you are, what makes you say that you have greater precedence over me?
Your nankas (maternal family) are from Amritsar and so are mine. My nankas are from Majithia (a village on the outskirts of Amritsar). And then my daughter is married to Raja Sansi here. Jaitley is an outsider.
Does that matter?
No, it doesn't matter, but don't tell lies then. Tell the truth. Tell the truth to the people that no, I'm not from here, but according to the Constitution we can fight from anywhere.
After all Dr Manmohan Singh fought for Amritsar but was elected from Assam. But don't tell lies. I had caught him (Jaitley out on his lie.
In your first interview you had said I don't even know the streets of Amritsar. You were reluctant to fight from here...
Why should I be reluctant? Sonia Gandhi is my party president and it is my duty to see how I can best help her. And I said you have kept me for 16 years as your chief minister and state president. Don't you think I know Punjab well?
I know every district of the state. I know every parliamentary seat. I have campaigned in, I think, eight, nine elections... But when you fight an election it is a different thing.
I think this is my 16th election or so -- I haven't fought all, some I managed and campaigned for. From 1967 onwards I have been handling it -- when my mother was in Parliament.
I told the media that my wife (Union Minister of State for External Affairs Praneet Kaur) is fighting the election in Patiala and I will be also be busy campaigning in the whole state. That's what I said.
I told this to the Congress president also. She called me two weeks later and said 'Amarinder, I thought it over, I would like you to fight for me from Amritsar'. I said fine. So there was no reluctance in it. It was just an opinion.
How are you feeling now after campaigning?
I am feeling damn good. And I am going to take this chap Mr Jaitley nice and proper. Take him in the sense that I will defeat him. This is just our military term...
What are those two, three issues on which you think you can defeat him?
First, he is an outsider. Two, people are fed up of him and his supporters -- the BJP and the Akalis.
There is no Narendra Modi factor, there is no national anti-incumbency.
In Punjab there in only anti-Akali incumbency. And this government is supporting this man (Jaitley) so he's going to lose because of their problems.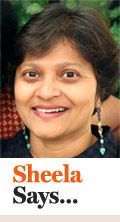 You have been in politics for many years, how do you see the national picture? Do you think this election is the turning point?
No! No! Do you think I'm going to say Modi is going to win? I don't think Modi is going to win.
I think if you see six months ago, people were saying there's a Modi wave, now many people are asking 'Is there a Modi wave?'
Things are changing and I think the situation in the country today is becoming difficult, more clear and I don't think anyone would wish a government to emerge like Modi's Gujarat government which has massacred Muslims and threw Sikh people out of Gujarat.
All our people who had settled there after the 1965 war have been asked to pack up and go and Christians there consider themselves as second class citizens.
Who is there who is supporting Modi? What happened to all those Christian nuns who were raped in Orissa in all those tribal areas?
Punjab Chief Minister Parkash Singh Badal says Jaitley may become the deputy PM or at least the finance minister. Don't you think it will affect your prospects?
Father and son (the Badals) should put their heads together. Badal said he'll become deputy PM, then he said he'll become finance minister. That very day Jaitley issued a denial that I am not a candidate for the high post. It is clever.
He had no business to make such claims. I said, let them show the BJP working committee resolution that says he is going to be the deputy PM. They had none and then Badal goes on to give another conference and says that these are just talks of the elections.
Deputy Chief Minister Sukhbir Singh Badal said the state Congress president Pratap Singh Bajwa is a human bomb sent by Rahul Gandhi to destroy the Punjab Congress.
Sukhbir Badal talks nonsense half the time. Why do you listen to this foolish, half-baked, nonsense?
Do you think the youth of Punjab is changing? How do you see the new electorate?
See, if there's anybody today who's anti this government, it is the youth of Punjab. All of them are being coerced, there are no jobs being created, all of them are taking to drugs because of frustration.
People are fed up of them (the Akalis). You tell me, how many jobs have been created in the last six years under them? Young Punjabis are without jobs.
This issue regarding drugs was raised even before. Yet this government was elected again. Rahul Gandhi had raised this issue, also.
But the question is, how do you get jobs? Only when industry comes in. How will industry come in? Only when you have electricity. If you make policies, only then industries will come. There is no power. There is power for only two hours a day, how can an industry work?
Do you think you had an advantage in the rural areas compared to city areas or is it the other way around?
I think both are giving me support. Certainly in the urban areas, whatever people feel, it's really very strong, because they are extrovert, they'll do a lot of talking, but you'll see those people are all my supporters.
In the rural areas, they don't speak because they're more introvert. They don't know if any Akali is listening, who is noting down, from where he has come, and later they'll harass them. They'll send the police, get them beaten up. This is the kind of things the Akalis do.
Jaitley and you, both are so sophisticated, then why so much bitterness?
Because he is BJP, I'm Congress!
Must Read: Sheela Bhatt's fascinating columns on Election 2014
Is the Captain Amarinder Singh factor in the Amritsar election over-rated?