'Saudi Arabia's standing internationally and in the West is going to take a big hit even if MBS is dethroned.'
Aveek Sen reports.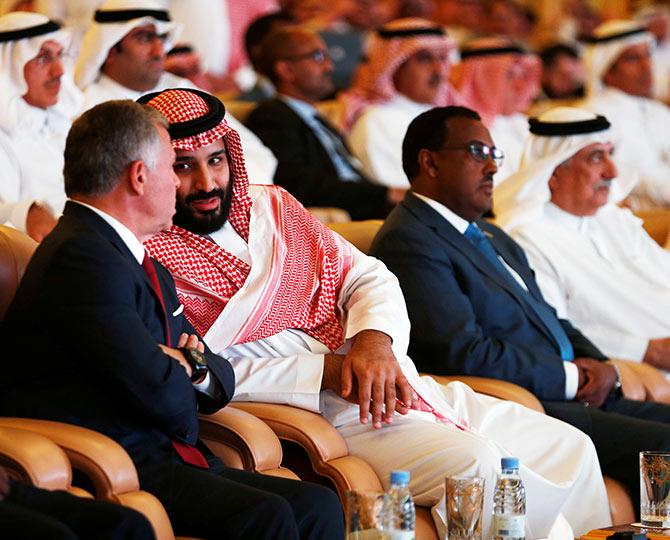 Tuesday's publicly televised speech by Turkey's President Tayyip Reccep Erdogan opens a new chapter in geopolitical tussle in the region.
Saudi Arabia got away with bullying Canada after Canadian Foreign Minister Chrystia Freeland tweeted against the detention of Saudi human rights activist Samar Badawi whose brother Raif has been languishing in a Saudi prison for years now.
Saudi Arabia didn't face much opposition either during its blockade of Qatar.
But now the West, barring the United States at this point, are forced to acknowledge the brutal murder of Washington Post columnist Jamal Khashoggi in the Saudi consulate in Istanbul on October 2, 2018.
In his speech in the Turkish parliament on October 23, Erdogan put the Saudis in a difficult position.
He hinted at Saudi Crown Prince Mohammad bin Salman's involvement in Khashoggi's brutal murder and asked for all those involved from 'top to bottom' to be prosecuted.
Erdogan invited international investigators to Turkey, saying he did not want questions raised about the Turkish investigation given that it is a high profile political murder.
'I personally do not doubt the sincerity of the Custodian of the Two Mosques, King Salman bin Abdul Aziz,' Erdogan said, and proposed to King Salman that as Khashoggi's murder occurred in Istanbul the crime must be investigated in Turkey.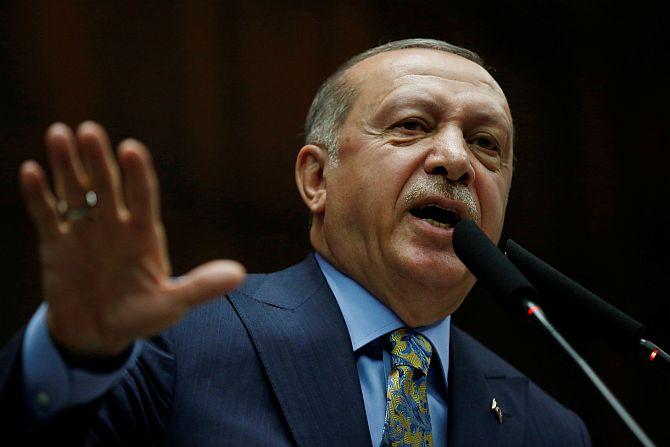 "This is likely a picture moment in the geopolitics of the region," Trita Parsi, the wellknown Iranian-American commentator, told me.
"Turkey, which had largely been at the losing end of numerous issues in the region, has the chance to turn the table on its Sunni rival, Saudi Arabia, and weaken it significantly," Parsi pointed out.
"Saudi Arabia's standing internationally and in the West is going to take a big hit even if MBS (as the Saudi crown prince is called) is dethroned," Parsi added.
"Turkey will position itself as the main pole in the Sunni world while strengthening the Islamists related to the Muslim Brotherhood, while weakening the Saudi-UAE-Egypt access," Parsi said, adding, "Iran too will benefit, while the US and Israel will find their geopolitical objectives frustrated."
"It appears Erdogan is still giving the Saudi government more time to acknowledge its responsibility for the murder," Barbara Slavin, director of the Future of Iran Initiative at the Atlantic Council, a US think-tank, said.
"Erdogan," Slavin said, "sees himself as the leader of the Muslim world and believes that the reaction to Khashoggi's brutal killing has weakened Saudi claims to that leadership as well as its efforts to isolate Qatar, Turkey and Iran."
"It is not a simple murder, it is about Saudi Arabia sending a message to the world," argued Turkish journalist and political activist Mehmet Berk Ergin.
"This sad incident will be a watershed moment," Ergin asserted, "it will affect Saudi Arabia's relations with many countries. It will also have a bearing on Turkey's relations with Saudi Arabia. This is a new era in Turkey's foreign policy."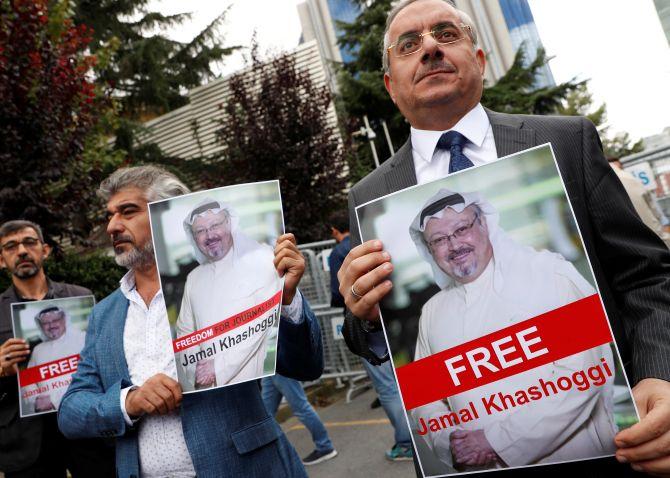 Saudi Arabia has been shamed before the international community.
If the West turns a Nelson's eye to the Khashoggi murder, it loses credibility.
Any mention of human rights in the future in the context of any geopolitical situation will be discredited as mere politicking and propaganda if it overlooks what Saudi Arabian agents did in Istanbul when Jamal Khashoggi turned up to sort out a mere consular procedure on October 2, 2018.
US already has been bracketed in that category.
Europe now confronts the question about what its role will be: Will it send its investigators or will it bury the murder under the carpet to maintain its relations in the turbulent Middle-East.
It has often been said in recent days that a single Saudi brutality drew more attention globally than the Saudis's carpet bombing of Yemeni civilians areas.
There's the issue of the leadership of the Muslim world.
There's the question of championing the cause of human rights.
But then there is politics and a lot is given a pass.
Will it be business as usual then?
Aveek Sen is an independent journalist working on cyber security and the geopolitics of India's neighbourhood, focusing on Pakistan, Afghanistan, Iran and Bangladesh.