'Those who genuinely seek justice do not differentiate between a victim and a victim or an accused and accused.'
'They demand justice for all,' says Utkarsh Mishra.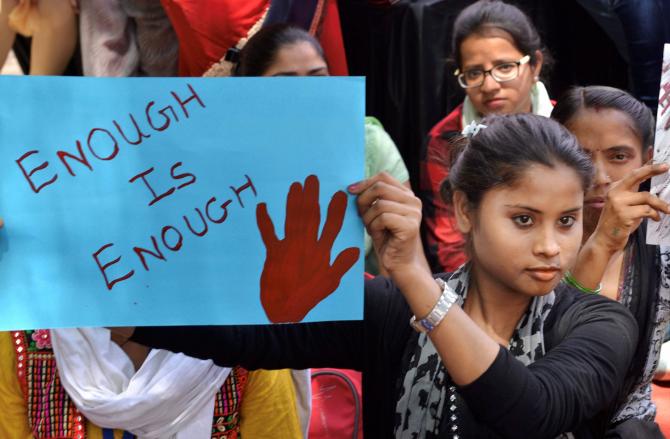 'I condemn the gang rape and murder of the eight year old. She must get justice, BUT...'
With this begins a tirade of whataboutism, which escalates very soon: From 'Where were you when that rape happened?' to 'Where were you when Timur and Nadir Shah came charging?' etc.
We know such double standards are not new for this herd.
In 70 years after Partition they couldn't decide whether they considered Hindus and Muslims as 'two nations' or they wanted an 'Akhand Bharat'. Because the two demands must be mutually exclusive for sensible people.
However, social media has opened new avenues for them to vent their bigotry.
Though I am convinced that it is hard to penetrate sense in those brains that tend to justify a child's rape by nonsensical tu quoque responses, I, nevertheless, want to make some counter points.
For instance, take what Bharatiya Janata Party MP Meenakshi Lekhi said on Friday.
Claiming that these two incidents (Kathua and Unnao) were 'selectively highlighted to target the BJP', Lekhi said a similar case of rape and murder of a minor girl in Assam never got the prominence like these two cases.
'Some people are silent on that (the Assam incident), but have highlighted the other cases in a wrong manner, even though action has been or is being taken against the accused,' Lekhi was quoted as saying by PTI.
In Assam, Lekhi said, a minor girl was raped, then the accused poured kerosene on her and burnt her to death. The MP named the accused -- Zakir Hussain -- who was arrested.
'The Unnao case is over 10 months old while the Kathua case happened in January. Another case was also reported in April. It was in Nagaon in Assam. A 12-year-old girl, a Class 5 student, was raped and burnt with kerosene. The accused, Zakir Hussain, was 21 years old and had two accomplices,' Lekhi said.
Adopting a similar tone, may I ask where was Ms Lekhi before Friday?
Why didn't she speak or protest against the Assam case before her party's governments were targeted over the Unnao and Kathua cases?
And which party rules Assam right now?
If this outrage 'selectively targets the BJP', then what would that outrage have done?
Does that mean 'Hindus are not safe' even in BJP-ruled states?
So what locus standi does the BJP have in calling Karnataka Chief Minister Siddaramaiah 'pro jihadi' and saying that the Hindus of Karnataka 'have understood that this government will not protect them'?
And if the Assam government acted promptly and the accused are behind bars awaiting trial, then what is the need for outrage?
Why did outrage erupt over the Kathua and Unnao cases in the first place?
Because the accused were being shielded by a group of people -- which also included two BJP ministers and some lawyers -- in one case and by the administration in the other.
That is what the Supreme Court and the Allahabad high court have said.
The Supreme Court 'warned' Jammu lawyers 'for obstructing the process of law'. It had to take suo motu congnisance when the entire bar association in Jammu stood up against a court-monitored probe.
Why did they do so? Didn't they trust the court, or the police?
If the lawyers really feared 'harassment' of one community by the police, then who stopped them from filing a petition requesting to take the case outside the state?
Why won't the common man protest and cast apprehensions on the government when state ministers join a march in favour of the accused?
It was only because of this outrage and media pressure that the two ministers had to resign from the Mehbooba Mufti government.
Come to Unnao and you will encounter an even more horrifying tale of administrative complicity.
Hear it straight from the Allahabad high court, where a bench headed by Chief Justice D B Bhosale said that the 'law and order machinery and officials in the state were directly under MLA Kuldeep Sengar's influence'.
In this case too, the high court had to take suo motu cognisance when it saw that the MLA was not arrested despite being charged with cognisable and non-bailable sections of the Indian Penal Code and Protection of Children from Sexual Offences Act.
The high court took 'strong objection' to the UP government's submission that the MLA would not be arrested 'on mere registration of the FIR', saying this approach is 'not only appalling but shocks the conscience of the court in the backdrop of the instant case', reported PTI.
Ms Lekhi answers for herself when she says the 'Unnao case is over 10 months old and Kathua happened in January'. Doesn't it indicate that the government only acted after such national outrage and intense media pressure?
The girl attempted self-immolation outside the Uttar Pradesh chief minister's residence to bring her ordeal into light. It still took three days to arrest the MLA, forget about expelling him from the BJP.
The only purpose these senseless tu quoque responses serve is to divert attention from the important questions. And perhaps that is what they intend to achieve.
Why aren't they asking their government that why despite repeated complaints from the girl and her family for 10 months no action was taken? Not even an FIR registered?
When the special investigation team says the girl's father was assaulted by the MLA's brother, who should be held accountable for omitting his name from the FIR and arresting the former instead?
Why did the girl go to the extent that she did to draw attention?
Isn't it a failure of the administration and 'good governance' that this party promises with every breath?
Is asking these questions tantamount to 'politicising the matter'?
Why is nobody asking those lawyers what makes them doubt a court-monitored probe?
And if they doubt it, why didn't they go the Constitutional route instead of burning tyres on the roads?
Who 'communalised the issue' by saying 'Hindus were harassed' during the investigation?
What do all those placing Assam or other past incidents against Kathua or Unnao want to prove? That it has been happening and will keep on happening?
So how is their administration any better from the past ones?
National Crime Records Bureau statistics tells us that a woman is raped in this country almost every half hour.
Who stages protests against each one of them?
If we go by the understanding of the whatabouters, should we ask them 'Where were they' every half-hour?
They don't understand that when an outrage erupts over heinous incidents like the December 16 gang-rape or Unnao or Kathua, it encompasses all those victims and survivors who have gone through this horror.
The outrage over the December 16 gang-rape was not only about punishing those six monsters. It was also about bringing a paradigm shift in the mentality of men and boys in our society.
Those who genuinely seek justice do not differentiate between a victim and a victim or an accused and accused.
They demand justice for all.
While those who try to justify one case with the other only help the accused get away.