She faced off against former disciple-turned-defector Suvendu Adhikari in a very different contest.
It's not land acquisition, but an ego clash that has acquired, tragically, communal overtones, explains Kanika Datta.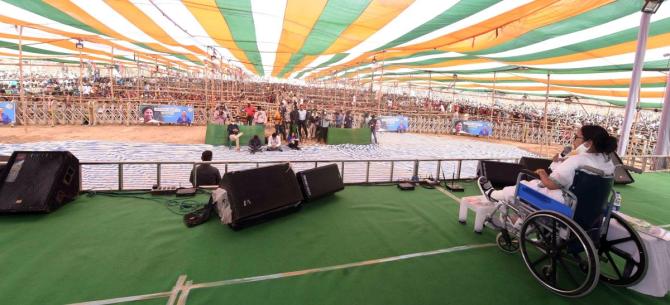 There was some irony in Mamata Banerjee's decision to stand from Nandigram in this assembly election.
Ten years ago, this south Bengal constituency was, together with the abandoned Tata Nano project in Singur, the locus of the campaign that ended 34 years of Left Front rule in West Bengal.
The casus belli at Nandigram then was a Left Front project to acquire a humongous amount of land for a chemical export hub. The potential displacement of thousands of people, many of them elderly and eking out a meagre livelihood from infertile soil, sparked a protest that got out of hand; 200 people died in police firing.
That opened the doors for Banerjee's brand of confrontational politics.
She faced off against former disciple-turned-defector Suvendu Adhikari in a very different contest. It's not land acquisition, but an ego clash that has acquired, tragically, communal overtones.
Over a third of Nandigram's population is Muslim, a factor that played little role in state electoral politics until the Bharatiya Janata Party entered the picture. Banerjee's 2011 victory was also embedded in irony because she fought on the same platform -- people's right to land -- that had ensured the Left Front's six-term hegemony.
Their hubris lay in the arrogance of entrenched power; after just two terms, Banerjee faces the same threat.
As her state descends into a vortex of violence that harks back to the 1960s and loyalists shed the jora ghash phul for the lotus, she would do well to consider her predecessor's fall.
How did an alliance that had retained its powerful grip on Bengal thanks to a successful land redistribution programme lose to a politician with an inchoate rabble-rousing agenda?
The answer lies in the 1994 Policy Statement on Industrial Development, which welcomed foreign investment and recognised the 'key role' of the private sector.
In other words, three years after P V Narasimha Rao's government introduced economic liberalisation -- which the Left parties had denounced -- the Left Front drank the capitalist kool-aid.
The spectacular failure of the Soviet economic model should have eased the shift, but the Left Front rank and file, which derived its power from its rural base and heavily politicised factory labour, did not get the memo.
That much was evident from an early failure, when the sale of the crumbling Great Eastern Hotel to Accor Pacific had to be called off. A sulky government press release explained that the unions had not agreed to the privatisation.
The surprise was that the redoubtable Jyoti Basu, whose elite, wWestern, liberal outlook masked a shrewd appreciation of mass-based politics, did not understand the need to sell this ideological U-turn to the foot soldiers nor work out a plan to recalibrate local patronage politics to the new economic paradigm.
Secure in his electoral fortress, he and his Middle Temple barrister colleague Somnath Chatterjee engaged in hectic shuttle diplomacy to attract foreign investment, signing scads of Memorandums of Understandings that yielded little.
Then the new century brought a new chief minister, Buddhadeb Bhattacharjee. A former Communist stalwart, poet and playwright, he embarked on the new economic policy with the gusto of a new convert. Suddenly we heard of India's industrialists queueing up to invest in a state they had shunned since the 1960s.
Land acquisition began in Singur on behalf of the Tata's Nano project with, initially, little controversy since most land-owners were absentees and the proximity to Kolkata kept open the prospect of job opportunities for others.
The protests of some land-losers mobilised by Banerjee's shrill politics could be ignored.
But Nandigram gave her political heft. Here, displacement could mean destitution.
For the first time, the local party workers found their hands tied by a remote chief minister who appeared to sanction police brutality against peaceful protestors.
The narrative of the little guy up against arrogant State power allied to a foreign fat cat -- in this case the Salim Group of Indonesia -- played into Banerjee's hands.
Her power flowed from maintaining the Left Front status quo -- which is why Left party workers and local goons joined the Trinamool Party in droves.
In a sense, then, Banerjee's popularity stemmed from a negative achievement of shooing the Tata project away from the state, returning 400 acres of now unusable land back to farmers, and nixing an export hub.
Her clean-up job of shabby Kolkata persuaded the bhadralok that poriborton had indeed arrived. But it was hard to miss the fact that few industrialists were writing cheques for projects.
Being instinctively autocratic like most Indian political leaders, she had no one to tell her that her power base was the same one that had sustained her predecessor.
With an ideology that can best be described as Left Front-minus -- that is, minus its non-communal culture that she is strenuously trying to re-establish -- she made it easy for the BJP, with its explicit majoritarianism and millennial promises of aspirational development, to establish a heavy footprint in less than 10 years.
Nandigram pit the chief minister's popularity against the entrenched power of the Adhikari family in the hinterland of western Medinipur (Mamata lost the assembly election by 1,700 votes late on Sunday, May 2, evening).
Politics has moved on from 2011, too.