'As far as people like Kamala Harris are concerned, it's okay to share a culture, but wrong to play domestic Indian politics during American elections,' notes Vir Sanghvi.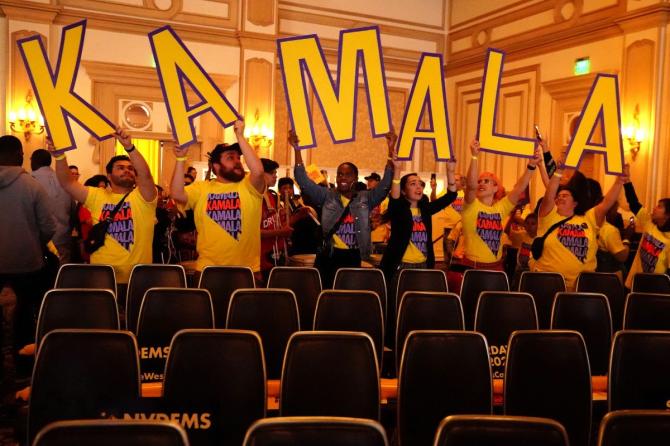 Some months ago, when she was still running for the Democratic nomination for US president, Kamala Harris shot a video with Mindy Kaling, the American actress who was born Vera Mindy Chokalingam. Kaling made masala dosas and Harris, whose mother was Tamil, helped her in the kitchen.
While Harris has publicly identified herself as black (her father is Jamaican), I was intrigued to see how much of her South Indian heritage she retained. She described how masalas were stored in her mother's kitchen and rushed up to Ms Kaling's father, when he entered the kitchen, calling him 'uncle', in the best Indian tradition.
After Joe Biden named Harris as his running mate, that Kaling-Harris video went viral, drawing delighted responses from Indians and Indian-origin people in the Diaspora. The general reaction was, 'Look! She's so Indian!'
Within a couple of days, on Twitter at least, the mood had changed.
Critics dug up Ms Harris's positions on such issues as Article 370 and complained that rather than being loyal to India, she was actually obsessed with human rights. (It is sad that we are at a stage where these two positions are regarded as being opposed to each other.)
And some tweeters called her 'anti-Hindu', for reasons that tell us something about the relationship that the mother country has with its American Diaspora.
The US is a nation of immigrants. Its culture is a mix of the cultures that the immigrants brought with them. Take Italian-Americans, who have contributed so much to America's food traditions -- the pizza, for instance. Or take European Jews, who more-or-less created both Hollywood and the popular music business.
Nobody in America denies or questions their contributions. But equally, it is clear that while immigrant communities are welcome to tip their cultures into the melting pot that is America, they are Americans now.
At a political level, there is no question of divided loyalties. If America fought a war against the countries those immigrants came from, the immigrants would be expected to fight for America. Thousands of Americans of German origin and Italian Americans enlisted during World War II to fight Germany and Italy.
Because there was some doubt (needless) about the loyalty of Japanese-Americans, thousands were (quite shamefully) interned during the War. Even some Italian-Americans were interned. America did not tolerate even the suggestion of divided loyalties.
The distinction between culture and politics is one that we have yet to fully understand in India.
Even though so many foreign countries (the US, Canada, Australia, the UK, etc) have sent Indian-origin diplomats to Delhi and those diplomats have always made it clear that they have no political loyalty to India, we still cling to the belief that anyone with Indian blood must support our political positions.
One reason for the confusion is the role played by the Indian Diaspora.
Till recently, Indians who made it in public life in the US did not always draw too much attention to their Indian roots.
Piyush Jindal became Bobby Jindal and converted to Christianity before entering politics.
Nimrata 'Nikki' Randhawa married a man called Haley, took his name and converted to Christianity in 1997. Neither politician had much interest in Indian issues.
That's changing now. Even though they regard themselves as American, members of the Indian Diaspora treat it as their right to take sides in domestic Indian politics.
Many Indian-origin American citizens were part of Indian National Congress-affiliated organisations in the US during the Rajiv Gandhi era.
Atal Bihari Vajpayee would regularly address Sangh Parivar-linked Indian-American bodies when he went to the US. So this not necessarily new.
But at no time in our history have non-resident Indians become so passionate about Indian politics as they have under Narendra Modi.
Modi is now so popular with the diaspora that he might well sweep to victory in an election in parts of New Jersey.
BJP-supporting NRIs are active on social media, often taking fundamentalist Hindu positions, disparaging Indian secularism and cheering the prospects of Modi and his party.
The Internet allows them to keep up with domestic Indian politics on a real time basis. And Twitter lets them be heard.
While all immigrant communities in the US retain some links to the politics of their countries of origin, few (if any) communities display the vigour and passion that Indian-Americans do about Indian politics.
They regard it as their right to tell people who have Indian passports and have chosen to live in India, how India should be run.
As far as they are concerned, the perspective from New Jersey is often clearer than the view from New Delhi.
So great is the BJP's respect for the Diaspora that NRI bodies believe that it is only a matter of time before foreign passport holders of Indian origin will be allowed to vote online in Indian elections. Certainly, they have lobbied for it.
This may or may not happen, but it offers an insight into how sections of the Indian right wing see Kamala Harris.
Harris may feel that she is an American with only a cultural connection with India. But the distinction between the cultural and the political is often blurred when it comes to the Diaspora.
Despite holding US passports and US jobs, many NRIs believe they can immerse themselves in Indian politics, with the active encouragement of the ruling party.
In this kind of environment, it is sometimes easy to forget that not every American with some Indian roots is as obsessed with the politics of the land of his or her forefathers. They are Americans and, as much as they love Indian culture, their politics are America-focused.
But because we have given the Diaspora a voice in Indian domestic politics, we reckon that every American of Indian origin must fight for this government's interests.
But they haven't. And they won't.
As far as people like Harris are concerned, it's okay to share a culture, but wrong to play domestic Indian politics during American elections.
We mustn't let the rise of the Hindutva-loving Diaspora blind us to that important distinction.
Masala dosas and politics don't always mix.
Vir Sanghvi is a journalist and TV presenter.