If Team Rajini expected Kaala to carry the superstar's political message off-screen, it may have proved counter-productive. If the not-so-infrequent presence of Muslim residents of Dharavi, including that of Kaala's ex-love Zarina, in many scenes is expected to convey a political message, it is a no-brainer, says N Sathiya Moorthy.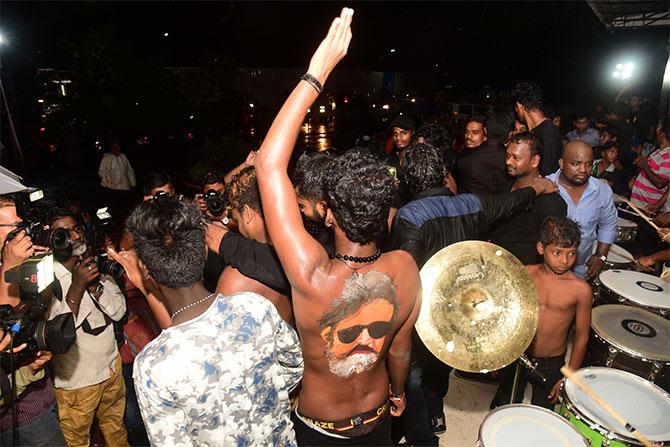 Despite select reviewers, outside of the Tamil language media, finding a strong social message and intellectual interpretations of the same in Pa Ranjith's Kaala, the film can only be a burden for superstar Rajinikanth's promised political entry, especially if it comes about in the near future.
If nothing else, Rajini would have to let the messaging of Kaala sink deeper before he could do so, or so it seems.
The flaws in Kaala are obvious, both as a superstar movie and also in terms of Rajini's political plans. Though super-stardom had come to Rajini in the previous century, the new generation fans from across the country (language no bar) identified with the 'impossible' which only a 'superstar' could do, even if only on-screen and for those three hours alone.
These sections, including those in native Tamil Nadu and speaking the Tamil language, did not bother about Rajini's politics. They wanted to live in that ridiculously imaginary world for those hours, have fun, and recall the fun they had had at the cinema hall as a group. It was escapism at its very best.
Belonging to the 'IT era', they have had no interest in Rajini's politics, nor are many of them equipped to read between the subtle caste interpretations that film-maker Pa Ranjith has 'woven' into the spectacle, which is no way as spectacular as Enthiran (Robot in Hindi, 2010) or Baasha (1995).
In the Tamil cinema-goers' idiom of decades, political or otherwise, director Ranjith's symbolism is at best under-stated, visible only to the discerning eyes of Left-leaning sections of street theatre groups. Here again, it is in passing, defies logic, lacks coherence and displays an unnatural hurry -- to display all those signs before the film's ending.
Set in the famed Dharavi slums of Mumbai, against the backdrop of the trials and tribulations of the large Tamil migrant labour fighting for their rights against a local land mafia don, the film has protagonist Karikaalan, simply known as 'Kaala', seen mostly in the black attire of the working people from the socio-economic weaker sections of society -- caste and religion, no bar.
It is not a setting that hardcore Rajini fans of yore and also the young, GenNext can relate the superstar to. But the overnight transmutation of the black of all labour class to the 'blue' of the post-modern Dalit socio-political stream only displays the film-maker's confused approach to his own subject.
Then there are the final scenes, where black dust fills the whole screen space, only to be replaced by red hue of Left protestors with streams of street theatre symbolisms and colours getting thrown in for effect. If anything, all of it only reduces the film's climax to a confused gimmickry, lacking both drama and cinema, which has been the hallmark of all superstar movies, whether of the Rajini kind or otherwise.
If Team Rajini expected Kaala the film to carry the superstar's political message off-screen, it may have proved counter-productive. If the not-so-infrequent presence of Muslim residents of Dharavi, including that of Kaala's ex-love Zarina, in many scenes is expected to convey a political message, it is a no-brainer.
If anything, every time Zarina appears on the scene, only her brief, subdued, short-lived romantic past comes to mind, not her religious identity (and, thankfully so). All other Muslim faces, male or female, are only props like every other human face on the screen, with no serious role to play by Kaala's side.
Conversely, as if to live down Rajini's off-screen pro-BJP, pro-Hindutva political image, Kaala has freely used the Sangh Parivar's saffron to identify with the film's villain, Hari Dada. It is yet another imposition which the film could have done without and Rajini, the political aspirant, even more.
If nothing else, Rajini may readily come to share the same electoral constituency with the BJP, and may be the preferred choice of most, as was the case with the late AIADMK supremo Jayalalithaa, even over the national level charisma of the likes of Prime Minister Narendra Modi.
This section may not desert Rajini for propagating an anti-BJP message of the kind through Kaala,, yes, but then, these are thin lines that he had not allowed the film to cross.
In comparison, Rajini's Baasha (1995) too had used Mumbai's annual Ganesh festival as the scene of a bombing episode, where the villain was shown as a Christian going by the name Antony.
Maybe owing to director Suresh Krissna, or to the times in which the film was made, the religious connotation did not rub in as much as in Kaala now.
Off-screen, there is a huge electoral problem that Kaala might have sown for politician Rajini before he had actually christened his promised political party and launched it. True, the Dalit and Muslim communities across the country, including 'Dravidian' Tamil Nadu, are believed to stick together electorally.
Just now, both communities also lack a strong political leadership in the state, as in much of the country -- or, that is also another belief. There seems to be thus a contrived attempt by Team Rajini to 'hijack' this constituency through movies such as Kaala now, and Kabali (2016), both from the stables of Pa Ranjith.
In 2006, when actor-politician Vijayakanth (also dubbed 'karuppu', or 'dark', Rajini), launched his DMDK, he was believed to have attracted a substantial portion of Dalit votes, with no other political past to call his own.
If the idea thus is for Kaala to help Rajinikanth to consolidate a start-up electoral platform, particularly after Vijayakanth and DMDK had failed to build up on the early start, it may be easier said than done.
Going beyond all this, Rajinikanth's 'sudukaadu (graveyard)' reference to frequent protests of the anti-Sterlite kind in Thoothukudi, which claimed 13 lives in police-firing, also did not go down well with sections of film-goers in a state with a high degree of political awareness.
After visiting victim families only days before Kaala's release, a highly-surcharged Rajini declared that if people were to launch a protest for everything, then Tamil Nadu would become a 'sudukaadu' or cremation ground, possibly implying that the state would not see any development.
Leave aside the fact that his pre-Kaala statement contradicted his early tweet on the day of the violence (May 22, 2018), condemning police firing in no uncertain terms, the film's storyline is only about protests, protests and more protests, and bringing Mumbai to a stand-still.
Otherwise, too, Kaala has recalls to memory earlier movies like Mani Ratnam-Kamalahassan production Naayakan (1987) on the one hand, and the more recent Vijay-starrer, Thalaivaa (2013), both essaying the struggles of low-end Tamil migrants in Mumbai and their protector, again from the community -- each set in its own time and space.
Internally, too, Kaala's script slips up occasionally. Like in the scene when Kaala recalls how bad man Hari Dada had killed his father, Vengaiyan, at his wedding venue with Zarina, leading to their parting of ways. Zarina looks as if she had not heard the father's name earlier, though the narration earlier had clearly said that their parents had not discouraged the inter-community union.
This also raises a more serious ideological question that Ranjith, the revolutionary film-maker, may have to address: was/is he apprehensive of promoting religious unity through marriage in and through Kaala, whatever the reason and justification?
What more, with post-release box-office reports declaring huge overseas collections for Kaala from where all Tamils lived, there were reports of local Tamil communities there, their distributors and exhibitors threatening to boycott the movie for and after Rajini's 'sudukaadu' statement.
It is another matter that most such boycott calls came from pan-Tamil identities of the Sri Lankan Tamil kind, carrying with it a deeper message for Tamils in India, one way or the other.
For all this, it was not the first time a leading star lost out an opening day's domestic collection to unsure political statements of the kind that Rajini made just days before Kaala's global release.
At the height of the Emergency, when the Congress-O unit in the state split after the death of Kamaraj, 'Sivaji' Ganesan, one of the two reigning superstars of Tamil cinema but only after MGR, took a calculated risk about his new political loyalties.
Ahead of the annual pilgrimage to the hill shrine of Lord Ayyappa at Sabarimala in neighbouring Kerala, Ganesan declared that he would make his political position known on his return.
That was enough for politically-conscious sections of his fans to dump the actor -- and for good. Even as the actor was on pilgrimage, his December 1975 release, Paattum Bharathamum, (pairing Jayalalithaa, after 'Dream Girl' Hema Malini reportedly declined the role owing to scheduling problems) bombed at the box office, as none of his recent movies had done. The reason was political, and nothing else.
Rajini has had his taste of such fan behaviour too. At the height of the Coimbatore serial blasts, which BJP veteran L K Advani escaped thankfully, the superstar on arrival from a foreign tour, said what seemed to be a tutored line -- seeking to exonerate the ruling DMK in the state for its alleged failure to check incidents of the kind.
Across the state, many fans' association wound up overnight, their members broke the name-boards and burnt Rajini's pictures on the streets, for their superstar taking a political line that was not in consonance with the prevailing public mood, of which they were only a part.
A year later, in 1999, his film Padayappa, however, did do a good run, even more for the female antagonist, Neelambari, portrayed very effectively and efficiently by actor Ramya Krishnan. If the Tamil film viewers of the day drew a parallel with out-of-power Jayalalithaa, it was not out of context, either.
This was against the preceding 1996 scenario, when Rajini took an anti-Jaya line, as the mood of the times reflected and the election results showed later -- and he was credited with making it possible, when even without his call the results would have been the same.
N Sathiya Moorthy, veteran journalist and political analyst, is director, Observer Research Foundation, Chennai Chapter.