Rarely have we seen such intoxication over power, which ignores the cries of those dying, notes Jyoti Punwani.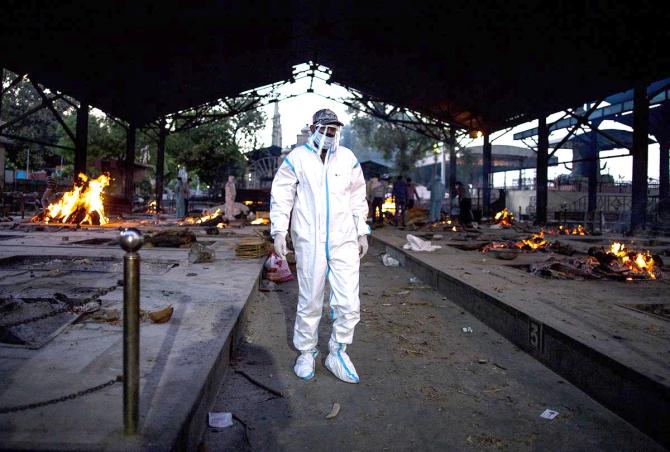 Images of cremation grounds in flames and pyres burning in the open, from Lucknow to Benares to Bhopal; of iron grills and doors melting in Surat's crematoria, of the queue of ambulances waiting outside Ahmedabad's main government hospital; and then of the endless numbers of ash-covered bodies of sadhus in Haridwar's Kumbh Mela -- not in the last half-century have such sights been seen.
Our country was never a haven of rational thought, but then nor was it some primitive savage land where irrationality and blind belief reigned supreme. The Dark Ages have coexisted with the 'scientific temper' so beloved of our first prime minister Jawaharlal Nehru, and inscribed in our Constitution as an ideal, right since Independence. Indeed, two generations have grown up since, educated in the basics of science and the need for conduct driven by common sense.
At least in schools and colleges, superstitions have not been promoted through textbooks -- except for the brief period when NDA I was in power between 1999 and 2004, and both science and history texts were full of unscientific, inaccurate statements.
But today it seems the country is ruled by irrationality.
How can educated devotees go to the Kumbh Mela when the country's Covid cases are not only rising but there's news everywhere of not enough health facilities to deal with them? Railway employee Vicky Tyagi from Delhi told the Indian Express (external link) that faith will see him and his friends -- all of them in their 20s -- through.
Can one blame him when the 57-year-old CM of Uttarakhand says that the flowing Ganga will prevent the outbreak of Covid in the lakhs of devotees bathing in it?
T S Rawat has a master's in political science, with a diploma in rural development. Not quite an uneducated CM.
Yet, from the time he took over, he has been tom-tomming the Kumbh, inviting devotees to it, though the day he took over, March 10, saw the start of our second wave.
Uttarakhand saw 1,155 Covid deaths in the first wave.
But there are two persons higher than Rawat who could have reminded him of his responsibility to his citizens. They could have told him to curb participation in the Mela, and when cases began rising alarmingly, they could have ordered that the Mela be wound up.
At least after the second and third Shahi Snans on April 12 and 14, the Mela could have been gradually wound up; the message sent to devotees not to come to Haridwar.
Had the PM, to whose party Rawat belongs, done this, no Hindu sentiment would have been hurt, for Narendra Modi is indeed, the man who rules over the hearts of at least a third of this country's population, most of them Hindus. Reports from Bengal speak of women considering him an incarnation of God; of BJP workers' asking for votes only in his name.
Even as Gujarat sinks under Covid cases, Gujaratis are not blaming the PM; indeed, according to one report (external link), they are rueing the fact that he is not their CM.
Such power over people can be a force of good in a country as backward as ours, specially when beset by an unprecedented health crisis. Throughout last year's Covid crisis, people obeyed the PM. Reports spoke of how migrants refused to blame him for the catastrophe that fell on them after he imposed a sudden lockdown.
There is no reason that people would not have obeyed Modi this time too. He has now spoken of a "symbolic Kumbh Mela" - after two akhada heads have already declared that their members' participation will remain only symbolic because, as one of them, Awadeshanand Giri, head of the Juna Akhada said, 'Life is stronger than faith'. This follows the death of the head of one of the akhadas, Kapil Dev Das, from Covid.
However, though he said this also in his capacity as head of the Hindu Dharmacharya Sabha, the only body representing all sects, Giri was immediately contradicted by another spokesman of the same akhada, Mahant Narayan Giri, who said (external link) government rules may say anything, but their traditions are what matter, and they intend staying on in Haridwar right till May 26.
But a day later, even this mahant had fallen in line.
Imagine the effect if Modi had exercised this influence earlier!
***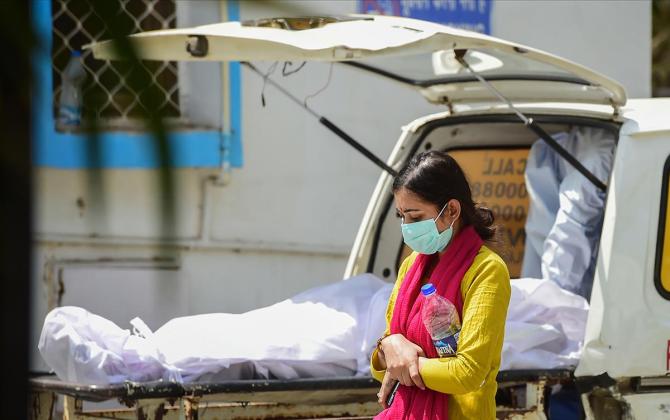 Had he wanted to, Modi could have played a role in reducing the intensity of the second wave. He could have used his hold to advise people that instead of behaving recklessly just because cases were subsiding, people must continue with Covid-appropriate behaviour.
The note of warning could have been sounded even at the beginning of March.
But Modi took his first vaccine in the full glare of publicity, without a mask!
Curtailing the Kumbh; urging people to follow doctors' warnings -- such expectations from the PM are probably foolish, because he is no fan of scientific temper. His unscientific claims are well-known (Vedic plastic surgery and ancient genetics; producing cooking gas from drains; no climate change. (external links))
Just a few days back he pushed Ayush protocols for Covid, when our doctors have repeated that there is no evidence that Ayush immunity boosting measures work against Covid.
When belief in irrationality stems from the top, why would a mere CM hesitate before making laughable and dangerous claims of the kind Rawat has?
What about the country's second most powerful man? Not only are his daily campaign programmes in West Bengal being announced, he himself is tweeting pictures of his roadshows where Covid precautions have been thrown to the winds.
Why blame him? On a day that Covid cases in the country touched 16.7 lakh (1.67 million) and India recorded the world's sharpest Covid growth rate, his leader couldn't hide his delight at the crowds that had come to hear his speech.
This brings us to the second manifestation of parallel universes we are currently witnessing.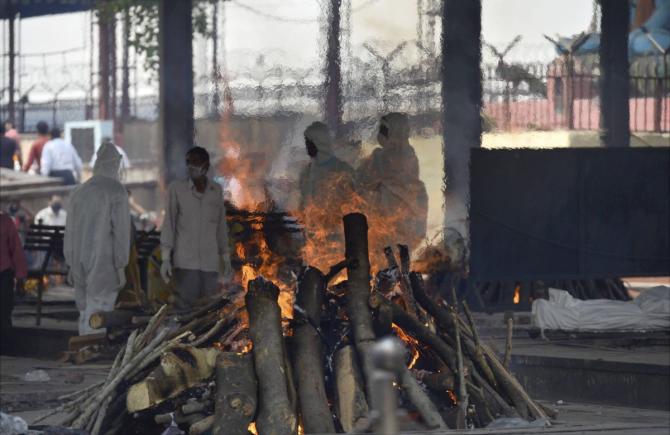 West Bengal is such an electoral prize, both ideologically and in sheer numbers, that both Modi and Shah have never stopped working to snatch it ever since the 2016 assembly election.
So, as we watch with horror flames rising from the Corona dead, our television screens also show us the election rallies of these two leaders in West Bengal, both completely immersed in the lowest level of rhetoric.
Not once in this long campaign has Modi asked those attending his rallies to come wearing masks or not come at all.. Shah himself seems to have discarded masks altogether since he has already had Covid.
Surely a country registering the most number of cases in the world requires the undivided attention of its two most powerful men?
States are pleading for vaccines and oxygen; hospital beds and health care workers need to be increased manifold; unscrupulous doctors are prescribing unnecessary drugs which are being black-marketed and are unavailable.
Social media is full of cries for help, but those responding to them belong to every party except the ruling party at the Centre.
Even newspapers and channels supporting the ruling party, unable to ignore what their reporters are seeing, are drawing attention to the dire situation!
Even more shockingly, while Mamata Banerjee, who has as much stake in this election as the BJP, has asked that the rest of the election be conducted in one stage, given the rise in Covid cases in the State, the BJP has insisted that the election process continue over four more stages as scheduled.
Rarely have we seen such intoxication over power, which ignores the cries of those dying. The only parallel that comes to mind is Indira Gandhi's insistence on holding elections in Assam in 1983, despite the fragile communal situation created by the agitation by the all Assam Students Union.
The Nellie massacre of 1,800 Muslims was the result.
***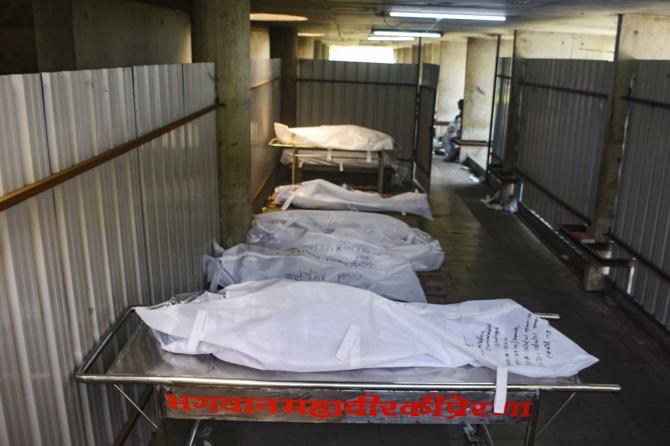 There is no point blaming those who voted for this government in 2019; nobody could have anticipated the total abdication of responsibility we are witnessing now. Even non-bhakt Modi supporters are shocked, both by the Kumbh Mela and the Bengal elections.
Only two questions need to be asked:
What if the lakhs of devotees worshipping without pausing to think they could contract and spread the deadly killer virus, had been wearing topis, kurtas, salwars and burqas?
Could it ever have happened in Modi's India?
Finally: Will this abdication of responsibility that has already cost so many lives be forgotten like demonetisation?
Feature Presentation: Aslam Hunani/Rediff.com