'In the 30 years since the Ayodhya movement began, the RSS has created a generation of Hindus who are the mirror image of those fanatic Muslims who take to the streets at the slightest, even imagined, "insult to Islam," argues Jyoti Punwani.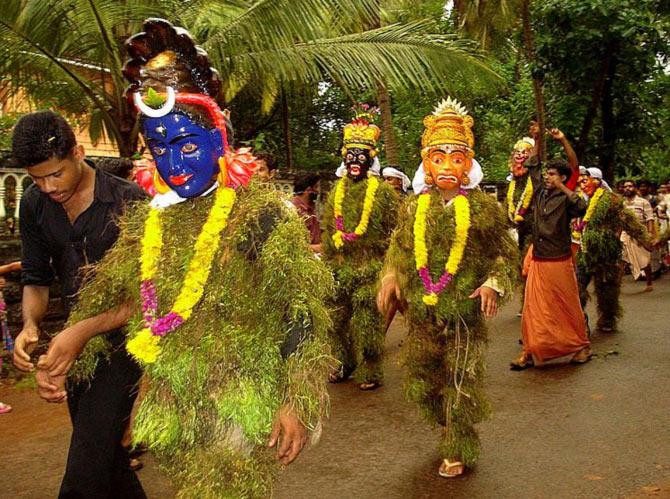 When famous Malayalam literary critic M M Basheer has to stop writing about Valmiki's Ramayana in Kerala's second biggest newspaper, because of abuse from Hindutva goons, what does it mean?
The first conclusion is that within a year of Narendra Modi's coming to power, his followers rule society. The murder of Kannada writer M M Kalburgi and now the silencing of Basheer mean that Hindutva's hitmen have no fear of the law.
Both Karnataka and Kerala are Congress-ruled states. Yet, writers living there have to succumb to violence and the fear of violence. What then is the role of the State and its law-enforcing machinery?
'Who is ruling this city -- the administration or the Shiv Sena?' was the question asked in an internal circular by then Mumbai police commissioner Julio Ribeiro when his police force allowed the Shiv Sena to instigate violence across Mumbai by forcing a series of bandhs in May 1984, despite Ribeiro's orders forbidding them.
The same question can be asked 30 years later of Karnataka Chief Minister Siddaramaiah, supposed to be an ex-Socialist, and Kerala Chief Minister Oommen Chandy, who won a UN award in 2013 for fighting corruption through e-governance. Just last year, Kerala was being hailed as one of the last bastions of secularism.
Where is that secularism?
If a newspaper with as nationalist a tradition as Mathrubhumi can't have the confidence to run a complete series, an annual feature, by a writer as acclaimed as M M Basheer, because of opposition from Hindutva goons, one thing is obvious. That is: The police in Kerala, as in Maharashtra and indeed, across the country, submit first to Hindutva, no matter which party has been elected to govern.
How ironic that Modi himself spoke of non-State actors in a speech made on September 3, just days after Professor Kalburgi's killing. 'Intolerant non-State actors now control large territories where they are unleashing barbaric violence on innocent people,' the PM said on September 3.
We just saw the power of the non-State actor. The entire Government of India submitted to a three-day scrutiny by the Rashtriya Swayamsevak Sangh, a non-elected body which proudly proclaims its belief in a Hindu Rashtra, trains its members in the use of weapons, and sets up a militant wing to implement its agenda.
Incident after incident over the last year since Modi took over, forces us to acknowledge that a Hindu Rashtra is in the making. It is not just evident in the inaction of the police. It is evident in their actions too.
It is best we understand what the architects of this Hindu Rashtra want. Their stated aim is to make every Indian acknowledge that s/he is a Hindu culturally. Non-Hindus must join the Hindu mainstream.
What did M M Basheer's columns on Valmiki's Ramayana (and last year, on the legendary Ezhuthachan's Adhyatmaramayanam) represent? They were part of Kerala's annual 'Ramayana month.'
For Basheer, as for most 75-year-old non-Hindus, the Ramayana is as much part of their cultural heritage as it is for a Hindu. Indeed, Muslims and Christians of Basheer's generation have been very much part of the so-called 'mainstream' that the Rashtriya Swayamsevak Sangh goes on about.
In UP and Bihar, it used to be as routine for Muslim children to participate in Ram Leelas as it is, even now, for Muslims and Christians in Gujarat to dance the garba during Navratri. Last year, the RSS tried to put a stop to that.
Even today, a Kerala student studies parts of the Adhyatmaramayanam as part of the school curriculum. In fact, students across the country are familiar with the stories of Ram and Krishna. Bhakti poets are part of every curriculum, be it the state or national board of education, English or Indian language schools. And every language has its own bhakti tradition.
The RSS, which wants the Gita to be taught in every school, must be happy that already, school curricula have so much Hindu influence.
But if it wants everyone to recognise their Hindu roots, it must allow for understanding these texts.
With understanding comes judgment. Even as a child, while reading the Bharatiya Vidya Bhavan's simplified Ramayana meant for beginners, it became clear to me that Sita had been treated badly. Among our school texts was the great Hindi poet Ramdhari Singh Dinkar's epic Rashmirathi on Karna. Dinkar's stirring verse leaves you with no option but to empathise with the Mahabharat's tragic hero, and feel angry at the way the 'good guys,' the Pandavas and Krishna, wronged Karna.
Does the RSS want non-Hindus to suspend their critical faculties while studying these texts? Should they keep reminding themselves that they are not Hindus, and so, must react differently? As Basheer said, 'At the age of 75, I was reduced to just a Muslim.'
Such forced reminders of their religious identity can only drive them away from the 'mainstream.'
In fact, every riot has done just that -- pushed the minorities away from the mainstream of mixed living into ghettoes. That is a feat the Hindutvawadis excel at.
The only way to ensure that Hindu texts leave no impact on students (including Hindus) is if they are taught and imbibed purely from the exam point of view, to be mugged up, spewed out and forgotten.
What then happens to the grand vision of acknowledging our 'common Hindu heritage'?
But these two epics aren't only the stuff of school texts.
When the Mahabharat was being serialised on television (during Rajiv Gandhi's reign), young Muslims in Mumbai, who knew very little about it, were aghast that Krishna, a god, could advise the Pandavas to adopt devious ways of out-manoeuvring the Kauravas. Even devout Hindus have found it difficult to accept Draupadi's vastraharan and the silence of her five husbands. Irawati Karve's Yuganta questioned the actions of all the greats of the Mahabharat as far back as 1968.
Would Karve have faced the wrath of Hindutva goons today?
Critiques of Ram are not new. In 1978, in Eve's Weekly, a popular women's magazine of that time, I wrote critically about Ram's conduct not just with Sita, but with Surpanakha and Vali. The article got an avalanche of angry letters from Hindus, but not one of them was threatening even in tone.
In 2012, however, the country's senior and perhaps best known legal brain, Ram Jethmalani, who has been in and out of the BJP, was forced to take back his words after describing Ram as 'a bad husband.'
In the 30 years since the Ayodhya movement began, the RSS has created a generation of Hindus who are the mirror image of those fanatic Muslims who take to the streets at the slightest, even imagined, 'insult to Islam.' For them, Ram can only be the warrior king, hailed by the war cry 'Jai Sri Ram.'
Indeed, the attacks on Professor Kalburgi and M M Basheer, and earlier, on Govind Pansare and Narendra Dabholkar, if unpunished, can create a Bharat that can give our Islamic neighbour a run for its money.
One more question needs to be asked. If a Muslim cannot write about the Ramayan, can a Hindu -- that too an RSS ideologue -- lecture about the Koran? Isn't it time RSS leader Indresh Kumar stops telling Muslims what the Koran teaches?
IMAGE: In Kerala, 'Kummatis travel in groups and perform the Kummatikali -- a form of dance where they hop and jump in a synchronised pattern to entertain children. Some times they enact scenes from the Ramayana and Mahabharata, share lessons in peace and happiness.' Photograph: Aruna/Wikimedia Commons. Image published only for representational purposes.
Jyoti Punwani is a Mumbai-based reporter and commentator.