There is no alternative for the party and the state but to wait for Chief Minister Jayalalithaa to return home and make her call, says N Sathiya Moorthy.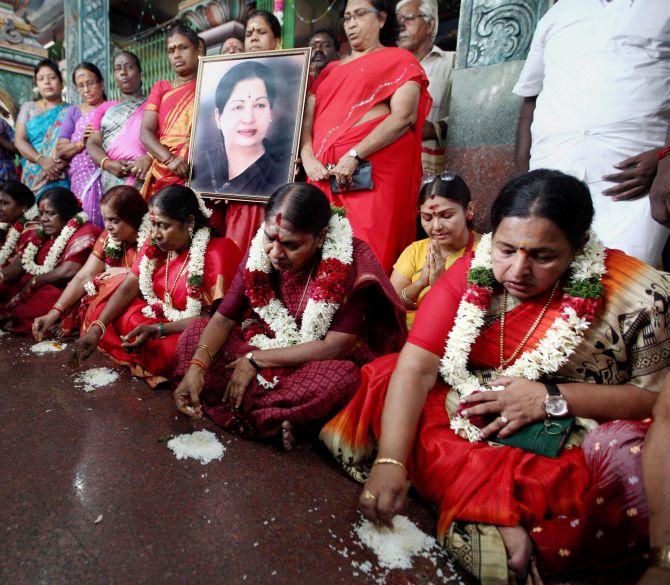 Image: AIADMK women's wing members eat food from the floor as a prayer for the speedy recovery of party supremo and Chief Minister J Jayalalithaa, at a temple in Chennai. Photograph: PTI Photo.
With hospitalisation since the night of September 22, Jayalalithaa has become the fourth Tamil Nadu chief minister in a row of five to be hospitalised for long and/or under anaesthesia.
The loner who stayed on in office without hospitalisation -- and also for the shortest term -- was Janaki Ramachandran, widow of All India Anna Dravida Munnetra Kazhagam founder M G Ramachandran.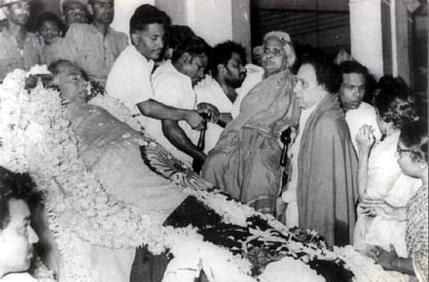 IMAGE: A file photograph of the funeral cortege of Chief Minister C N Annadhurai. Photograph: Courtesy, Kumararajendran/Wikimedia Commons.
Before Jaya, the first DMK chief minister, C N Annadurai, her political mentor M G Ramachandran or MGR, and their bête noire, M Karunanidhi, had all been hospitalised, the first two of them, in the distant US, during their incumbency.
After his early months in the short term as chief minister, Annadurai spent a substantial time either in the Adyar Cancer Institute or the government-run GeneralHospital (when he had not travelled to the US for treatment).
The late V R Nedunchezhiyan as the senior-most minister after Annadurai in the Warrant of Precedence, handled issues in the absence of the chief minister, but in consultation with other seniors, including Karunanidhi and the late K A Mathialagan, when the CM was either away or was otherwise 'incapacitated'.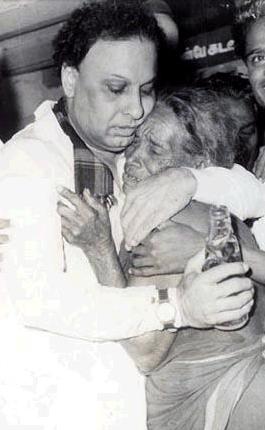 IMAGE: A file photograph of former Tamil Nadu Chief Minister M G Ramachandran. Photograph: Courtesy, Kumararajendran/Wikimedia Commons.
In the case of MGR, Governor S L Khurana, a retired civil servant with long years in the Union government, was on record that the CM did not name any interim arrangement before being stuck by a stroke during his second week of hospitalisation.
But Nedunchezhiyan, supported by some senior officials who also claimed to be present in MGR's hospital room, claimed that the chief minister had asked him to take care.
In the prevailing political and electoral atmosphere, it suited everyone to have even a figure-head of a decision-maker, when the cabinet, not chaired by the chief minister, recommended the dissolution of the state assembly and fresh elections, along with the post-Indira Gandhi parliamentary polls of 1984-85.
In his last term as chief minister (2006-11), Karunanidhi underwent a spinal surgery, requiring anaesthesia and hospitalisation for a period.
IMAGE: DMK chief and former Chief Minister, M Karunanidhi. Photograph: R Senthil Kumar/PTI Photo.
Though Karunanidhi's son M K Stalin was designated deputy chief minister, the only one to have held such a post in the state any time -- though it was not recognised by the Constitution -- when the CM was away in hospital for spinal surgery, the latter was not known to have formally notify the interim change-of-guard.
Through all his five terms in office, it was the only time Karunanidhi had been in the state capital of Chennai for full 40 days without being present in the Secretariat.
Yet, he was known to have attended to official work, met with ministerial colleagues and top civil and police officials (in the light of the closing days of 'Eelam war IV' in neighbouring Sri Lanka) from his hospital bed, even as the after-effects of anaesthesia and other discomforts accompanying a spinal surgery were wearing thin.
Both MGR and Jaya had been selective about their daily attendance at the Secretariat. MGR preferred doing much of his official work either in his RamavaramGardens residence in what was then the suburbs or the official residence in central T Nagar locality.
Jayalalithaa too operated mostly out of her PoesGarden residence in the heart of the city, or her suburban Siruthavur bungalow, or away in the Western Ghats hill station of Kodanad, where she owns an estate house.
Like MGR and Jayalalithaa, Karunanidhi also had two official residences, housing his two spouses and families. He however had a working rigour that was regular.
Now with Jayalalithaa hospitalised for a substantial length of time, and the medical bulletins from Apollo Hospitals indicating that she would have to stay for a 'longer time', various questions have arisen in its wake -- as much politico-administrative as some of them are personal and private.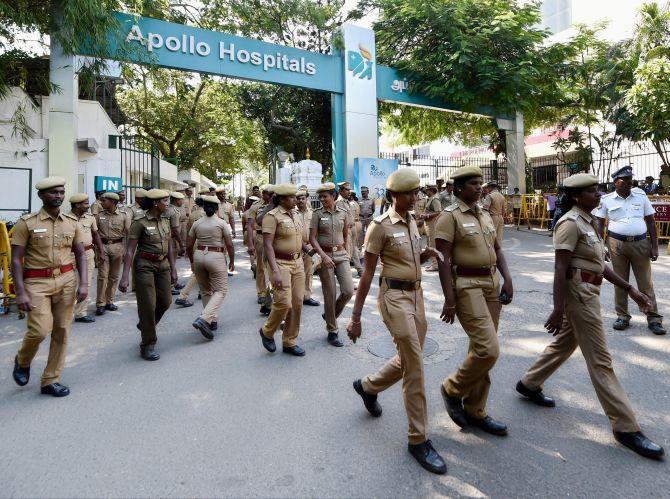 Image: Police personnel deployed at Chennai's Apollo Hospital, where Tamil Nadu Chief Minister J Jayalalithaa is being treated. Photograph: PTI Photo.
To the extent that a medical bulletin said that Jaya had a history of lung condition, there is a lot of respect at the willpower that she had displayed, like all others before her to campaign for elections and working long hours, without showing up a trace of breathlessness -- in public definitely, and in private, too, possibly.
Medical bulletins have since confirmed that Jayalalithaa is on ventilator, and was on breathing support and other facilities. It is unclear if the condition had deteriorated after her late-night hospitalisation, as early bulletins had spoken about 'fever and dehydration' and also about an early discharge.
If the fever and dehydration were symptoms to worse things that seemed to have afflicted the chief minister, then the doctors were possibly waiting for reports from the clinical tests that they might have required.
That could also explain why the health bulletins started mentioning the treatment protocol, from October 2, followed in subsequent days by some details about the ailments, and the consequent need for Jaya to spend 'further days' in the hospital.
The latest bulletin, issued on Monday, does not mention specific progress in her condition, but Union minister M Venkaiah Naidu, after visiting her on Sunday, spoke words to that effect -- and quoting the doctors attending on her.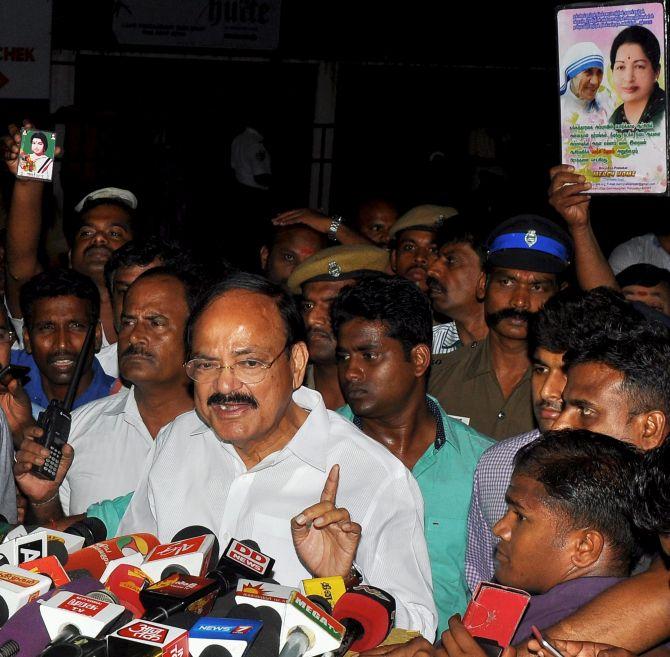 Image: Union Minister M Venkaiah Naidu speaks to media-persons outside Apollo Hospital after visiting AIADMK supremo and Tamil Nadu Chief Minister J Jayalalithaa in hospital. Photograph: PTI Photo.
Even as medico-legal questions pertaining to the private citizen that Jayalalithaa still is about the ventilator-support system, etc, may remain, media reports have since started discussing the politico-administrative arrangements in these days and weeks with a chief minister who has been 'incapacitated' for all practical purposes.
After the early days, the AIADMK in particular has given up the facade of showing up the chief minister as being in personal control of the party and government administration.
Acting governor Ch Vidhyasagar Rao's hospital visit, and his meetings with two senior ministers, including two-time chief minister and incumbent finance minister, O Panneerselvam, OPS, and also chief secretary, P Rama Mohan Rao, in the days following, has opened up new lines of thinking, especially in the over-worked social media.
If the Raj Bhavan's press release immediately after the governor's hospital visit was reassuring to AIADMK cadres, the one that followed his meetings with the ministers, said that he only sought and obtained details on the sensitive 'Cauvery water issue' silenced other rumour-mongers.
Both OPS and Chief Secretary Rao had worked with the chief minister for long, the latter also as a secretary in her home office through her earlier term in office (2011-16).
They and other senior political and administrative aides of Jayalalithaa, including her advisor, Sheela Balakrishnan, an ex-CS herself, are believed to have known the chief minister's mind, mood and methods on issues relating to the state's concerns.
Both on the Cauvery water dispute, and later on, when the Madras high court sought its views on the DMK's petition for postponing the local bodies polls, scheduled for mid-October, the state machinery functioned as a team, as if the chief minister was very much around to guide and counsel them.
Jayalalithaa is also the general secretary of the ruling AIADMK, and thus the highest ranking party official. Even while she was hospitalised, the party released the long list of candidates for the 125,000-plus elected posts in urban and rural local bodies across the state.
The second-line party leaders and candidates had even commenced the AIADMK style of systematic campaigning across the state, without Jaya around to guide them personally, when a single judge of the high court first stayed the polls, followed by a confirmation by a division bench.
All of it has only gone on to show how the state and the party machineries have been functioning effectively without the physical presence of the chief minister to head and direct them.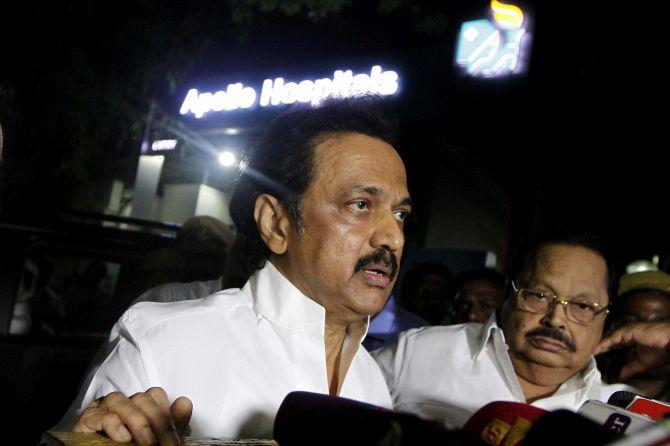 Image: DMK treasurer and Opposition leader in Tamil Nadu assembly MK Stalin interacts with media-persons outside Apollo Hospital after visiting the AIADMK supremo on Saturday. Photograph: PTI Photo.
Yet, sections of the media have thrown up the question if this could continue for a longer period without the party, and not necessarily the government machinery, finding interim arrangements to lend effect political seal and/or attestation to imminent policy decisions.
Over-anxious, over-zealous, or hyper-critical as they may have been, the question seldom addresses the constitutional or official procedures that required to be addressed -- or, even the ones that they indicate are not being able to be followed.
Through the 66 years of the Constitution, Parliament, unlike its counterparts in the US or elsewhere, has not found the need to 'provide for' cases involving elected heads of governments, be it at the Centre or in states, who have been 'incapacitated' other than through death.
Yet, in Tamil Nadu, where four chief ministers of five in the past 50 years have been hospitalised, no protocol exists as to possible interim arrangements, if any. There are precedents, but they are mostly about the continuance of the status quo.
In the present situation, however, there is no proof as yet of Jayalalithaa suggesting anything closer to a Nedunchezhiyan-like arrangement from the '80s even as there are enough indications that she was rushed to the hospital, possibly in a semi-conscious condition, owing in turn to dehydration.
There is almost no real question of the AIADMK legislature party seeking to elect a new chief ministerial nominee when Jayalalithaa is in hospital. The cadres would not accept it, and so would the larger public, whose sympathy for an ailing leader could suddenly multiply.
Hence, no AIADMK leader would want to risk it -- whether they are now in the government, or not.
The Constitution does not provide any interim solution of any kind. Either there is a chief minister, or not -- but not anything in between.
The only incapacity that the Constitution recognises in context is 'unsound mind'. By no stretch of imagination, now or ever, such an argument could ever be put forth, by anyone at any level or any place.
The Centre, Prime Minister Narendra Modi and Governor Rao would all loathe considering other constitutional possibilities and provisions lest they should set extremely unpalatable precedents, more particularly on the streets of Tamil Nadu -- and possibly in the court rooms of the nation's Supreme Court.
There is thus no alternative for the party and the state to wait for CM Jaya to return home as CM Jaya, and make her call. As coincidence would have in her case, she has had to stay away from power on two occasions.
Despite over-ambitious persons, inside and outside the government, hoping to make it to power in the interim, it's Jaya's writ that would run once again, if and when required, and her choice would be the party's choice, and hence that of the state.
Whether OPS would be lucky for the third time, would still be a remote question, only for 'Amma' to decide, if at all she chose to decide to take complete rest for a period before taking full or fuller charge, all over again.
That it could be considered when and only when doctors declare Jaya to be able to meet with people -- infections apart -- and make her call, in matters of politics and public administration.
N Sathiya Moorthy, veteran journalist and political analyst, is Director, Chennai Chapter of the Observer Research Foundation, Chennai Chapter.