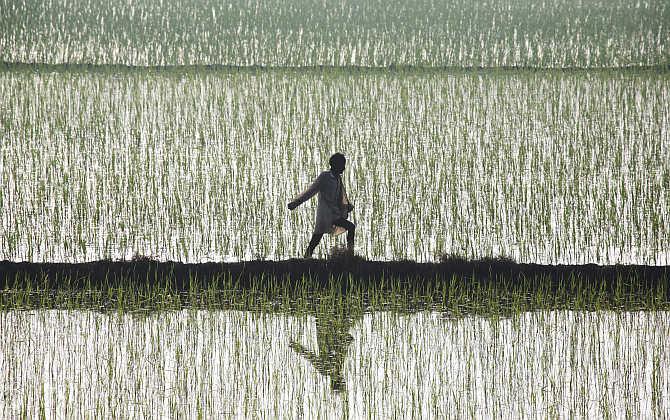 Jairam Ramesh, architect of the UPA's 2013 land acquisition bill, reacts to Amit Shah's interview to Rediff.com in which he defended the NDA government's land bill ordinance.
In continuation of their propaganda on the Land Acquisition Amendment Bill, the Bharatiya Janata Party has been speaking in many voices. Loud and designed to confuse, these often conflicting defences of their law have already fallen flat insofar as the public is concerned.
Yet, just last week, BJP President Amit Shah spoke out on the land bill in an exclusive interview to Sheela Bhatt/Rediff.com. The statements were interesting insofar as they demonstrated how little this government has learnt from the massive outcry against its proposed law.
1. Defending the government's decision to remove the requirement of consent, Shah said that "given a choice nobody ever wants to part with land". Just a month prior to this, a former BJP president, Nitin Gadkari, had enthusiastically cited a study by a leading think tank that a majority of farmers do want to sell their land.
What is of greater concern is that both these leaders seem oblivious to the fact that the opposition is against the very notion of forcible acquisition, based on a century of abuse and injustice. The 2013 law represented a victory because, above all else, it promised to make the land-owner a partner in the process of development and not a victim. The amendments leave the owner, once again, at the mercy of a State represented by agents of unequal ability.
2. On the subject of doing away with Social Impact Assessment, the BJP president says, "It is not possible to not at all have any social impact of development. Any application of the land law will have some or other social impact. It is the daydreaming of some people who live in a make-believe world, who think you can make roads, hospitals and railways without any social impact!"
This is precisely the line of the opposition. We agree there will be a social impact and that is why it is essential that we attempt to gauge what the degree of this impact will be. No one believes that there will be no social impact. In fact, quite to the contrary, the 2013 law was based on the idea that impacts should be determined, as far as may be humanely possible, well in advance so that preparations could be made to minimise the impact and to adjust the acquisition proceedings accordingly. No one in the BJP government has yet to offer a credible explanation for the removal of this safeguard.
3. In the same interview, Shah made a statement that not an inch of acquired land would go to industrialists. This is a bold statement, considering the amendments are designed to benefit and ease acquisition for private companies (consent was never required for government projects).
Also, if the government wishes to place such an embargo on acquired land to prevent private players from benefiting, then why is the same not expressly specified in the amendment bill? The 2013 law places very clear limitations on transfer and sale of acquired land because such safeguards cannot be left to the discretion of officials. An explicit caveat to the effect that no private company will be transferred acquired land in any form would have made Shah's claim far more believable.
4. Amit Shah also claims that the amendments were necessary because states such as Rajasthan had started making their own laws on the subject of land acquisition. Yet, Minister for Rural Development Chaudhary Birender Singh makes it a point to state that he vetoed Rajasthan's law since it clashed with that of the central government's law (which is not permitted under the Constitution). Consistency of communication aside, states cannot override a central legislation regardless of how they may draft an alternative.
Shah also expressed consternation as to how it would be possible to build a railroad when the act cannot be implemented. This was strange, not least because the process for acquisition for railways and other high priority sectors (such as electricity and national highways) is exactly the same as it always has been. The only change is higher compensation and the provision of rehabilitation and resettlement benefits but other than that such sensitive sectors are exempted from the application of the 2013 law (per the fourth schedule of the Constitution).
5. Once again, almost six months after the BJP government introduced the very first draft of its ordinance, its leaders struggle to explain the rationale for doing so. By now a clear line of action, in response to the uniform public opinion that has emerged, should have been formulated.
Instead leaders continue to offer their own versions in defence of an indefensible law.