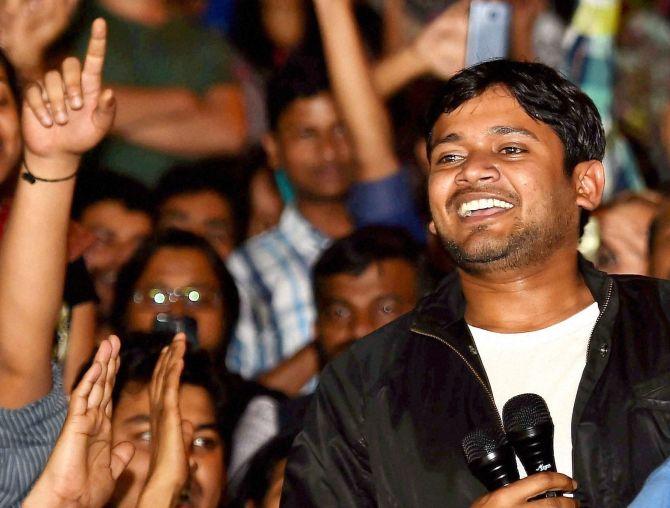 IMAGE: JNU student leader Kanhaiya Kumar after his release.
'In order to restore things to even keel, the government would be very well advised to cut its current political losses and work towards healing wounds across the nation.'
'It still has its work cut out. It will have to work very hard to repair the political damage among Dalit and tribal communities,' says David Devadas.
The government would be well advised to cut its losses on the Rohith Vemula suicide, and try and retrieve the conservative middle ground which the 'Modi wave' had covered so effectively in 2014.
It needs to do this as quickly and quietly as it can -- for the country's sake, as much as for its own.
Let us make no mistake. What has been happening over the past few weeks in and about Jawaharlal Nehru University was not primarily about JNU. It was more to do with the narrative about Vemula's suicide at the Hyderabad Central University on January 17.
The government and the political outfits backing it, most prominent among these the student party, the Akhil Bharatiya Vidyarthi Parishad, were eager to turn the Vemula narrative from one about the government oppressing Dalits to the point of suicide into a narrative about a strong regime taking on 'anti-nationals' vigorously.
It has not worked.
The sooner the government realises this, the better it would be. Even if one is not much bothered about the political fortunes of the government, one must be concerned about the effect it has had on the polity and the nation overall.
One must, of course, acknowledge that the government's nationalist versus anti-nationals framing of the issue has worked very well with its core backers. Those are the ones who never thought that the government had mistreated Dalits anyway -- at the Hyderabad Central University, where Vemula committed suicide, or at other universities and places in the country.
Core Hindutva nationalists were always convinced that 'quota-wallahs' were up to no good, sponged off the State, gave nothing back to society, and deserved little from it. Some were convinced that it was natural that 'quota-wallahs' did not make it.
The convictions of such core supporters do not help the government at this point. What matters for it politically is that Dalits by and large voted for the Bharatiya Janata Party in the 2014 general election, but are likely to be unimpressed by these attempts to re-frame Vemula's suicide.
In fact, those who attempted to defend the government -- from the Akhil Bharatiya Vidhyathi Parishad, among JNU authorities, during police investigations, and on the floor of Parliament -- alienated many Dalits further by engaging with Mahishasura narratives.
The reason they did so was that, from their perspectives, it was as cut-and-dried a case (Durga good, Mahishashura bad) as the nationalist-versus-anti-national binary. Some tribal and Dalit communities apparently do not see it that way. Whether they are right or not is not relevant politically. What matters more is that not knowing what others think and believe is not a good way to start trying to win them over.
Too many targets
The government and its backers might have been better off if they had focused tightly on the political imperative at hand -- to cover over the Vemula suicide narrative. But when a chance presented itself at JNU, they failed to keep their eye on the ball.
Not only did they look away, they looked away in three different directions simultaneously.
First, the fact that they did not go after those who had actually shouted vicious anti-India slogans during the fracas at JNU showed that were only misusing the chance to flex some muscle on the political stage.
Most people now seem to agree that those slogans were not raised by JNU students but Kashmiris who disappeared wraith-like when the going got tough -- tough, that is, for those whom the government's backers now had in their sights.
These decided to go after two other targets instead, and to do so simultaneously. These were JNU and the political Left. Now, anyone other than a Tollywood action film script-writer might have realised that taking on two such major targets with one shot, and hoping to rectify the damage done by Vemula's suicide too with the same shot, was a trifle unrealistic.
As things have turned out, the government and its backers have ended up strengthening both targets. The tired, lacklustre. Left parties have been energised. Since JNU Student Union President Kanhaiya Kumar's release, they have found an electrifying new public speaker who is on the way to becoming a national-level star.
Targeting the JNU proved equally costly. The JNU community came together with sagacity and, without challenging the law or the regime, dug in its collective heels. Most of the university faculty, staff and students have stood together with remarkable unity, deftly avoiding any unseemly behaviour or violence.
In trying to target too many opponents with one issue, the government and its backers have damaged themselves more intensely than they might have imagined. For, they have brought a large part of the national Opposition together in defence of JNU. The Congress, the Aam Aadmi Party and other parties with stakes at a national level came together with the Left parties.
The very day after Kanhaiya was arrested on February 12, Congress Vice-President Rahul Gandhi, Communist Party of India-Marxist General Secretary Sitaram Yechury, CPI leader D Raja and others were at a public protest on the university campus.
That evening, a band of perhaps 20 from the ABVP tried valiantly to shout down these leaders' speeches to a gathering of about 2,000 students and teachers. Rather than ask them to pipe down, a number of teachers and some students quietly formed a human chain to ensure that the ABVP band did not come any further into the meeting they were trying to disrupt.
The die was cast that evening. The divergent tactics of these sides determined which side would prevail. Quietly stymied, the ABVP students stopped trying to disrupt further protests. The teachers and students kept assiduously to their non-violent, inclusive, methods.
In order to restore things to even keel, the government would be very well advised to cut its current political losses and work towards healing wounds across the nation.
It still has its work cut out. It will have to work very hard to repair the political damage among Dalit and tribal communities. That can best be done through sober hard work. The thing to avoid is any impression of arrogance or a patronising attitude.
For the moment, the government would be best off not alienating academics and universities anywhere in the country any further. The JNU matter has brought it very negative publicity across the world. Not only must that damage be repaired, the government should go out of its way to reassure academics and universities across the country that their autonomies and space for research will be safe.
Meanwhile, the government would do well to project purposefulness on the sort of economic, developmental and other programmes which brought it such a wave of support in 2014.
Cutting its losses on the course on which it has embarked since February 12 might seem like a loss of face, but the alternative could be worse.