What the Indian economy looks like next January will influence her view on India, not her genetics, notes Shekhar Gupta.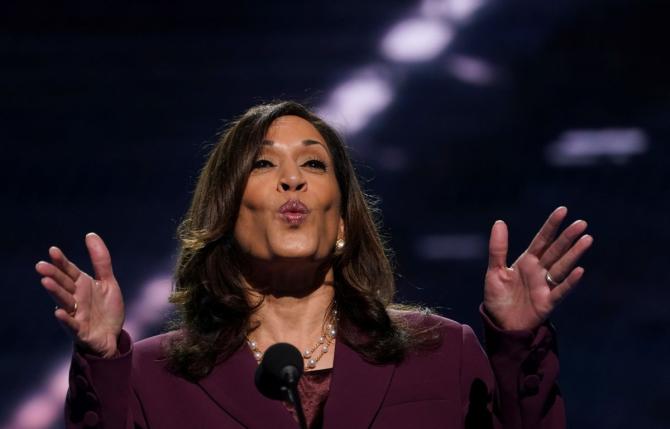 The excitement Joe Biden's choice of Kamala Harris as his running mate has caused in India is understandable.
She is half-Indian. Also, half-Jamaican and now a full American, but never mind.
The big question is, because of her Indian origin, will she favour her 'mother' country, or be hostile to it to prove she is more American than Americans? We are arguing why this is such a vacuous and nonsensical debate.
Whenever somebody with such a globalised genetic mix becomes famous, we Indians are quick to pronounce that the better half of her came from us, especially if the other parent hails from a smaller nation.
As for Sunita Williams earlier, and now Kamala Harris. If it's an Indian immigrant, whatever generation, anybody powerful, rich and famous is ours.
Montek Singh Ahluwalia would forgive me for using a line too brilliant to be repeated anonymously: In a cricket match, he said, there are batsmen and bowlers.
But some spectators just jump in on the pitch whenever somebody scores a hundred. We Indians are often like that, he said.
I was in class nine at the humble Sanatan Dharma Higher Secondary School in Panipat in 1968 when Har Gobind Khorana won his Nobel Prize in medicine and we claimed him as our own, immediately.
Our science teacher walked into the class beaming that morning claiming that "Har Gobind" wasn't just his old school buddy, he (the teacher) was the brighter of the two, but couldn't go to America due to family limitations.
Khorana had been naturalised as an American in 1966.
We Indians are a large gene pool and we happily scatter it across the world.
Which is a wonderful thing. But we become foreign then. Should Britain see Rishi Sunak and Priti Patel as Indian first?
Or Bobby Jindal, Nikki Haley, Nisha Biswal, Richard Verma in America?
It doesn't stop, however, so many of us in India from continuing to believe and insinuate passionately that the mayor of London, Sadiq Khan, is a 'bloody' Pakistani.
The presumption that a naturalised foreign citizen will be inclined towards you, and have all her old beliefs of religion, caste, ethnicity and nationalism endorsed on her new passport is very much a small-nationality complex.
It is odd that the large, nuclear-powered nations of the subcontinent also wallow in it.
Many Pakistanis and Indians both think Ilhan Omar wants Kashmir to go to Pakistan because she's Muslim.
Or Barack Obama's middle name, Hussein.
This also leads to a Moeen Ali or Monty Panesar being called 'gaddar' (traitor) in Pakistan or India respectively for their betrayal of getting our batsmen out.
Of course, we prefer Charles Sobhraj to be French.
This obsession with who is pro or anti-India is particularly pronounced when it comes to American public figures.
So, just as Kennedy was our best friend, Nixon was the worst enemy.
And in which box would you put Bill Clinton? We will pick up this thread again soon.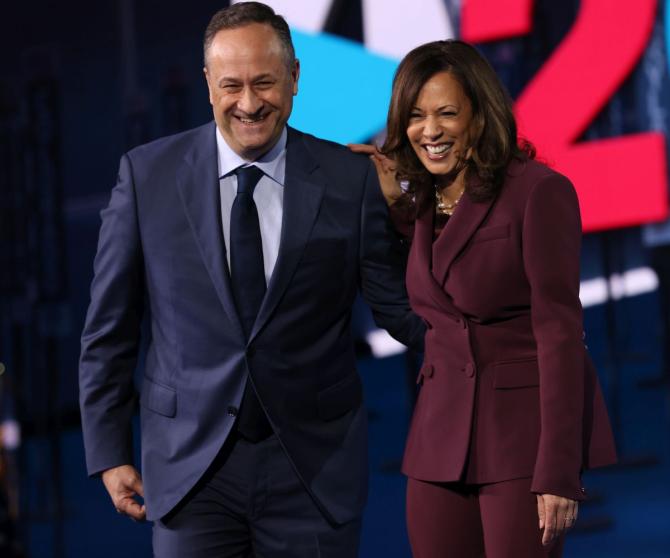 From the late 1980s to the early 1990s, when India's relations with the US were still taut and distant, New York Congressman Stephen Solarz emerged as the true champion of better ties with India.
He was immediately hailed as a friend of India, or pro-Indian.
It was variously attributed to his Indian immigrant voter base or his Jewish faith (India loves Israel loves India).
Similarly, some at various points of time have been called pro-Pakistani.
It was then that some of us got a tutorial from the late Stephen P Cohen.
All of you err, he said, when you call Steve Solarz pro-Indian or someone else anti-Indian.
"They are none of that," he said. "They are pro-American." It is just that one thinks better ties with India are good for the US and the other might prefer Pakistan.
That's the test we need to apply to Kamala Harris now.
It is ok for us all to carry stories and videos on her fine masala dosa-making skills, idli-sambar love or as we notice on Tam-Brahm Twitter, Mylapore and Besant Nagar in Chennai fighting over who owns her.
But to think that her view on India will be coloured by her DNA is nonsense.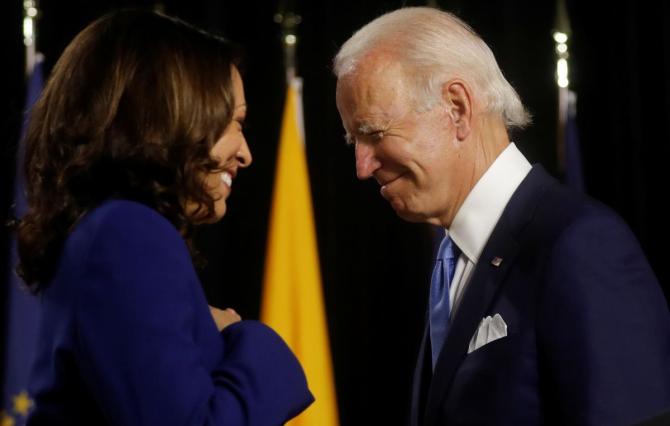 The best thing about democracy is that by the time leaders reach a level where they begin to matter to you, there is enough spoken, printed and analysed about them for us to know where they are coming from.
There is no need, in that case, for reporters to keep chasing her Indian uncle with the same question: What will inform her approach to India: Her origin or her commitment to human rights? She has spoken, written and acted enough on liberal, human rights issues.
At the same time, she was attorney general of California and tough as nails with criminals, many of them Black.
Once we make a new beginning, as we must, presuming Ms Harris to be an American like any other, we can take this argument forward.
And pick up that Bill Clinton thread.
Was he a good American president for India or not? The answer is, both.
In fact, in the long succession of post-Cold War US presidents, he was the worst yet in his first term, and the best in his second.
His first term began while the dust had still not settled on the fall of the Berlin Wall.
India, at that time, was going through a prolonged political and economic crisis. Between 1989 and 1991, we were already on to our fourth prime minister in P V Narasimha Rao.
In the summer of 1991, we were in the IMF's darbar to borrow and mortgaging our gold reserves.
The Punjab insurgency was at its bloodiest and Kashmir picked up too.
The fightback by the Rao government was determined if brutal.
It brought a big pushback from the Western human rights community.
The first Clinton administration was caught up in it. That's when even the accession of Kashmir to India was questioned.
Simultaneously, there was pressure from the non-proliferation lobby to get India off the nuclear kerb, ending with a widely popular belief that in the winter of 1995, Rao had wanted to carry out nuclear tests, but he was thwarted by Mr Clinton.
Remember, however, Mr Clinton was still there, in his second term, when India did finally test, under Atal Bihari Vajpayee in 1998.
How that played out in India-US ties is very well documented, especially with the two key negotiators, Jaswant Singh and Strobe Talbott, writing books about it.
From having threatened and 'stopped' India, to now easing it into the responsible nuclear weapons club, all happened under Mr Clinton.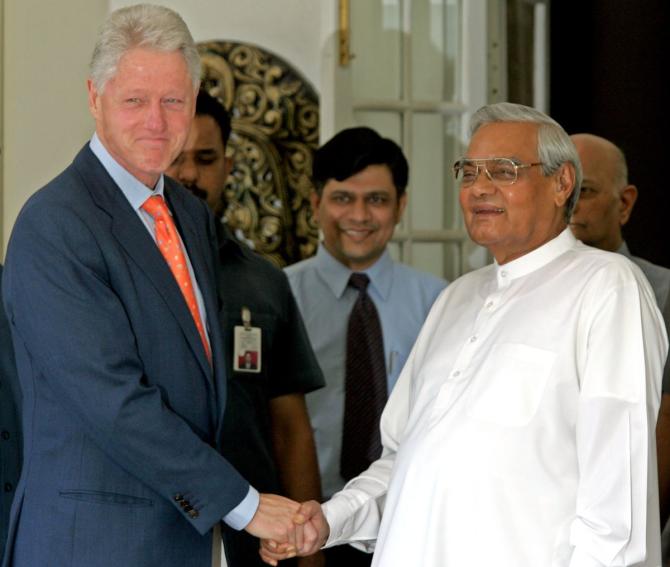 In 1999, he got the Pakistanis to behave on Kargil, made a visit to the subcontinent where he spent no more than a few scores of minutes in Pakistan.
All he did on that short stopover was to remind the Pakistanis, somewhat menacingly, that the lines on the map of the subcontinent could no longer be redrawn in blood.
Now, that wasn't the Clinton of his first term.
What changed between the Clintons two terms? Did he sit under some oak equivalent of the Bodhi Tree for his enlightenment?
What changed was India's economy and thereby its global stature.
The Rao-Manmohan reform began in the summer of 1991.
From a perennial concern, India had transformed into a global opportunity. It was India that changed, not Mr Clinton. He was still doing what he thought was best for America.
That is the lesson now.
For India to have its stature and respect in global power capitals, it has to focus back on its economy, internal cohesion and external security.
Our country has slipped back on all three in the past three years.
Fans of the Modi government will contest this, but even they will concede that the economy has been in a free fall for three years.
What it looks like next January will influence Kamala Harris's view on India, not her genetics. That is, if the Biden ticket wins.
By Special Arrangement with The Print
Feature Presentation: Aslam Hunani/Rediff.com