Not only do Modi and Trump's personalities overshadow the high offices they hold, the way they attack people and speak are very similar, observes Karan Thapar.
Illustration: Uttam Ghosh/Rediff.com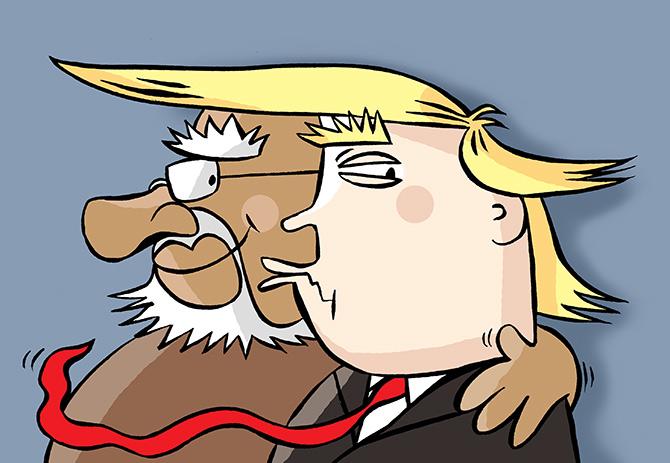 Am I guilty of an exaggerated comparison or is Prime Minister Modi increasingly seeming Trumpean? I ask this question not by way of intended criticism but as a form of description.
Today, we can judge whether it has any factual basis or is just a fanciful idea.
First, let me explain what I mean by becoming Trumpean. Donald J Trump is famous for his outlandish insinuations and innuendoes.
He sees conspiracies, levels accusations and pillories his opponents. All of this we know well. But don't you get the feeling that of late Modi has started to do something similar?
The claim that a transparent and irreproachable gathering held at Mani Shankar Aiyar's residence on December 6, where Dr Manmohan Singh, Hamid Ansari and General Deepak Kapoor were present, was in fact 'a secret meeting' and a conspiracy to help Pakistan meddle in the Gujarat elections sounds like the sort of thing Trump might have said. Would you disagree?
What about the claim that a comment made by Mani Shankar Aiyar, in an interview to Pakistan's Dunya TV two years ago, that India-Pakistan relations will only improve when Modi is removed (the actual Urdu word he used was 'nikalo') amounts to an attempt to physically eliminate the prime minister (or take out a 'supari', as Modi imaginatively put it)?
Isn't this, again, reminiscent of the American president's hallucinatory misinterpretations? I have to admit the similarity is uncanny and uncomfortably close.
However, the grounds for comparing Modi with Trump go further.
The American president is notorious for his dislike of Muslims. During his campaign he frequently seemed to demonise them.
Though not as prime minister, Modi acquired quite a reputation for taunting Muslims when he was chief minister of Gujarat. Now, when he talks of Pakistani conspiracies and suparis, is he not raking the same embers again? More indirectly perhaps but still tellingly. And the message seems clear.
However, it's not just in terms of what he says or who he attacks that Modi reminds me of Trump. Their similarity also emerges from the way their personalities overshadow the high offices they hold.
The American presidency under Donald J Trump has, no doubt, transformed into a new entity. But hasn't the Indian prime ministership seen a similar metamorphosis under Narendra D Modi?
America has never had a president like Donald Trump. India has never had a prime minister like Narendra Modi.
Both men are conscious of what differentiates them from others and both seek to emphasise the difference.
They believe in their destiny and consciously identify themselves with the restoration of the greatness of their country. They see themselves as the architects of it.
They also believe they are the real voice of their people. Now, seen in this light, aren't Narendra D Modi and Donald J Trump mirror reflections of each other?
Finally, there's the impact of their personalities on the people and country they rule.
Donald J Trump has divided the United States between those who passionately support him and others who viscerally hate him. In the process he has virtually split the country in two.
Surely, you could say the same of Modi? It has been clear for years that the Indian people are sharply split between those who deeply admire and those who are disgusted by him.
And I get the feeling that, like America, this is making us seem like two separate nations.
Of course, there are also marked differences between the two men, but do they undermine the comparison I've sought to make?
Modi can be a magical orator; Trump is barely literate or grammatical.
Modi is a great hugger; Trump is said to be allergic to human touch. Yet both men have used these qualities to make a similar giant-sized impact on the world.
If Modi is known for his speeches and embraces, Trump is renowned for his tweets and defensive hand gestures.
So even in areas where they seem like polar opposites they end up making a similar impact on the rest of us.
I would say the only serious question left is which man's name makes the better adjective? Since we are accustomed to being 'modified', it's time to be Trumpean!