'The answer is no, the entire country's is.'
'So why such obsession with Delhi?'
'But the most powerful people in India live here: The prime minister, civil servants, Supreme Court judges, MPs, diplomats, dadas of the media...'
'If they can't deal with their own problem, what chance does the rest of the country have, with its foul air, dying rivers, frothing lakes, and crumbling mountains?' says Shekhar Gupta.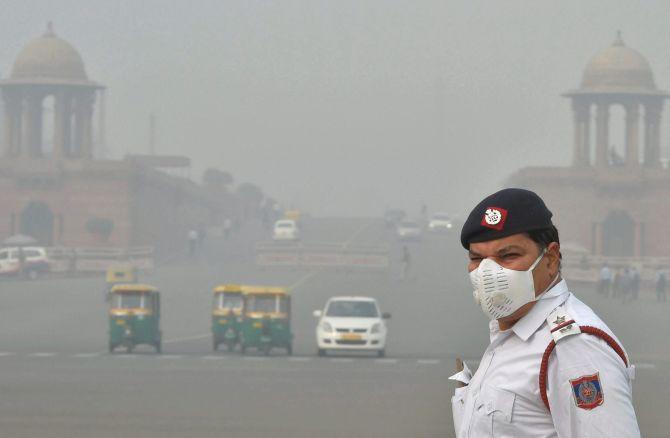 We used to have a hirsute Lhasa terrier called Teddy. It never had to look for food, hunt, or harm anyone or anything except books on lower shelves, until the evening he noticed a mouse stray into the kitchen.
He chased it, the panicky mouse got trapped behind the cooking gas cylinder.
The dog caught it briefly, its first prey. He let go in panic and, we believe, some embarrassment. But it endured with our family, first as a ploy and then as a story -- ploy to entertain our guests: Just shout 'chooha' and the hunter would go charging, straight behind the gas cylinder.
He had found it once there, so it must be only there. It's a story because whenever somebody shows the same dumb -- sorry dog-lovers, innocent -- instincts, we say now, don't go looking for the mouse where you found it once.
The fact is that Delhi's Aam Aadmi Party government wasn't even successful the first time in its own kitchen-mouse chase when it threw its odd-even scheme at us.
All data showed it made insignificant difference to air quality. But it was a political success. It made a lot of Delhi citizens, especially the well-heeled (mostly multiple-vehicle owners), believe at least something was being done and that they were part of it.
In any case, as we noted over the ridiculous cracker-sale ban on Diwali this year, this answered that important sentiment: Mujhe Kuchh Karna Hai (I have to do something about it)
Friendly TV channels rose in support, breathlessly hailing this as a great public-private partnership that would improve our air and also bring sponsorship for non-stop coverage from hybrid car and indoor air-purifier makers, both of which only the well-to-do can afford.
Two winters later, the AAP government is back chasing the mouse in the kitchen.
The AAP has emerged as India's most populist party, giving Mamata Banerjee competition. But unlike the usual populist-dictators' parties, it has diversity of opinion and wisdom.
On the downside, it came this week from its leader in Punjab, Sukhpal Singh Khaira, who presided over a stubble-burning 'event' and asserted that farmers would continue to do so unless they were paid Rs 5,000 a month for clearing stubble manually.
This was perfectly timed with his party supremo in Delhi seeking a meeting with Punjab Chief Minister Captain Amarinder Singh, on Twitter. You can laugh, cry, get furious, or just reach for that inhaler, and swallow your pride with puffs of awful cortisone.
A good question is: Is only Delhi's air polluted? The answer is no, the entire country's is. So why such obsession with Delhi?
Good question. But the most powerful people in India live here: Politicians including the prime minister and environment minister, civil servants including the environment secretary, Supreme Court judges, including those on the environment bench, MPs, diplomats and dadas of the media.
If they can't deal with their own problem, what chance does the rest of the country have, with its foul air, dying rivers, frothing lakes, and crumbling mountains?
It isn't as if none of them is trying. They are doing so in the way our little Lhasa terrier did, searching for that mouse in the kitchen, except now that the laugh is on us.
There is the venerable National Green Tribunal. Given the emotion, effort, and fury it is investing in Delhi, I respectfully submit it should be renamed the National Capital Territory Green Tribunal.
It issues prolific firmans that would make Tughlaq so proud, I'd suggest it is given a Bhavan on the road named after him in Lutyens' Delhi.
Its latest is to shift Delhi's tiny public protest zone from Jantar Mantar to some place far so that the noise does not bother the rulers.
You would've thought the very idea of protest was that the rulers should hear you.
Nevertheless, who's to argue with imperial authority in this city, particularly when well-intentioned!
The NGT's latest headline is a construction ban. Good idea, you'd say, though stopping economic activity can't be a way of fighting pollution.
Further, construction will stop, but the contractors must continue paying wages to their labour. Find me a contractor who will obey this, and I will find you a paddy farmer who has stopped burning stubble after the NGT's earlier order.
Not to miss out on the headlines, even the National Human Rights Commission has issued a bunch of notices. It's a safer sham than going after the gau rakshak menace with State complicity.
Then there is the longest-lasting permanent establishment in India: The Supreme Court-mandated Bhure Lal Committee, which has lasted the tenure of 17 (no typo this) Supreme Court chief justices, as the quality of Delhi's air has worsened.
They made a big difference very early on, shifting the capital's public transport to compressed natural gas, but very little later.
Expect them to go after their favourite bugbear -- diesel and trucks. In this noxious environment, every top-dog has a mouse in the kitchen.
Ranting is no solution, but there are some if we are all willing to forgo the two headline-rich months beginning Diwali and focus on the remaining 10.
First, we must acknowledge that there is a problem.
Second, everything everybody -- politicians, judges, and activists -- tried to do isn't working.
Third, no name-calling or politicking.
Then turn to the facts. The first is a smog map of the north, which has been tweeted by AAP leader Atishi Marlena and it shows it isn't just a Delhi problem but the entire region is choking.
It's the first sensible statement in this smog season, the reason why we said AAP also packs great diversity in wisdom levels -- this being on the upside.
If you extend the map further west, large parts of Pakistan will look the same.
OK, it may be challenging doing something with Pakistan until the Kashmir problem is solved. But plead with the prime minister to call a meeting of the four chief ministers involved: Delhi, Punjab, Haryana, and Uttar Pradesh.
Forget impolite, name-calling and buck-passing. Find a way of compensating the farmers for not burning paddy stubble.
The hundreds of crores being collected as diesel and truck entry cess on the orders of the Supreme Court and the NGT could be diverted here with top-ups from the Delhi and central governments.
Fighting Delhi's smog with tamashas in Delhi is as delusional as curing a deadly bronchial spasm by sucking a mint or lighting an agarbatti , even one from Patanjali or some such.
Then look at the Supreme Court-mandated Environment Pollution Control Authority's reports. They show that 38 per cent of Delhi's smog comes from dust.
Forget idiotic ideas like aerial spraying or using the fire brigade to give trees a shower.
Force the Delhi government to buy the vacuum-sweeping machines it promised in 2016 for its roads.
And then replace at least the old DTC buses, dying by the hundreds as not one has been bought for seven years.
The government doesn't have cash? They should have thought twice before doling out free and subsidised power and water to buy Delhi's voters.
These steps won't have the sex appeal of odd-even or bans. But these will help.
All else being done every smog-season isn't just a joke. It is an atrocity, collectively serving millions of us a dose of mass deceit.
What shall we call it?
Since journalism lacks the creative freedom of the cinema, and I can't borrow the 'C' word Vishal Bhardwaj got Vidya Balan to use with panache in Ishqiya, let us just call it: Even-Oddium Sulphate.
Photograph: Shahbaz Khan/PTI Photo