'In its short life, AAP has distinguished itself in many, many, governance spheres.'
'But party democracy is not one of them,' notes Aditi Phadnis.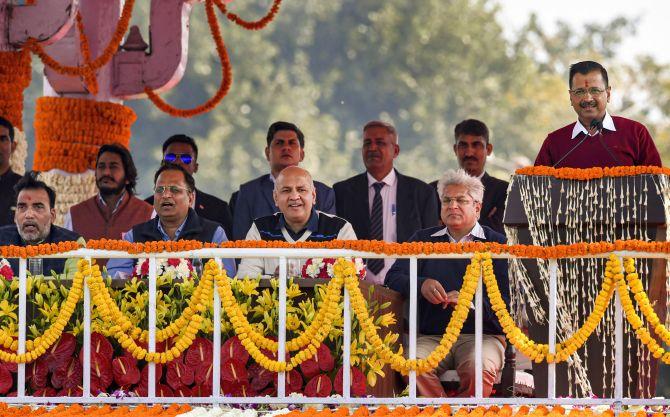 The Aam Aadmi Party is here to stay -- which is what makes it so perplexing.
Kamal Mitra Chenoy, a social activist for 30 years, a member of the Communist Party of India for 40, joined AAP in 2014.
He explained his reasons for resigning from the CPI: 'This is a critical time for Indian secularism. It is naive to say that AAP has no theory. As (Italian philosopher Antonio) Gramsci repeatedly stressed, all people in some way or another are intellectuals.'
'His major distinction was between traditional intellectuals who defend and legitimise traditional ideologies and monopolist use of power. Their rivals, essential for change and even a revolution, are organic intellectuals who are rooted in popular movements and popular culture,' Mitra Chenoy said in a signed article.
Barely two years later, Mitra Chenoy quit AAP.
In a personal exit note to Kejriwal, he suggested course correction and getting rid of the coterie that surrounds the national convenor.
Clearly, monopolist use of power was rearing its ugly head again.
Oddly enough, in a more unsophisticated way, all the supporters-turned-critics of AAP are saying the same thing today: Kejriwal is a plaything in the hands of a coterie.
This poses a perplexing problem.
Can un-democracy be the foundation for a democratic party that aspires to be different from all other parties in India?
In its short life, AAP has distinguished itself in many, many, governance spheres. But party democracy is not one of them.
This was clearly evident in the events in Punjab, the outbreak of rebellion in Delhi after a debilitating defeat in the municipal elections and in the way Prashant Bhushan and Yogendra Yadav were thrown out of the party in 2015.
Bhushan, Yadav and Anand Kumar were charged with undermining AAP's efforts to win the Delhi assembly election.
All of them refute this strongly and say they were only trying to make AAP run in a more democratic way.
Sucha Singh Chhotepur, an independent-minded legislator in Punjab, left the Shiromani Akali Dal and joined AAP before the 2014 election.
AAP leaders say his oratory impressed Kejriwal who heard him for the first time in Gurdaspur.
When the AAP lost two assembly by-elections, Kejriwal asked Chhotepur to keep the party afloat in Punjab.
Chhotepur has worked with the Congress's Amarinder Singh as well.
In 2009, Amarinder took Chhotepur into the Congress fold during a rally in Gurdaspur when the two were campaigning for Partap Singh Bajwa.
Bajwa won that election, with Chhotepur's local influence seen as having contributed to the victory.
But Chhotepur is not a complaisant individual.
AAP says they have him on video accepting a packet of money.
Even his rivals said they could fault Chhotepur on many grounds, but corruption was not one of them.
Chhotepur himself says he was turfed out when he refused to be a yes-man to Kejriwal and his "coterie".
Kumar Vishwas, once part of the inner circle and a friend of Manish Sisodia for four decades, has also quit the party and is now one of AAP's most trenchant critics.
Social scientist Anand Teltumbde writes that AAP's return to power in the capital lies in its ability to reinvent itself as a 'start-up', by reorganising itself and tendering apologies to its 'customers', the people of Delhi.
Teltumbde argues that the AAP business model -- to brand itself as an anti-politics political enterprise -- appeals to the neo-liberal generation in metros, who are idealist and see India's potential encumbered by corrupt and incompetent politicians.
Former AAP member Alka Lamba says till the MCD elections in 2017, everything was great.
But during the elections, none of the MLAs were consulted over ticket distribution and that's when things began to go downhill.
Many leaders, including Ashutosh and Ashish Khetan, have left the party since, citing lack of inner-party democracy.
The last word on the rifts in AAP has not been spoken yet.
Can you really deliver democratic results through undemocratic party structures? This is the paradox AAP needs to resolve.