In rural Bengal, people still believed that widows were simply biding their time on earth after their lord and master had departed from it, says Geetanjali Krishna.
Illustration: Uttam Ghosh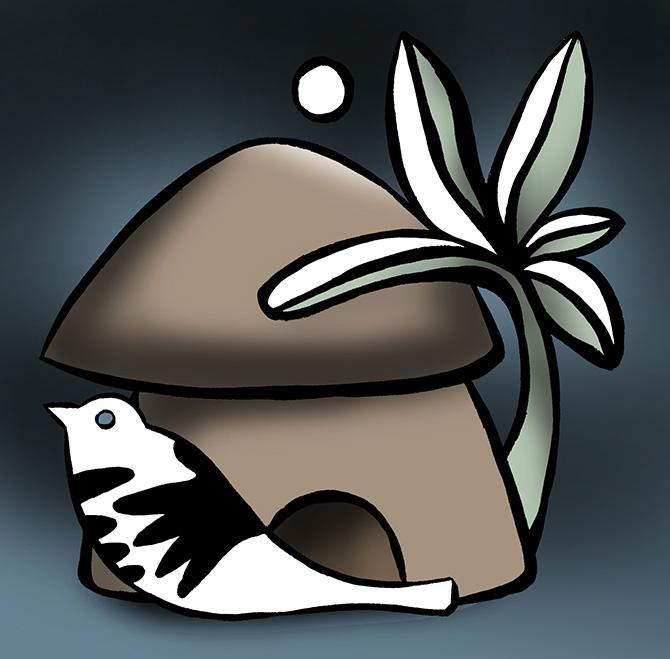 The other day, everyone at home noticed when the old Bengali cook landed up resplendent in a bright blue sari. It was a festive change from her usual cotton pastel attire, and I commented that she looked like she was heralding the advent of Diwali.
"Don't say that," she said recoiling from me. "Widows are not supposed to dress up on an auspicious occasion. I'm simply wearing this because a rich old lady gave it to me in charity at the local temple."
I told her that I didn't believe in such outdated social mores: "Why only blue? I think you should wear saris in all colours of the rainbow," I declared.
I lived in a world very different from hers, she said sadly.
In rural Bengal, she said, people still believed that widows were simply biding their time on earth after their lord and master had departed from it.
"In fact, the reason why I left my village to come to Delhi was because I found the lifestyle I was expected to lead as a widow in my village too hard," she said.
Widows in her village were only allowed to have rice once a day, she said. Leave alone meat or fish, even onions and garlic were off limits as they were perceived to create too much heat in the body.
"And we all know that widows aren't supposed to be warm-blooded at all," she said. "I quickly learnt to spice up my meals with green chillies and mustard oil."
Barely 40 years of age when she was widowed, she was expected to always stay out of sight, especially of the men.
"Once when my elder sister-in-law saw me accidentally first thing in the morning, she was furious with me for having cast a pall on her day."
Things became only marginally better when she moved to Delhi with her children.
"In my community, people are quick to cast aspersions on the character of a widow," she said. "So, even though my in-laws weren't around to impose restrictions on me, I ended up observing most of them."
She continued to wear colourless clothes, cover her head at all times and live a spartan life as befitting her status.
"The only restriction I didn't observe was on food," she said, lighting up. "As I earn well and my children are both working, we have money to eat fish every night. And as for rice... I can tell you that rice is my guilty pleasure."
That is why, she feels starved every time she has to return to her village.
"My daughter packs snacks like puffed rice for me to eat on the sly, as I find I'm always hungry there," she laughed.
Diwali and other festivals were particularly hard.
"Even though my children urge me to feast and enjoy the festival with them, I still spend the day in fasting and prayer," she said.
Listening to her, I was reminded of the story of a bird that continued to feel its captor's hands even after it had been set free. So it continued to sit docilely in its cage, not even trying to fly away.
I asked her if she didn't bear rancour for her in-laws for treating her like this.
She replied in the negative. "They are only following time-honoured conventions, and I must too."
Did any widow in her village remarry, I asked. She'd heard of such things happening in cities. "But in the village, we're still very traditional," she said.
Later, as she got up to leave, she said, "Once my benefactor sees me in the sari she gifted me, I'm going to give it to my daughter for Diwali. It's much too bright for me."