'It is for the first time that Modi has chosen someone as CM who happens to be a mass leader, a polarising figure, a vote catcher, a powerful orator and a Hindu mascot all at once -- qualities usually associated with Modi,' points out Rajeev Sharma.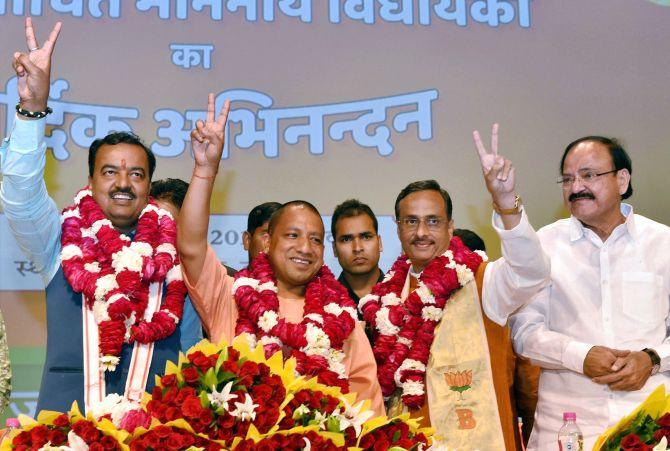 It's difficult to decode Prime Minister Narendra Modi's political strategies when the who's who of the entire Opposition in the country has failed.
The question uppermost in the minds of all political animals -- be it full-time politicians, or journalists or academicians -- is why did Modi choose a heavyweight politician like Yogi Adityanath as chief minister of Uttar Pradesh?
To get to a near-credible answer to this question we must ask ourselves another question: Why did the Bharatiya Janata Party take one full week to decide its nominee for the CM's post when the party cleared the electoral ropes with a roadroller majority on its own in the 403-member UP assembly?
If Yogi Adityanath was in the minds of Modi and BJP President Amit Shah as the chief minister, why did they take so long to announce his name, even if considering that not projecting anyone as the BJP'S chief ministerial candidate before the polls was a conscious and deliberate strategy?
Is Yogi Adityanath really the choice of the Modi-Shah duo or has his candidature been thrust on them by the Rashtriya Swayamsewak Sangh?
Whatever may be the real answers to these questions, one fact can be safely deduced.
The BJP which did not field a single Muslim candidate in a state like UP which has almost 20 percent Muslim population and yet won nearly two-thirds majority has played the Yogi Adityanath card with an eye on the 2019 general election.
The BJP has successfully cracked the code of polarising the electorate and winning an electoral mandate in such Muslim-dominant states like Jammu and Kashmir and Assam by completely marginalising the Muslims.
In fact, the party has gone far beyond polarising as large chunks of Muslim voters appear to have voted for the BJP.
A classic example of this is Deoband in Western UP where the BJP's Hindu candidate won despite the assembly constituency having 70 percent Muslim voters.
From the face of it, it looks that Yogi Adityanath was not the first choice of the Modi-Shah combine to be the party's CM face.
Obviously, that's why he was not projected as such by the BJP before the elections.
Modi was always wary, if not apprehensive, of him as he is a strong leader, enjoying a wide voters' base as well as mass appeal.
The 44-year-old monk politician, who is only one year older than Samajwadi Party leader Akhilesh Yadav, is a five-time MP, having been elected to the Lok Sabha for the first time at 26.
Moreover, he has no family -- and therefore no greed or emotional entrapment.
These are the qualities that enamour Modi. And yet he did not declare Yogi Adityanath as the BJP'S chief ministerial candidate before the elections!
Also, it took one full week for the Modi-led system in the party as well as the government to finally anoint him as the CM!
The logical deduction is that the Modi-Shah duo was trying to name someone else as the UP CM. Obviously, they wouldn't have been unmindful of Yogi Adityanath's damage potential if he were to be denied his chief ministerial ambitions.
The masterstroke was that the BJP finally threw its weight behind Yogi and hope to reap an even richer political harvest in the 2019 general election than what the BJP achieved in 2014.
At this rate, the BJP may even get 350-plus seats on its own in 2019 given the twin facts that Muslims have been marginalised in electoral politics and the entire Opposition has been running like headless chickens.
Yogi Adityanath can be expected to finally build the Ram temple in Ayodhya by late 2018 or early 2019 -- he is eminently capable of doing that -- and play the politics of majoritarianism.
Counterbalancing him with two deputy chief ministers -- a first in Indian politics -- may not yield the desired results.
However, this fairy tale script may go awry for Modi.
In the past 34 months of his prime ministerial tenure, Modi has won most state assembly elections, but has always ensured that a lightweight or a non-entity is made chief minister.
It is for the first time that Modi has chosen a leader to head the most crucial state of UP who happens to be a mass leader, a polarising figure, a vote catcher, a powerful orator and a Hindu mascot all at once -- qualities usually associated with Modi.
By giving UP to Yogi Adityanath may well be Modi's L K Advani moment when the former deputy prime minister had made Modi Gujarat's chief minister 17 years ago, thinking that Modi would always remain under his thumb.
Everyone knows how things have actually panned out.
Rajeev Sharma, an independent journalist and strategic analyst, tweets @Kishkindha
IMAGE: Yogi Adityanath, centre, Keshav Prasad Maurya, left, and Dr Dinesh Sharma. Union Minister M Venkaiah Naidu is also seen. Photograph: Nand Kumar/PTI Photo
MUST READ features in the RELATED LINKS below...