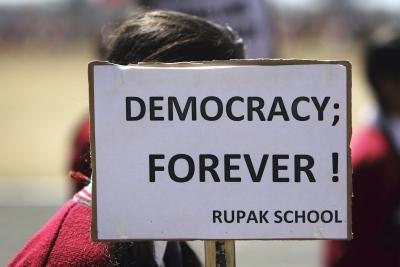 India aims to gently encourage moderate and democratic forces in Nepal and Maldives towards building a less fractured polity, writes Shubha Singh

There has been some quiet diplomacy at work by the Indian government with two of its South Asian neighbours that are due to go to the polls to restore elected governments later this year. Maldives is due to hold presidential elections on September 7 while Nepal's interim election government headed by Chief Justice Khil Raj Regmi announced on Thursday that elections would be held on November 19.
In the past 12 months or more, the Indian government has invited a series of visitors from Maldives and Nepal, both countries that are going through a period of fractious political activity in the lead up to their elections.

Former Maldives president Maumoon Abdul Gayoom, who ruled the island archipelago for three decades, was the most recent visitor from his country to visit New Delhi. Three- time prime minister of Nepal Sher Bahadur Deuba just completed his tour of Delhi where he gave a lecture on 'Upcoming Constitutional Election in Nepal'.

The visits of the two leaders are part of an Indian effort to reach out to all sections of the polity in these two countries, which have faced political turmoil in recent times. Relations with India have become a factor in the polarised polity of both countries in this period with some dissident Nepali Maoist politicians accusing India of interference in Nepal's internal affairs. India's prompt recognition of President Waheed's government caused some criticism in political circles in Maldives while the island government's abrupt termination of GMR-led consortium's contract from upgradation of Male airport brought a sore note to bilateral ties with India.

The outreach to different sections of the political spectrum is not only meant to clear the air and restore the relationship with the two countries but to gently encourage the moderate and democratic forces in Maldives and Nepal towards building a more democratic and a less fractured polity. The heads of the election commission of both Maldives and Nepal, who are in the course of preparing for crucial polls later this year, have visited New Delhi for consultations with their Indian counterparts. Maldives Election Commission Chief Fuad Thaufeeg was in Delhi in May while Nepal's Chief Election Commissioner Neel Kantha Upreti is currently on a visit to India to discuss technical cooperation with the Election Commission of India.

Former president Gayoom's visit was preceded by a visit by Maldives Defence Minister Mohamed Nazim and Speaker of the Majlis, Abdullah Shahid, who was accompanied by a parliamentary delegation. President Mohamed Waheed paid a visit to India last year and former president Nasheed, who was ousted in controversial circumstances last year, has visited India on two occasions.

Senior leader of Maldives' Dhivehi Rayyithunge Party Ahmed Nazim was in India recently; DRP leader Thasmeen Ali has become President Waheed's running mate for the forthcoming election. Maldives Chief Justice Ahmed Faiz is currently visiting India.

Nepali Congress leader Sher Bahadur Deuba had meetings with the top Indian leadership including Prime Minister Dr Manmohan Singh, External Affairs Minister Salman Khursheed, and Commerce Minister Anand Sharma. He also had a meeting with United Progressive Alliance Chairperson Sonia Gandhi. The Congress and the Nepal Congress have shared fraternal relations since Nepal's main democratic party was formed in Kolkata.

Nepal's Maoist leader Pushpa Kamal Dahal Prachanda came on a tour to India in April shortly after a visit to China. Speaking at a public lecture in New Delhi, the Maoist leader said that his party had accepted that Nepal could not prosper with good relations with India. The Maoists had taken the decision at a party convention in March, and it was an important turning point in the party's ideological position, which created the basis for new relations with India, he had said. Deuba, while speaking at the Press Club of India on Thursday, refuted the impression that there was widespread anti-Indian sentiment in Nepal.

In his meetings in Delhi, Gayoom spoke of the India's assistance for development in Maldives over a long period of time. Once painted as an autocrat by Maldivian dissidents for his long rule, the former president is now being remembered for his role in the development of Maldives. There are reports of a realignment of forces in Maldives as President Waheed, who belied the impression that he is a political lightweight and has emerged as a strong candidate for re-election.
In Nepal, the announcement of a date for the Nepal elections has ended the impasse between the main political parties over certain conditions for holding of elections. However, the dissident faction of the Maoists and some smaller parties are still opposed to elections without coming to an agreement on delineation of constituencies and cut offs for proportional representation.

The Indian message to Maldivian and Nepali parties is to allow democracy to take firm roots in their country and strive for free, fair, credible and inclusive elections to chose a new democratically elected, representative government.

Image: A girl holds a placard during the Democracy Day celebrations at the army pavilion in Kathmandu | Photograph: Navesh Chitraka/Reuters