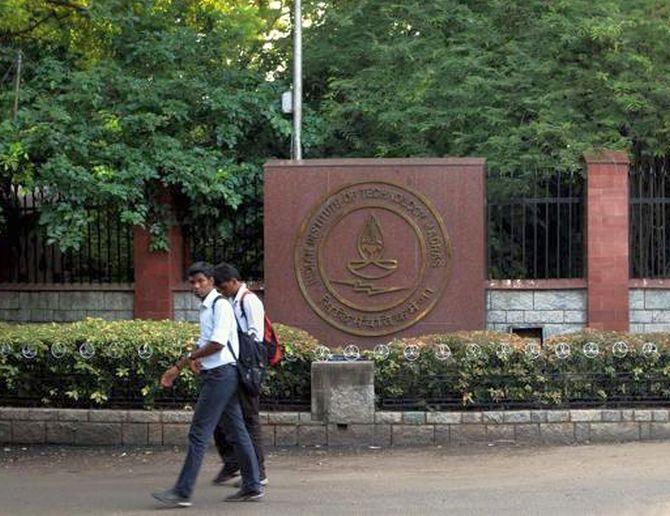 IMAGE: One of India's famed IITs. Photograph for representation only.
Indians thrive in ordinariness -- from academia and science to business and military power. Sports is just an apt metaphor, says Shekhar Gupta.
Such is our collective love of mediocrity and alibis for it that we believe the English designed an expression just for our needs. It is the familiar 'in spite of'. We treat it so much as our own, that we have even patented our way of spelling it: 'Inspite of'. And that is from much earlier than social media made most spaces, periods and spell-checks dispensable to fit into the vital 140 characters or whatever.
Our 'in spite of' fixation was in full evidence the last couple of weeks as the Olympic Games progressed in Rio. We just had a silver, a bronze, a fourth position in an unlikely discipline (gymnastics) and a track qualification for finals after 32 years. The rest was really nothing, barring two tough armymen clocking their personal bests in men's marathon, finishing 25th and 26th.
A women's marathoner came back alleging she had been denied water and nearly died of exhaustion, it was seen as a believable story, with no need for any fact-checking. Similar arguments were used for all other failures. Our shooters, it was said, are denied ammunition imports, yet got so far. The wrestlers don't have enough air-conditioned facilities, yet competed.
The gymnast, who became a national heroine and introduced us to the Produnova, must be a prodigy because she excelled in a sport in spite of there being no facilities. Never mind that she kept on saying that there was no lack of infrastructure or facilities. We were not going to accept any Indian competitor deny herself Cinderella-hood.
Sports, thus, became an abiding metaphor for our virtuous love for mediocrity, thanks to that chronic attention-hunting tabloid star Piers Morgan who stirred us snoring Indian lions by teasing us for celebrating merely two 'losing' medals. We retaliated by throwing everything possible at him, although if somebody asked him to explain Jallianwala Bagh or the trial of Robert Clive, I missed it.
But the most important question was raised by a younger, sports-crazed colleague. "What does this nutcase mean by 'losing' medals'?" she asked me. Good point, because medals, any colour, have to be won. But the point that a bronze or a silver is won when you lose a match wasn't to be in the discussion.
We did, after all, get a couple of medals. Despite the odds our athletes face, in spite of the 'system'. The only fellow Indian we saw speaking sense was P V Sindhu's coach P Gopichand, who, while celebrating his ward's achievement, did tell NDTV he was disappointed that an opportunity for gold was lost. No wonder he was a world-beater and continues producing champions even in our comforting sea of mediocrity.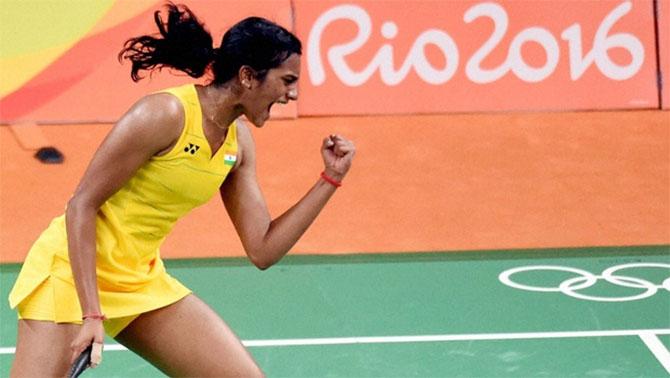 IMAGE: P V Sindhu, India's lone silver medalist at the Rio Games.
Staying with sports for the moment, although shifting to the only one where we are often world-beaters and boast the best resources, I bring up the case of wicket-keeper Parthiv Patel messing up a bunch of chances on Day 5 in Sydney, 2004, enabling Steve Waugh and the tail to save the Australian captain's farewell Test and thereby denying India its only chance of a series win Down Under yet.
When I did fret over this in our newsroom, one of my wisest colleagues said, but see, he is not bad for an 18-year-old. Now the argument should have been, that he could be 18 but is playing in the grown-up league so should be held to that standard. But this wasn't a popular line. He was keeping wickets in a big series in spite of being just 18. M S Dhoni came soon thereafter.
India's greatest bane is its easy embrace of mediocrity. Academia, governance, science, business and even the military are not denied their excuses. We define academic excellence as topping a key exam. After that should follow entry into a fine institution that guarantees good employment.
And if that formula does go wrong, as it recently did with some start-ups not keeping hiring commitments, IIT-Bombay blacklists them and we applaud. What excellence these fellow Indians had to achieve they did by beating the rest in the joint entrance exam. That should de-risk their lives.
That's why so many of them, in spite of (I am reversing the implication here) the finest education in India, spend the rest of their lives smugly with titles like vice-president (soaps and shampoos) or general manager (juices and ketchup) with FMCG majors. Smugly, until a Patanjali rises.
Not since the pre-Independence generation have we had a world-class scientist with cutting edge research, a real technologist with a globally known patent or invention. Unless you count Bose speakers. India claims to be a great IT power with almost no proprietary software, brands, except in outsourcing.
It is the fastest-growing telecom market but its millions of degree-holding engineers, including tens of thousands of wonderful IITians haven't invented/designed/patented/produced an original mobile phone model, something young Chinese and Koreans are doing all the time.
At the same time, A P J Abdul Kalam is a national 'scientific' hero for reverse-engineering 1960s' missiles. A real achievement for Indian security, but science? Or ISRO is still with its PSLVs while so much of the world has moved far beyond. But then, they did all this despite the evil West's technology denial and sanctions. But wasn't that also done to the Chinese?
There's been some conversation lately around a medals/per capita wealth ranking for nations and India makes the bottom of that list. If you do a similar ranking of patents per capita, our vast population of engineers, science graduates or even PhDs will also place us somewhere at the bottom. But they got their degrees in spite of the odds, you see.
Reminds me of a passage from brilliant writer P J O'Rourke's travel diary from India (The CEO of the Sofa) where he sees on Kolkata's The Telegraph's front page an item that India had the largest number of science graduates in the world. Then he walks around the stately GPO and finds rows of desks where professionals write letters for unlettered people. Now tell me, P J asks, how come so many people make a living writing other people's letters in a country with the world's largest population of science graduates? I suppose the answer would be we have so many science graduates in spite of having so many illiterates.
You can find your own examples. Among the most striking for me was when fighting in Kargil was on and as usual there was talk of armament shortages. The then army chief V P Malik reassured us by saying "we will fight with whatever we've got". Now, okay, we did, and we won, but did we really have to start with that qualification? There are always shortages, but it is tough to be persuaded that, after the 1965 war when the odds were adverse, India's armed forces have been equipped poorly than Pakistan's. But an 'in spite of' adds also to the joy of victory.
Back to sports, our seven best performers all achieved way more than their personal bests or rankings. Theirs was a genuine quest for excellence. A world number 10 frightening the number one in the final while beating number two en route. A lesser known wrestler reversing a 0-5 score in the last eight seconds while her fancied teammates were below par. Or the eighth qualifier in a gymnastics final finishing fourth.
They all raised their game on the big day, on the big stage and you've heard none of them complain, not even the gymnast about her absent physio. I'm sure the only thing they feel bad about is not doing even better. To that extent, real non-whiners are so rare in a society which, Piers Morgan is right, goes crazy over two 'losing' medals.