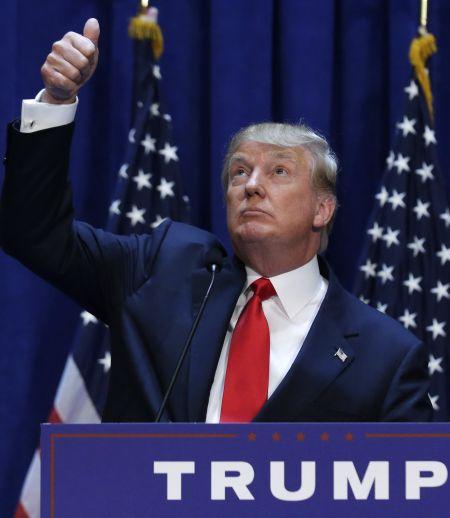 In May 2014, India got its Donald Trump equivalent as prime minister in the form of Narendra Modi. Come 2016, we will know if America too gets its own version of Modi, says Shehzad Poonawalla.
In May 2014, India (about 31 per cent of it, to be precise) voted for the Bharatiya Janata Party's Narendra Modi to become prime minister. With elections due in America in 2016, a dozen Republican candidates and a few Democrats have announced their intention to run for their party's presidential nomination and several polls suggest that business mogul Donald Trump is leading the pack when it comes to the Grand Old Party, the Republican Party.
In his avatar as a businessman and real estate developer, Trump has shown admiration for Modi and his leadership. The fact that both Modi and Trump belong to conservative, right wing political parties, namely the BJP and the Republican Party, is one of the many common attributes the two share. Here are a few more interesting ones:
Both make grand promises
In the run-up to the 2014 polls in India, Modi's slogan was to bring back 'Achche Din'. The Trump campaign slogan is to 'Make America Great again'. One sincerely hopes that America's tryst with Trump's 'greatness' does not take as long as our tryst with Modi's Achche Din.
Both are climate sceptics
Trump expressed the following views on global warming and climate change during a radio show: 'Well, first of all, I'm not a believer in global warming. And I'm not a believer in man-made global warming. It could be warming, and it's going to start to cool at some point.' In short, he thinks global warming is a big hoax.
And here is what Modi said (to The Hindu in an interview and also to some young impressionable minds during his stage-managed Teacher's Day Q&A session): 'Climate change? Is this terminology correct? The reality is this that in our family, some people are old... They say this time the weather is colder. And, people's ability to bear cold becomes less. We should also ask is this climate change or have we changed.'
Both rub women in a very, very wrong way
In a recent feature for Rolling Stone magazine, Trump took a sexist jibe at fellow Republican presidential candidate Carly Fiorina and said: 'Look at that face! Would anyone vote for that? Can you imagine that, the face of our next President?!' And he had this to say about Ariana Huffington, co-founder and editor-in-chief of the Huffington Post on Twitter: '@ariannahuff is unattractive both inside and out. I fully understand why her former husband left her for a man -- he made a good decision.'
And here's a list (external link) of all the sexist things Trump has said until last month. Clearly, this reflects a deep-seated misogynistic mindset.
In 2012, in a public rally, Modi had called Shashi Tharoor's late wife Sunanda Pushkar a '50 crore girlfriend'. 'Wah, kya girlfriend hai. Apne kabhi dekha hai 50 crore ka girlfriend?' he had said.
In the same year, as chief minister of Gujarat, he told the Wall Street Journal that Gujarat's malnutrition problem could be attributed to the fact that five year old girls in Gujarat were 'figure-conscious and beauty conscious'!
Recently Modi also paid an extremely sexist compliment to Bangaldesh Prime Minister Sheikh Hasina when he said, 'I am happy that Bangladesh prime minister, despite being a woman, has declared zero tolerance for terrorism!'
Both offer sharp and often untrue rhetoric on immigrants
Labeling Mexican immigrants as 'drug dealers, criminals and rapists' Trump claimed that there is a 'mindboggling' link between rape and illegal immigration, in an interview to CNN. His solution involves getting Mexico to build a border wall to keep immigrants out of the United States.
Modi's BJP hasn't quite suggested building a wall but a fence to keep illegal Bangladeshi immigrants out. Here is what the BJP's 2009 (and 2014) manifesto reads: 'Immediate steps will be taken to stem the tide of illegal immigration from Bangladesh to Assam and other north-eastern states. The construction of the India-Bangladesh border fence will be completed without any further delay.'
And blaming Bangladeshi 'infiltrators' (read, Muslims) for crimes has been a very old and not-so-subtle ploy used by the BJP, its ally the Shiv Sena and particularly by Modi in his election campaign post the 2002 riots and even in 2014.
Both are pro-business
Trump is a billionaire and a business magnate. He favours pro-business policies like putting an end to corporate tax. Many find his book The Art of the Deal to be a manifesto for crony capitalism.
Modi is considered to be a hot favourite among the billionaires club in India. The Opposition alleges that his electoral campaign was financed by big business houses. His recent amendments to the land acquisition bill, which he had to withdraw after immense pressure from the Opposition, together with his alleged Rs 10 lakh (Rs 1 million) suit that he wore on January 25, when he met US President Barack Obama, earned him the jibe of running a 'suit boot ki sarkar' (a government for the rich).
Both harp on over-rated past achievements
Trump, based on most of the introductions to his presidential debates, seems to believe that he is qualified to be president of the United States because he has been super successful in running his business (much of his fortune was inherited by him from his wealthy father by the way) all these years and he would now like to use his acumen for America. How altruistic and noble!
Except that as per PolitiFact.com, Trump's companies have filed for bankruptcy four times in the last 25 years.
During the 2014 Lok Sabha election campaign, Modi cited the 'Gujarat model of development' to support his claim to become prime minister. The Comptroller & Auditor General of India report (external link) tabled in the Gujarat assembly in 2015 busted the myth of the much-famed Gujarat model.
Both seem powerless in the face of their venom-spewing bhakts
Recently a pro-Trump member in the audience at the New Hampshire town hall meeting made some rabid remarks, suggesting that the US should get rid of Muslims and claimed that President Barack Obama was a Muslim born outside the United States.
Trump did not challenge the questioner even once for the completely baseless assertions and just said, rather indifferently, 'You know, a lot of people are saying that and a lot of people are saying that bad things are happening. We're going to be looking at that and many other things.'
Much like Modi, who seems to be equally nonchalant and unconcerned about the abusive and often threatening language that many of his social media supporters (Namo Bhakts as they call themselves), whom he follows on Twitter through his official account or has been photographed with, use against liberals, journalists, women and just about anybody who disagrees with their point of view.
For instance, actor Shruti Seth, who had criticised Modi's #SelfieWithDaughter campaign faced a backlash from abusive trolls and wrote an open letter to the PM. The PM chose not to respond on this occasion just like he has chosen to remain silent even as his colleagues, including ministers like Mahesh Sharma, say the most horrible things about Muslims and women.
Both Modi and Trump exhibit narcissistic proportions of self-promotion
In his book, The Narcissist Next Door, Jeffrey Kluger points out Trump's compulsive use of superlatives -- especially when he is talking about his accomplishments and the compulsive promotion of his name: Trump Towers, Trump World, Trump Organisation, Trump this, Trump that.
Modi is known to pat his own back and over-sell his achievements in his own speeches. His Independence Day speeches and Mann Ki Baat are prime examples of that. Modi obviously would like us to believe that India achieved nothing in the last 60 years and whatever gains we have made, we have made them only under him.
So he does not hesitate for a second while taking credit for the success of the Mars Orbiter Mission, whose preparations began way back in 2008, six years before he became prime minister.
And then, much like Trump, Modi likes his name all over the place, including on his monogrammed suit! In fact, prior to the elections, Rajnath Singh had to delete a tweet in which the campaign slogan read 'Ab ki baar, BJP Sarkar' and had to replace it with the poster that read 'Ab ki baar, Modi Sarkar.'
From Modi selfies to Modi masks, much like Trump, there is an undeniable narcissistic streak in this personality cult.
Both receive disproportionate share of media attention
In the run-up to the 2014 elections, Modi got more than 33 per cent coverage on national television channels during prime time in March and April, surpassing Arvind Kejriwal (10.31 per cent) and the Congress's Rahul Gandhi (4.33 per cent), according to a study by the CMS Media Lab.
Trump, on the other hand, since the first Republican presidential debate, has received more coverage on the news than his 16 rivals combined as per an analysis for CNN's Reliable Sources.
In May 2014, India got its Trump equivalent as prime minister in the form of Narendra Modi. Come 2016, we will know if America too gets its own version of Modi by electing Trump.
Image: US Republican presidential candidate Donald Trump. Photograph: Brendan McDermid/Reuters
Shehzad Poonawalla is a lawyer-activist and founder-member of the governing body of the think-tank PolicySamvad.