'National unity and acceptance of cultural diversity was never more important than now when the world enters an unstable and dangerous phase,' says Colonel Anil A Athale (retd).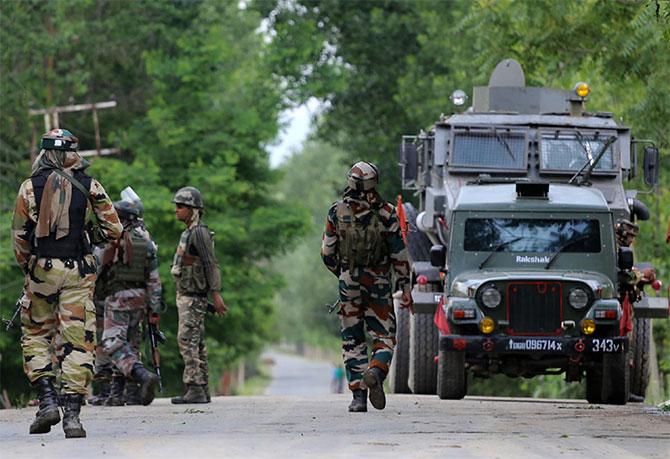 If a Rip Van Winkle was to wake up from his sleep of a hundred years, he will find the world quite familiar!
Many historians are of the view that the world order today indeed resembles the one that existed at the time of World War I, nearly a century ago.
As then so now, there is a rising global power, then Germany, now China.
The world is divided into several major powers of roughly the same size and capability with no firm alliances.
Like the anarchists in the early 20th century, today we have the Islamist jihadis.
In place of a complicated Balkan crisis then, we have a Middle East in ferment.
The return of American isolationism under Donald Trump completes the picture.
Most historians agree that World War II was essentially an extension of World War I.
The important point about the First World War is that it was an accidental conflict in the sense that none of the major players wanted war.
The scary part is that it still happened.
It is in this sense the world situation today is similar to that on the eve of the First World War.
Another similarity is an absence of a towering leader with a long-term vision on the world stage.
Most of today's world leaders have only partial support within their own countries with none having transnational or even regional appeal.
The situation is scarier as the world's greatest military power, the US, appears to have become dysfunctional.
Witness some of its recent actions. On April 5, the US fired a dozen or so missiles against a Syrian airfield. On April 13, the US dropped an 11 tonne bomb -- known as the Mother of All Bombs -- on suspected ISIS terrorists in Afghanistan.
There has been neither any follow up action not any strategic plan!
It seems these were just 'one off' decisions by the US president. Not very different from a child bursting some balloons for fun!
It is a scary thought, but what if there is a repeat of a 9/11 type attack?
The world abhors a power vacuum. It looks like China sees this vacuum as an opportunity to increase its footprint. It is to be expected that China's approach to India will be more aggressive in the near term.
Shorn of all the shibboleths, the fact is that since the 2009 nuclear deal, India has been relying on American power to check a rising and aggressive China.
With American power headless and erratic in the coming years when the world order and stability is under threat, India needs to gird its loins to preserve its hard earned economic and political gains as well as territory and independence.
Precisely at this critical moment we have all kinds of pseudo Hindutva supporters running amok.
Rampaging Gau Rakshaks and all sorts of holy warriors are attempting to hijack Veer Savarkar's and Swami Vivekananda's Hindutva.
Eating meat, permitted to Kshatriyas, nay enjoined, is on the radar of loud mouthed ignoramuses for a ban.
In their world view Indian cultural nationalism is equated with cultural practices in the 'Cow Belt.' Savarkar's quip on the cow being merely a 'useful animal' in forgotten by these worthies.
Neither are they aware of the work Savarkar did to fight untouchability and casteism. In fact, in this he was ahead of even the Mahatma who incidentally was all praise for Savarkar's efforts.
Swami Vivekananda was a worshipper of 'strength.' For him being strong was 'moral.' His call was to treat all Indians as brothers and sisters.
The problem is the 'Bhakti' cult as prophesised by Dr Babasaheb Ambedkar in his speech in Parliament. Thus, Hindutva is reduced to worshipping Ramlalla while forgetting him as the 'Maryada Purushottam' or an exemplar!
Similarly, Krishna has been reduced to stealing butter and frolicking with the gopis. Yogeshwar Krishna who gave mankind the message of Karma Yoga is nowhere to be found in this vision.
Incidentally, the cow and its progeny protection that seems to have become the end all for some does not find a single mention in the Bhagvad Gita!
National unity and acceptance of cultural diversity was never more important than now when the world enters an unstable and dangerous phase.
Colonel (Dr) Anil A Athale (retd) is a militaty historian.
IMAGE: Soldiers rush towards the site of an encounter at a Central Reserve Police Force camp in Bandipore, south Kashmir, June 5, 2017. Four terrorists were slain in the firefight. Photograph: Umar Ganie for Rediff.com