Do Modi's foreign visits actually serve India or they nothing more than expensive tools for domestic positioning and image-building, asks Shehzad Poonawalla.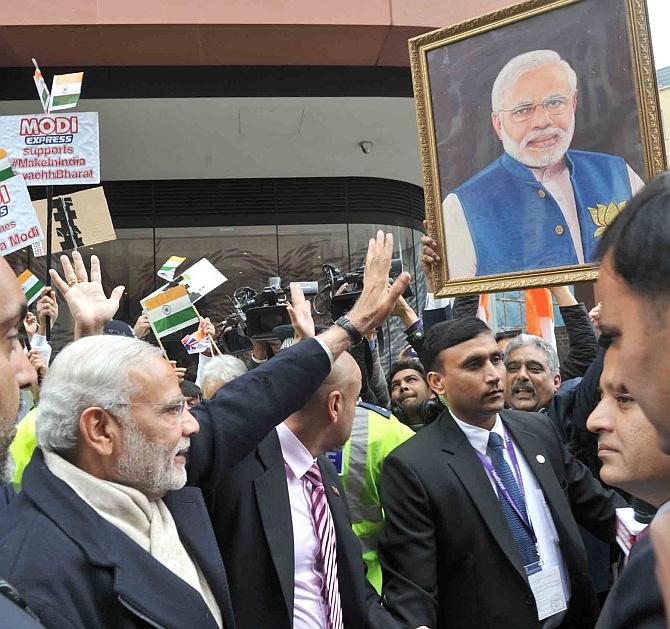 George Walker Bush, the 43rd President of the United States of America, isn't remembered too fondly, either in his own country or in the rest of the world.
Certainly not in the Middle East, where a 'war on terror' in Iraq, launched by him ostensibly on the pretext that Saddam Hussein had weapons of mass destruction turned out to be a complete hoax, leading to the death of thousands of innocent people and American soldiers, instability in the region, widespread anger against American foreign policy and of course creating fertile conditions for the ultimate rise of ISIS.
Many argue that a man who mixed up Sweden for Switzerland, Austria for Australia and OPEC for APEC wasn't the most ideal guy to be running foreign policy in the first place.
George W Bush's victory in the presidential race of 2000 was primarily to shore up things at home and focus on the domestic agenda.
The presidential election campaign had focused mainly on domestic issues such as social security and medicaid reforms, healthcare and taxation.
Eight months into the Bush presidency 9/11 happened and his entire focus changed from running a presidency that focuses on resolving domestic issues to one that literally disfigured American foreign policy for decades to come.
Consequently, on the domestic front too, the American economy ended up facing huge problems including a national debt that had more than doubled under the Bush regime, thanks to expensive military campaigns and revenues that had reduced thanks to the Bush tax cuts.
Today, many wonder if Prime Minister Narendra Modi, whose Bharatiya Janata Party recently suffered a huge drubbing in Bihar, is heading the Bush way when it comes to foreign policy.
Unlike Bush, no exigency comparable to the 9/11 terror attacks forced Prime Minister Modi to spend what many consider a disproportionate amount of time on foreign policy as opposed to fulfilling the promise of 'Achche Din' and 'Sabka Saath, Sabka Vikas' which are essentially hinged to his domestic agenda.
The recent results in Bihar and earlier Delhi, which saw the BJP-led National Democratic Alliance getting whitewashed despite Modi leading the campaign, merely 18 months into his tenure, indicates that he has much work to do on the domestic front.
Modi's foreign policy mis-adventurism, in that sense, are entirely of his own making and totally avoidable.
Much like his 'conservative' counterpart Bush, Modi too is making the same cardinal mistake of misreading his largely domestic affairs oriented mandate -- which was essentially for creating jobs, controlling inflation, resolving agrarian distress and ending corruption -- and is instead overplaying his hand when it comes to foreign relations.
The results are for all to see be it with Pakistan, China, the US or even Nepal.
As of October 2015, Modi has already made 28 foreign visits and has spent nearly two-and-a-half months of his 18 month reign in office on foreign soil.
If you don't count the 10 countries Modi visited between June 2015 and October 2015, in the last one year Modi's foreign trips cost us Rs 41.1 crore (Rs 411 million).
Before this year ends, he will most likely visit six more nations beginning with his current three-day visit to the United Kingdom.
The question many are asking is have Modi's foreign visits actually served India or have they been nothing more than an expensive tool for domestic positioning and image-building by him?
Let's take Nepal. Just about a year ago television talking heads were telling us about how Modi had won the 'hearts and minds' of the Nepali people with his rock-star speech in its parliament, a one billion dollar concessional line of credit to our Himalayan neighbour and his overt religious card which entailed conducting a special puja at the Pashupatinath temple, donating 2,500 kg of sandalwood, and promising crores for the renovation and restoration of the 17th century heritage structure.
A year later, using the hashtag #BackOffIndia and #GrowUpModi, with the former trending worldwide, the people of Nepal made it clear to Modi that his government's interference in the domestic affairs of a sovereign nation would not be tolerated.
The handful of amendments suggested by Modi's government to Nepal were rejected and, snubbing India, Nepal's constitution was promulgated.
The handling of affairs has been so ham-handed that not only did India not get its concerns on Madhesis addressed, but is now being accused of imposing an unofficial economic blockade that crippled Nepal, pushing it closer towards arch-rival China and gave rise to anti-India protests where Modi's effigies were being burnt by Nepalis who felt his government was attempting 'a Sri Lanka in Nepal: Promoting an ethnic divide and taking sides.'
Senior journalist Harish Khare nails the problem with Modi's diplomacy. 'The sprawling foreign office bureaucracy is busy scheduling yoga classes rather than using its traditional tools of tradecraft to secure our core interests,' he says, while wondering if the 'Nepal fiasco' was a 'lesson in the dangers of over-centralisation' at the level of the PMO.
After massive earthquakes in April this year that killed more than 8,000 and left hundreds of thousands homeless in Nepal, the Modi government had a historic opportunity to not just rebuild Nepal, but also its trust in our country.
Instead, Modi's flawed foreign policy centred around his personality cult, aimed at trying to play 'Big Brother' to Nepal, using religio-cultural symbols rather than tactful diplomacy, has backfired in a big way.
Modi's 'swing diplomacy' with China has also amounted to precious little. While China is investing $46 billion to create the China-Pakistan Economic Corridor, the $20 billion committed to India hasn't seen the light of day.
China seems least interested in solving the border disputes it has with us and continues to provoke India by arming Pakistani Rangers along the LoC, stapling visas for Indian citizens from Arunachal Pradesh even though the Modi government went out of its way to offer e-visa facilities to Chinese citizens.
While the Modi government has heavily courted the Americans, which itself has not yielded much, we have offended our most trusted allies, the Russians.
Russia is slowly moving towards Pakistan and agreed to invest $2 billion in Pakistan to build an 1,100 km-long energy pipeline. Moreover, Russia has lifted an embargo on weapons deliveries to Pakistan and also sold a number of Mi-35 attack helicopters to Islamabad.
For all the hype surrounding Modi's much publicised visits to the US, they too have yielded very little. The Madison Square Garden speech, visits to Silicon Valley or town hall event at Facebook headquarters make for good television and surely pump up the NRI community but how much of the investments promised has actually made its way into India?
The US has not committed anything special to us in terms of technology or weapons systems since Modi has taken charge. Instead, credible reports from the US and India suggest that the idea of a nuclear deal between the United States and Pakistan, on the lines of a similar civil nuclear deal that had been inked in 2005 exclusively with India during the Manmohan Singh regime, is gaining some traction in Washington.
Handling of relations with Pakistan too has been nothing short of a disaster.
Under Modi, India has seen a huge rise in the number of ceasefire violations along the LoC. From inviting Nawaz Sharif to his swearing-in ceremony to reaching out to the Pakistanis at Ufa and the cancellation of the foreign secretary level and NSA level talks, the ambiguous back and forth on holding a dialogue with Pakistan has ended up making us look indecisive and confused
In the months to come Modi is likely to visit Israel signifying his warmth for the Benjamin Netanyahu regime which has been accused of war crimes.
In July, the Modi government took a decision to abstain on a United Nations Human Rights Council resolution that sought to condemn Israel over alleged war crimes committed during the 2014 Gaza conflict. This was a major departure from our traditional stance over the Israel-Palestine issue.
Forty-one of the 47 UNHRC council members voted in favour of the resolution, including France, Germany and Britain, thus putting us in the minority on this issue.
Millions of Indians are living and working in the Gulf and Middle East countries. We rely heavily on the Middle-East for our oil and energy needs. Our bilateral trade with many of these countries is much larger than our trade with Israel. Israel isn't our main defence equipment supplier either.
No wonder, then, many policy-watchers and commentators have argued that apart from satisfying a bunch of jingoists in the BJP and Sangh Parivar, cosying up to Israel is hardly in sync with India's larger interests and would 'inevitably trigger a much bigger and costlier backlash for India from Islamic nations.'
The hallmark of the Bush presidency was that it ignored pressing domestic issues, mismanaged foreign affairs, miscalculated many moves on the diplomatic front and ended up creating a mess that would require future American presidents to spend much of their tenure just undoing those mistakes. Ultimately, Bush's foreign policy made the US extremely unpopular across the world.
Modi's foreign policy push seems to be unravelling in pretty much the same fashion. Far from earning us new friends, it is antagonising old ones and creating an anti-India sentiment in our own backyard.
International press coverage of issues like Dadri, awards being returned by hundreds of artists, writers, filmmakers and his discomforting silence over the growing mood of intolerance in India have been negative and is making India a perceivably unfavourable destination for investment, given the concerns that foreigners would have about the safety of their own assets and human resources in India.
Imagine how embarrassing it was that when the Delhi police was raiding Kerala House over a ludicrous complaint that beef was being served in the state house, delegates and leaders from various African nations, most of whom eat beef, were in the national capital for the India Africa Summit!
One diplomat jokingly asked me if the Delhi police would enter the US embassy next on a complaint that the ambassador was eating a beef burger!
Jokes apart, there is perhaps a pressing case for Modi to shift focus back to domestic matters, allow the experienced hands in MEA the freedom to craft foreign policy based on our national interests, tone down the megalomania, and give his 'all style, little substance' diplomacy a break before it ends up isolating us.
IMAGE: Prime Minister Narendra Modi greets supporters outside the St James' Court hotel in London. Photograph: Ministry of External Affairs/Flickr
Shehzad Poonawalla is a lawyer-activist and founder-member of the governing body of the think-tank PolicySamvad.