'If an 'informal meeting' with Xi Jinping materialises before the SCO summit in June, that itself could be regarded as a significant breakthrough in India-China relations,' says Ambassador M K Bhadrakumar.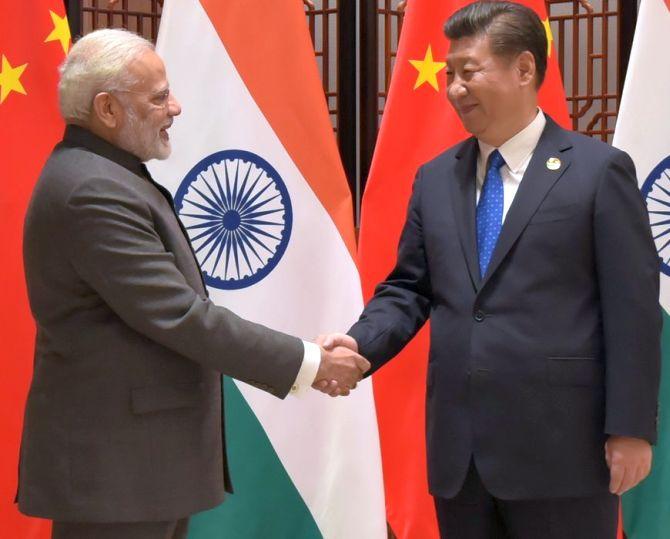 IMAGE: The last time they met: Prime Minister Narendra D Modi greets Chinese President Xi Jinping on the sidelines of the BRICS summit in Xiamen, September 5, 2017. Photograph: Press Information Bureau
India's membership of the Shanghai Cooperation Organisation is clicking into place in the crucial domain of regional security.
An expert-level meeting in Beijing between February 27 and March 1 discussed matters related to the preparations and holding of the 13th meeting of the SCO national security council secretaries and also prepared consolidated drafts of the meeting's final documents that would be taken up at the summit meeting in June.
The meeting in Beijing led to a 'constructive discussion on documents concerning security and stability in the SCO area.'
I wish I were a fly on the wall in the Beijing conference room watching the Indian and Pakistani experts participating in 'constructive discussion.'
Personally speaking, it was a dream come true, since I had all along hoped that India and Pakistan would grow up when they take their place at the SCO high table and are duty-bound to behave as adults -- and, incrementally, how such happenings would inevitably rub on the climate of bilateral relations between the two countries.
The pro-American lobbyists in Delhi -- who consistently demeaned the SCO -- simply didn't want regional security to be addressed by a forum that excludes the US.
What a myopic, perverted, 'anti-national' thinking to view India's interests through the American prism! (By the way, the SCO is working on a joint military exercise by the armed forces of the member countries.)
Be that as it may, the meeting of the SCO national security council secretaries is due to take place next week in Beijing.
Our NSA Ajit Doval will take part. The spin doctors in the Indian establishment have given a twist to Doval's visit to Beijing as if it is a China-centric enterprise. But that is imagination running really wild.
We should know by now that China relations cannot be the stuff of media management.
Even if Doval were to get a bilateral with Chinese State Councilor and Foreign Minister Wang Yi -- which is not unlikely -- the Chinese side will not put their cards on the table on Doklam, etc at this point simply because it is rumoured that Modi government may be having some rethink on its 'muscular' policies lately.
Generally speaking, China's foreign policies are never reactive -- and in our case, these are early days.
On the other hand, the Delhi grapevine in recent weeks has been that PM Modi himself might visit China toward the end of the month for an 'informal meeting' with President Xi Jinping.
Indeed, if such an 'informal meeting' materialises even before the SCO summit in June, that itself could be regarded as a significant breakthrough in India-China relations.
But then, one can safely surmise that the thrust of the 'informal meeting' would be on the economic side.
The heart of the matter is that there is interest on both sides to add greater content to the economic partnership, especially through Chinese investments in the Indian economy.
When Xi visited India in September 2014, China had pledged $20 billion investments in India. But for obvious reasons, not much happened on that front in the past 3-year period when under American tutelage geopolitics took centre stage of South Block's China policies.
Quite obviously, Beijing's recent signal to Kathmandu that in all propriety, the first foreign trip by Nepalese Prime Minister Khadga Prasad Oli ought to be to India -- and not to China -- speaks volumes about China's order of priorities in its South Asian policy.
The Western media -- and their kindred souls in the Indian media -- may script the Nepal story as if it is a China-versus-India slugfest. But China appears to regard its relations with Nepal from an altogether different calculus.
Thus, China has splendidly succeeded in plugging the infiltration routes from across the Nepal border for militants from third countries undertaking covert missions to destabilise Tibet -- thanks to Beijing's effective coordination with the political leadership and security agencies in Kathmandu in recent years.
Having achieved that, China is now shifting gear by dovetailing the Belt and Road Initiative with the Nepalese economy.
In sum, China has high stakes in not only having a friendly government in Kathmandu but also ensuring that Nepal remains a stable, secure, country, which remains receptive to the security and stability of Tibet as well.
But the bottom line is that China sees Nepal as an invaluable hub that could connect it with the Indian economy.
Therefore, fresh from the talks with Oli in Delhi, which had robust economic content (a refreshing change, no doubt), Modi should prioritise economic diplomacy in a summit meeting with Xi Jinping.
To put it mildly, during the present term in office till May next year, Modi cannot hope to resolve the border dispute with China.
But what is possible is that he can breathe new life into his moribund development agenda with China's cooperation and help.
Now, it may or may not bring dividends for the ruling party in the 2019 poll, but that is really beside the point.
The important thing is that the complementarity of interests on the economic side could make the trajectory of the overall relationship predictable.
The ball is in Modi's court.
Meanwhile, Doval's mission to Beijing will receive attention although External Affairs Minister Sushma Swaraj and Defence Minister Nirmala Sitharaman are also visiting China in April.
Will Doval swing an 'informal meeting' for Modi with Ji Jinping? It seems a tough call.