'The so-called old guard is uneasy and resentful. These are the makings of a new Congress where there will be little or no role for them. And in their opinion, it is not a Congress that will win elections,' says Aditi Phadnis.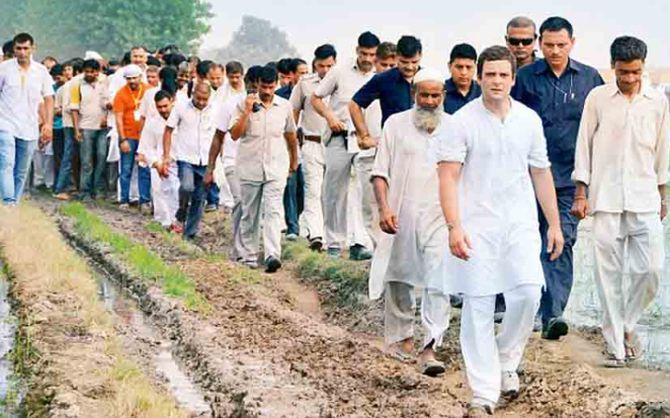 The disquiet in the Congress is palpable. The humiliation of the massive electoral loss in the Lok Sabha elections lingers simply because no heads have rolled. Those who were defeated still enjoy power, importance and access. The party's top leadership -- whether party President Sonia Gandhi or Vice-President Rahul Gandhi -- has been shielded from all blame. So there is a sense of frustration as workers return to their humdrum lives feeling the pain of powerlessness as the Congress continues to lose election after election.
In many ways, this was on show at the Congress' biggest recent assertion, the 'victory' rally on September 20, to celebrate the ruling National Democratic Alliance;'s failure to bring its own land acquisition law. The statement the Congress was making was: 'We are only 44 in the Lok Sabha. But despite its majority in the Lok Sabha, the government could not legislate its version of the law.'
All very good. But internal fissures made themselves felt even on this occasion. The states where the Congress is in power should have been present at the rally, right? Not all were.
The Assam chief minister and the Pradesh Congress Committee chief as well as the Karnataka CM and the PCC chief were absent.
There was no representation at all from Maharashtra, barring former chief minister Prithviraj Chavan (apparently the PCC was asked to send a delegation and told the central party that as it was Ganesh Chaturthi, they were unable to find people ready to travel to Delhi).
Former Punjab chief minister Amarinder Singh was in Delhi that day. He didn't come, but that is not surprising as his bete noir, P S Bajwa, was an invitee and spoke at the meeting. None of the alliance partners was invited.
It was apparently a Bhupinder Hooda show, because while son Deepender spoke, when Ashok Tanwar, another Haryana leader, got up, he was booed by the crowd.
Par for the course. So you could ask: Is the Congress really going anywhere?
The answer is: Stuff has been happening in the party, but whether these changes will help it win elections is another matter.
The architecture of the process of finding the 'model' Congressman began in 2013. When the party could see that it was losing the media battle, state units were asked to nominate a set of five young people to attend a workshop in Delhi structured to groom potential leaders, initially beginning with training in being spokespersons. The condition was they should not belong to a political dynasty.
Three hundred people were put through two days of group discussions (like the ones at Indian Institutes of Management) at Jawahar Bhavan (no travel allowance was provided though they were put up at the state bhavans). The articulate senior leaders of the party -- P Chidambaram, Anand Sharma, Manish Tewari and Rahul Gandhi -- spoke about the United Progressive Alliance government and what it was trying to achieve. The idea, the younger Gandhi had said, was to ensure communication was decentralised and didn't start and end in Delhi.
In October 2013, there was another round where the number was pruned to 100, of which, candidates were informed, only 25 or so would be selected. In this round, participants got reading matter running into around 4,000 pages, covering a range of areas from health to infrastructure to foreign policy and security: What the UPA had done, what it was trying to do, what the challenges were, what it considered a template. They were tested on this. This went on for five days.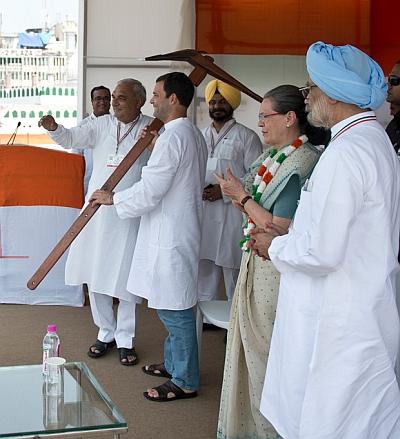 Economists, academicians, even Left liberals were invited to share what they thought the Congress stood for -- and ought to stand for. There were mock studio discussions (including one featuring a simulated discussion, with some leaders posing as India's more pugnacious anchors). The training was content-based. And the appraisal was on the basis of content and delivery, rather than whose son you were. The idea was: Capture mindspace and people will come.
The 25 were tested when the Lok Sabha results came out: Many were on TV for 16 hours non-stop. But the party had lost. Some lost their nerve, going back to the jobs they had quit or finding new ones. Others soldiered on.
This experiment is being replicated by Rahul Gandhi in the way the Congress establishment is administered and run. In the past, fistfights used to break out as office bearers laid claim to a 'better' room in 24, Akbar Road, on the basis that they were 'closer' to 10, Janpath (and it didn't matter who occupied 10, Janpath).
But now Rahul Gandhi is meeting young people in groups of five every day to choose those who will replace the old lot and run the Congress administration more efficiently.
Little wonder then that the so-called old guard is uneasy and resentful. These are the makings of a new Congress where there will be little or no role for them. And in their opinion, it is not a Congress that will win elections. How can it, when the vice-president keeps tootling off to London and New York leaving them to fight in-law battles?
Maybe they're right. Maybe Rahul Gandhi is engaging in mindless acts of political terrorism. But make no mistake. Power is shifting in the Congress. Whether it will do the party any good is another matter.
IMAGE: TOP: Rahul Gandhi during his 15-km padyatra in Adilabad district in Telangana in May. Photograph: SnapsIndia. BOTTOM: Rahul Gandhi, Sonia Gandhi and Dr Manmohan Singh at the Kisan Samman Rally in New Delhi, September 20.