Sushma Swaraj startled Modi when she said she would like to be defence minister.
That set the PM thinking, says Rajeev Sharma.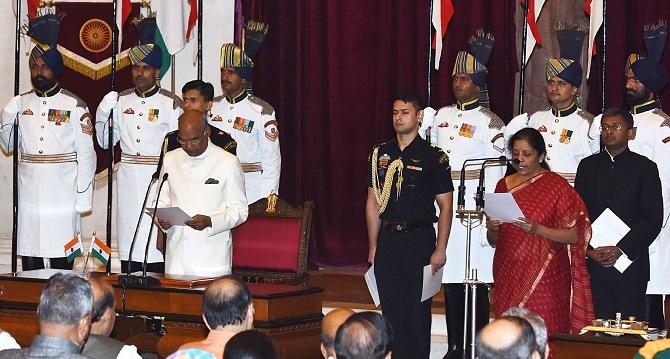 How did Nirmala Sitharaman suddenly become defence minister when her name was nowhere being spoken about in the political corridors or in the media?
Even Prime Minister Narendra D Modi himself had not thought of bringing in Sitharaman as defence minister till a few days ago if a well-placed source privy to inside details is to be believed.
It happened within the last three days when Modi had separate one-to-one meetings with three of his Cabinet colleagues: Surface Transport Minister Nitin Gadkari, External Affairs Minister Sushma Swaraj and Home Minister Rajnath Singh.
The meeting with Gadkari was confined to the issue of whether he would like to become the railway minister, while the other two were focused on who should be the new defence minister.
Gadkari was disinclined to become the railway minister and told the prime minister that he was immersed in his present ministry and liked his job.
He spoke of delivering on the promises the BJP had made in its 2014 general elections manifesto with regard to road infrastructure and argued that many of his projects were nearing fruition and it would not be a good idea to change his ministry even if the promised ministry was unarguably bigger in terms of profile.
Insiders say Gadkari was not interested in a ministry that appears jinxed. The railway ministry has had eight ministers in as many years.
Moreover, none can rule out another rail derailment that can potentially derail the rail minister himself.
This, the sources said, was the real reason behind Gadkari politely declining the prime minister's offer.
Rajnath Singh, when asked who should be the next defence minister, thought that the PM probably had him in his mind for the post.
He went on to explain how his ministry had reined in the problem of terrorism and had 'improved' the situation in Jammu and Kashmir.
Singh said the only big challenge that remained to be met was the problem of left wing extremism which he was focused upon currently.
When the PM asked for a name he could suggest, Singh said Arun Jaitley was doing a good enough job and there was no reason why the finance minister could not continue with additional charge of the defence ministry.
The most interesting meeting the PM had was with Sushma Swaraj.
When the foreign minister was asked to suggest a suitable name for defence minister, Modi was taken aback when she told him that she would like to become the defence minister.
Apparently, the PM did not expect this reply.
Modi asked Swaraj what would then happen to the foreign ministry.
Swaraj suggested that the PM could keep the external affairs portfolio with himself and assign one more minister of state in the foreign ministry.
She told Modi that many of his predecessors had done so earlier.
The prime minister then ended the meeting. However, this set him thinking.
It was at this stage that he thought of Nirmala Sitharaman as he mulled over other lady colleagues in his ministry.
Clearly, he did not want to hand over the defence ministry to Sushma Swaraj for whatever reasons.
The news of Jaitley giving up the defence portfolio gained traction on the night before the reshuffle when he sought to cancel his trip to Tokyo for a meeting on India-Japan strategic dialogue.
Modi advised Jaitley to travel to Tokyo as a meeting with Japanese Prime Minister Shinzo Abe -- who will visit India this fortnight -- had been fixed and it would not be proper to send a newly minted defence minister on this crucial trip.
In the lead-up to the reshuffle, the PM, the source said, did not mention his final choice to Jaitley nor did Modi ask him to suggest a name.
Rajeev Sharma, a strategic analyst and columnist, tweets @Kishkindha
IMAGE: President Ram Nath Kovind administers the oath as Cabinet minister to Nirmala Sitharaman at Rashtrapati Bhavan in New Delhi, September 3, 2017. Photograph: Press Information Bureau
Sitharaman was only one of two ministers to take the oath in English, the other being K J Alphons.