'Young IFS officers today would take it for granted that they represent a major country with strengths and capabilities.'
'They will be aware that India is seen as one of the 10 significant countries in the world and therefore their voice will be heard whether on climate change or regime change,' says Ambassador B S Prakash.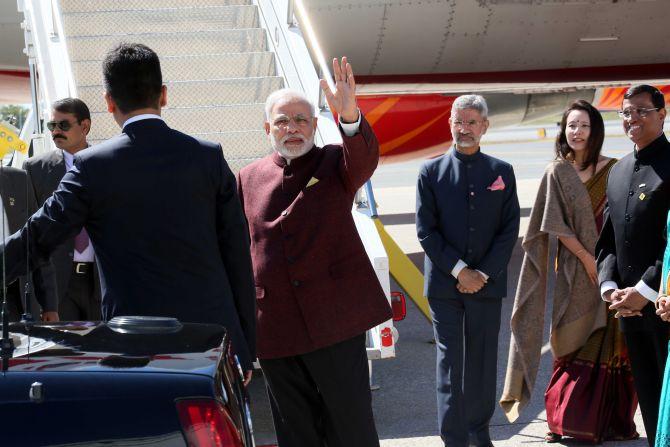 IMAGE: Foreign Secretary Dr S Jaishankar, then India's ambassador to the United States, near the stairs of the aircraft with his wife Kyoko Jaishankar and India's then Consul General in New York Ambassador Dynaneshwar Mulay during Prime Minister Narendra Modi's visit to the US in September 2014. Photograph: Mohammad Jaffer/SNAPSIndia
"The challenge in the first decade for our diplomacy was the muted hostility that India encountered," the veteran diplomat was saying. This was a sobering perspective. I have spent half the total period that has elapsed since the birth of the Indian Foreign Service in 1947 in that service, and yet, must confess that I had not thought of our professional history in those terms.
The speaker at the think-tank event in Delhi recently was Ambassador Maharaj Kumar Rasgotra, the former foreign secretary, and now at 92, perhaps one of the senior-most eye-witnesses to the infant years of our diplomatic service. He had joined the second batch of the IFS. in 1949 and is now among the few with us who saw Nehru's day to day engagement in crafting a new service for managing independent India's external relations.
Rasgotra's recently published A Life in Diplomacy covers an extraordinarily long span -- 70 years -- from the very first years of Nehru as PM to PM Modi's current travels. It is deservedly being widely read and reviewed in interested circles and is a treasure trove of interesting anecdotes for the lay reader as well.
As I listened to Rasgotra's enlightening and entertaining stories, a part of my mind wondered how each generation of diplomats may have imagined India's place in the world, differently.
In 1947, Nehru already had a coherent foreign policy that he had thought about for years, but had no foreign office as yet to convert it into diplomatic objectives and no foreign service to carry it out, writes Rasgotra.
Today every student of Indian foreign policy knows about the foundational principles that Nehru enunciated: Non-alignment between the then prevailing two blocs and underlying it, an assertion of freedom of thought and freedom of action for a newly independent nation; support for decolonisation everywhere, (we ourselves having attained that goal); a yearning for disarmament; a belief in the possibility of Peace, and focus on development.
Today a standard speech on these lines may produce a 'yawn' due to the sheer familiarity and repetition of the mantras, but in the early years must have been inspiring.
If such were the noble principles, why then the 'muted hostility' that Rasgotra is referring to? His book and talk offered a fascinating historical and psychological perspective.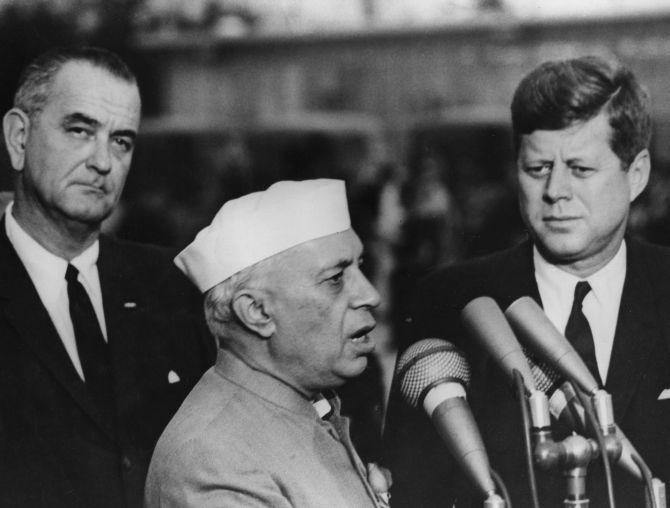 IMAGE: Prime Minister Jawaharlal Nehru speaks on his arrival at the White House, Nove,ber 6, 1961, flanked by President John F Kennedy and Vice- President Lyndon Baines Johnson. Photograph: Keystone/Getty Images
The most influential country for India in 1948 was still the UK after centuries of association and so soon after a not-so-inimical parting of ways. India retained not only the Viceroy but the force commanders as well.
We sought British expertise and advice in our critical moments, be it in managing the after-effects of Partition or the incipient troubles in Kashmir.
But as recent research revisiting that period has revealed and Rasgotra confirms, the British were acting out of pique having 'lost' India and were also acting according to their long-term interests, as they saw it.
If a very crude simplification is permitted for the sake of brevity, the British were not our friends, but we thought that they were.
There was a sense of goodwill in America at that time for a newly independent nation whose name evoked the image of Gandhi. But this was at the level of the general public.
The leadership (with the arrival of President Harry S Truman) and the establishment could not care less. Their priorities lay elsewhere, in Europe and the far East. When necessary, they took advice from the British, the acknowledged experts on India and this was not exactly helpful.
Non-alignment was immoral as then US secretary of state John Foster Dulles famously believed and 'if you are not with us, you are against us' as Americans have proclaimed even much later with their binary world views.
IMAGE: Dr Sarvepalli Radhakrishnan, who Nehru cleverly sent to the then USSR, as India's ambassador. The philosopher charmed Stalin, who until then poorly thought of Indians.
On the other side, even as the bipolar world was freezing, Stalin did not take Indian autonomy as genuine. The revolutionary had doubts about India's English-speaking and English-educated intellectual class and their real identity.
It took a maverick and unconventional ambassador like Dr Sarvepalli Radhakrishnan with his austere and authentic personality, for Stalin to begin to think that here were perhaps a different kind of esoteric people!
V K Krishna Menon, Vijayalakshmi Pandit, K M Pannikkar, Dr Radhakrishnan: These are some of the public figures chosen by Nehru as India's first ambassadors to major capitals. It would appear from Rasgotra's stories that some, notably Krishna Menon, provoked hostility; others blunted it. But all had to explain what India stood for, often on issues where it had no direct interests.
For in those early years, India had something to say on every international issue, be it in the heart of Africa or the Korean Peninsula. Further, what India had to say it said repeatedly, and with emphasis, and often in indignant moral tones.
For me, a refreshing feature of Rasgotra's memoirs is that he hints that this was not the best approach in diplomacy, in the art of persuasion. But then as he points out, intelligence has to be complemented by experience for which there is no substitute.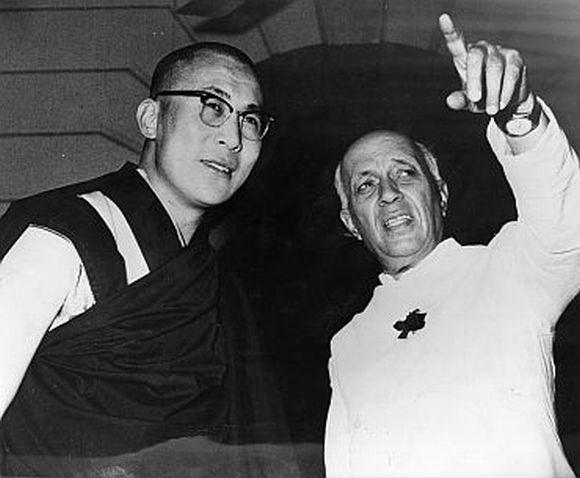 IMAGE: The Dalai Lama with Nehru, Delhi, April 1961. India's decision to offer refuge to the Tibetan leader incensed Mao Zedong, and is believed to have provoked the Chinese dictator to authorise the attack on India in October 1962.
If in the 1950s, India espoused noble ideals, the 1960s brought harsh reality checks with 1962 as the defining or should we say, the defeating point. It was the lowest point, not only in terms of our defence, but also our diplomatic standing.
'Who is to blame?' has become a cottage industry in terms of memoirs and analysis, and after the current government, an increasingly political minefield as well.
The general public is perhaps yet to internalise it, but in the expert community there is growing awareness that Indian policy makers at all levels have to at least share some of the blame and that it is simplistic to see the war as a 'betrayal' by China.
Will the analysts ever agree on whose folly led to the diplomatic and defence debacle? It is as intractable an issue as the India-China border itself. But we had moved on.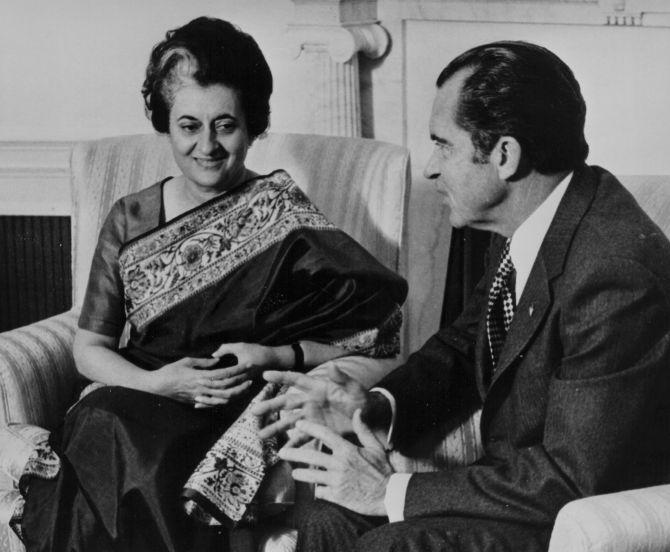 IMAGE: Prime Minister Indira Gandhi and US President Richard Nixon, talking at the White House, Washington, DC, USA on November 9, 1971, less than three weeks before the 1971 War began.
Mrs Gandhi stood up to Nixon and his secretary of state Henry Kissinger, which led the Nixon administration to side with Pakistan in the 1971 War. Photograph: Keystone/Hulton Archive/Getty Images
1971 marks the apogee of India's diplomatic status. I have heard senior colleagues with responsible positions at that time recollect that it was one period when our diplomats were sought out by their counterparts all over the world, wined and dined, their expositions listened to with great respect, and Mrs Gandhi's masterly management of the crisis admired.
That was the finest hour, but by the mid-1970s, our diplomats were explaining to Western interlocutors why a democratic India had reversed its course and declared a state of Emergency. Let us skip the 1980s including the not so glorious chapter of the Indian involvement in Sri Lanka.
In the event I referred to at the beginning, former finance and foreign minister Yashwant Sinha told Rasgotra that the one missing element in the book was the economic dimension in our diplomacy. The author admitted that it was indeed missing, since in earlier decades its presence was inconspicuous.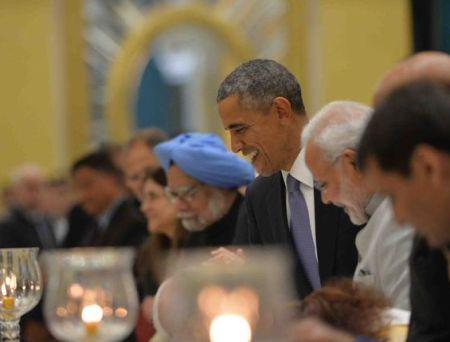 IMAGE: US President Barack Obama flanked by Prime Minister Narendra Modi and former prime minister Dr Manmohan Singh at Rashtrapati Bhavan, January 25, 2015.
Both Dr Singh and Modi have championed economic diplomacy, which Foreign Secretary Jaishankar brilliantly outlined in a recent speech.
We have to come to the 1990s to see the economic dimension acquiring its importance in our diplomatic practice. Securing official development assistance from the Western world (and Japan), was always an integral part of our diplomacy, but this was akin to carrying a begging bowl, or should we say passing the hat albeit with a certain panache. Sad to think that at one time, bilateral relations were judged on that basis.
Attracting FDI, facilitating technology transfers, negotiating free trade agreements, exploring defence procurements: The terminology of diplomacy began to change after our first wave of economic reforms under P V Narasimha Rao.
The process has accelerated, but in fits and starts. What is the mindset of someone joining the IFS today about India's place in the world?
I can only guess, my own innings having been completed. But I believe that young IFS officers today would take it for granted that they represent a major country with strengths and capabilities.
They will be aware that notwithstanding the low per capita income, India is seen as one of the 10 significant countries in the world and therefore their voice will be heard whether on climate change or regime change. They will also know that we face formidable challenges on two core fronts where diplomacy has to focus: Security and development.
Our problems with Pakistan and China will continue at least for a decade, but will not deter us from pursuing other objectives. Telling others what to do will be far from their minds; negotiating with the other will be the norm.
Ambassador B S Prakash, the distinguished diplomat, has been a Rediff.com columnist for over a decade.