'At critical moments an inability to take tough decisions resulted in potentially far-reaching solutions slipping out of our grasp.'
'If similar opportunities come Narendra Modi's way will he act differently?' asks Karan Thapar.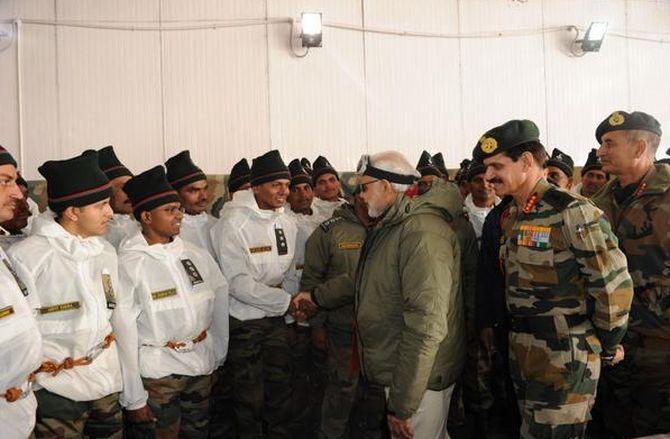 In school we are taught about the turning points of history, but there are occasions when, because of human antipathy, intransigence or folly, history fails to turn and an opportunity to resolve a problem is lost.
These are stories that rarely get told. However, Shyam Saran's new book, How India Sees the World, identifies two such missed moments.
The first is to do with Siachen and Sir Creek in 2006. Saran was foreign secretary at the time. He had worked out with his Pakistani counterpart, Riaz Mohammed Khan, a Siachen deal similar to the 1992 understanding, which did not fructify.
This time, unlike earlier, Pakistan agreed that the annexure, which demarcates the positions the two countries would retreat from, 'had the same legal validity as the agreement itself'. Saran says this made it 'politically sustainable'.
However, M K Narayanan, then national security advisor, 'launched' a bitter offensive... saying that Pakistan could not be trusted, that there would be political and public opposition... and that 'India's military position... would be compromised'.
General J J Singh, then the army chief, who, till then, was in favour of the deal, now switched sides.
Thereafter, then home minister Shivraj Patil and defence minister Pranab Mukherjee decided to 'play it safe and proposed deferment' of the proposal until 'further study'.
As Saran writes: 'My defence of the deal became a voice in the wilderness. The prime minister (Dr Manmohan Singh) chose to keep silent and not step into the fray.'
Consequently 'the opportunity to finally resolve a long-standing issue and a constant source of bitterness in Pakistan was lost.'
Thus was an opportunity to resolve Siachen squandered. As a result, a second agreement, this time on Sir Creek, also fell apart.
To quote Saran: 'Pakistan was no longer interested in a standalone Sir Creek agreement.'
Whether it was lack of political courage or the antipathy between Saran and Narayanan -- echoes of which are clearly audible in this book -- is a matter of detail.
The tragic truth, as Saran puts it, is that these 'two agreements would have been in our interest'.
Much the same, it seems, happened with the India-China border dispute in 1959. However, in this case, one needs to start by appreciating the background revealed by Saran.
First, India's claim to Aksai Chin, writes Saran, is weak and tenuous.
The Survey of India maps inherited from the British show much of this area as 'undefined'. It was only in 1954 that new Indian maps asserted the country's cartographic claim, but, as Saran argues, 'this may not have been a wise decision because it deprived the Indian side of flexibility in negotiating a compromise with the Chinese.'
Second, quoting Nehru, Saran says in 1957, Zhou En Lai, then the Chinese prime minister, 'made it clear that he accepted the McMahon Line, chiefly because of his desire to settle outstanding matters with a friendly country'.
Thus emerged an opportunity to trade off India's uncertain claim on Aksai Chin in return for complete acceptance of the McMahon Line.
In 1984, when Saran was serving in China, this was proposed by the Chinese with the additional offer of 3,000 sq km in the west, a significant improvement on Deng Xiaoping's earlier 'package proposal'.
In Saran's words, this was 'the best deal we could hope to get'. All that was required was for Indira Gandhi to visit Beijing to conclude matters.
Unfortunately, G Parthasarathy, then a key advisor to the prime minister, 'was not convinced'. His hostility to China was the stumbling block.
Consequently, he refused to even convey the proposal to Indira Gandhi. Although it seems she did eventually find out, Gandhi, in turn, decided to postpone any trip to China till after the elections due in 1985.
Alas, she was assassinated before that happened. Thus was lost the best chance we've had of resolving this festering border dispute.
Saran is too diplomatic to attribute blame though he hints at it. Yet the truth is that at critical moments an inability to take tough decisions resulted in potentially far-reaching solutions slipping out of our grasp.
History, as a result, did not turn leaving us stuck in old ruts.
If similar opportunities come Narendra Modi's way will he act differently?
IMAGE: Prime Minister Narendra D Modi interacts with soldiers at the Siachen glacier, October 23, 2014.