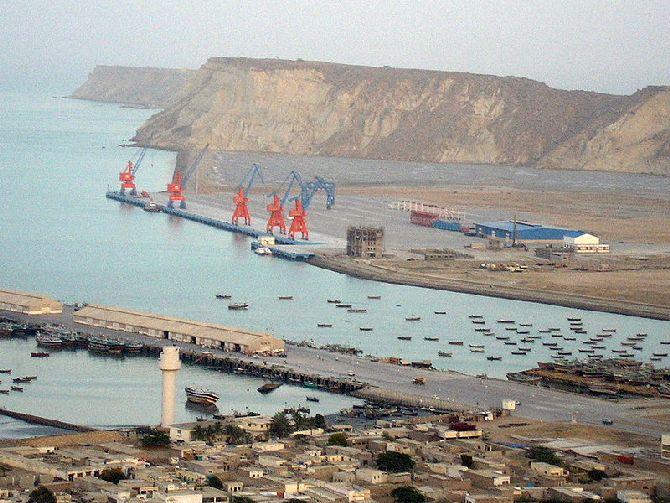 IMAGE: The Gwadar port that Pakistan is developing with Chinese help.
India is hardly taking any note of developments in Balochistan.
To counter and restrict China influence there, India needs to aggressively move forward on further consolidating its friendly relationship with Iran and Afghanistan, says Abhay Jere.
When India defeated Pakistan in an Asia Cup match, social media was abuzz with congratulatory messages for India. Apart from Indians, a large number of Balochistan nationals were very happy, congratulating us.
More than India's victory, the Baloch people were happy with Pakistan's defeat. This deep-rooted animosity against Pakistan amongst the Baloch people is primarily due to the atrocities its army committed on Balochistan for the last 60 years.
In my earlier article, I highlighted the human rights violation and atrocities committed against the Baloch people by the Pakistan army.
According to some estimates, since 2000, more than 20,000 Baloch people (including 5,000 children) have been kidnapped and/or killed by the Pakistan army.
I also emphasised the need that Indian establishments, especially the Indian media, should highlight these atrocities against the Baloch people in international fora.
Apart from the continued human rights violations, some recent developments in Balochistan are of huge strategic importance for India.
The Pakistan government recently signed an agreement with China for the development of the China-Pakistan Economic Corridor. Under this agreement, Pakistan handed approximately 2,000 acres of land in Balochistan to the Chinese government for the development of Gwadar port.
This area is very rich in natural resources, especially oil and gas, and the Pakistan government is keen on tapping these resources with Chinese support. Under the pretext of Balochistan's development, the Pakistan government's real objective is to crush the Baloch freedom struggle and exploit the resources.
China is also keen on investing in this region as it gives it direct access to the Arabian Sea. Considering the Gwadar port's location, it would be of huge strategic significance to counter India's influence in this region. It is widely speculated that China plans to build a naval base at Gwadar.
From Pakistan's perspective, any direct presence of the Chinese establishment in this region will automatically make China a stake holder or an affected party if India embarks on hot pursuit against Pakistan, considering the terrorist attacks emanating from its soil.
Under the China-Pakistan Economic Corridor proposal, China will invest $49 billion to build a network of roads and gas pipelines from Gwadar port to China through Pakistan occupied Kashmir connecting Pakistan to Beijing's Maritime Silk Road, as part of China's ambitious One Belt, One Road initiative.
The Pakistani-China agreement has not gone down well with the Baloch people as they believe that Punjabi politicians who dominate Pakistan politics are keen on exploiting their natural resources with Chinese help.
The Baloch people believe that once the Chinese presence is established in Balochistan, their freedom struggle will be crushed more forcefully. Moreover, the Baloch do not have enough resources to take on the combined might of China and Pakistan.
To ensure the security of Chinese establishments and workers in Balochistan, the Pakistan government plans to raise a special security force of 10,000 to 25,000 men.
The Pakistan army recently launched a huge operation in Balochistan's Dera Bugti region. The entry and exit points to this region were sealed and the entire population was under siege.
The Pakistan army indiscriminately fired mortar shells at the civilian population, killing a large number of locals. The homes of the Baloch people were burned after looting.
Baloch leaders oppose the China-Pakistan Economic Corridor tooth and nail and are trying to galvanise international support.
'Pakistan's leaders look at us worse than slaves,' Akthar Mengal, leader of the Balochistan National Party and a former chief minister of the province, said. 'In their mind we are not a province of this country, we are a colony.'
'In the name of development,' Mengal added, 'they want to turn us into a minority in our own land.'
Unfortunately, India is hardly taking any note of these developments. To counter and restrict China's influence, India needs to move aggressively forward on further consolidating its friendly relationship with Iran and Afghanistan.
India needs to expedite its long pending decision on the development of Chabahar port in Iran. Chabahar port is located in the Sistan-Balochistan province on Iran's southeastern coast and is of great strategic utility and will give India sea-land access route to Afghanistan bypassing Pakistan.
India also needs to offer alternative to the current One Belt, One Road initiative like the Bangladesh-China-India-Myanmar corridor by making India the focal point of the corridor. Indian intelligentsia should champion the Baloch cause internationally and aggressively highlight the atrocities on the Baloch people.