Even in this darkest hour of a crumbling economy and raging disease, there is hardly a murmur of protest against the government, observes Sumit Bhattacharya.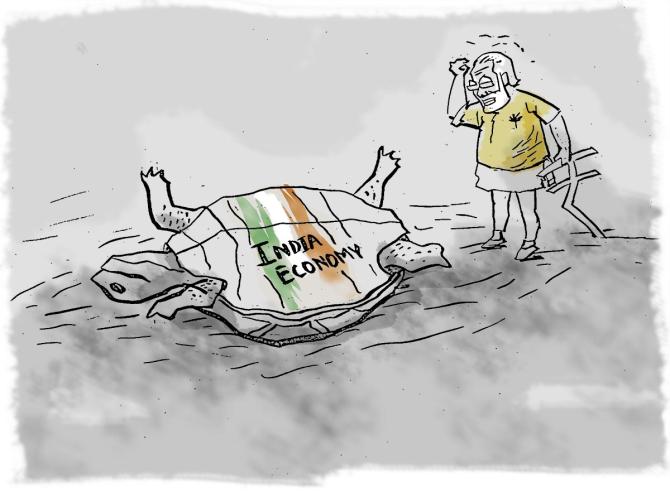 India's GDP shrinking by a historic 23.9 per cent in April to June 2020, announced on Monday, came as a surprise only by a few digits.
An act of god that might shrink the Indian economy is how Union Finance Minister Nirmala Sitharaman had already described the coronavirus pandemic.
And COVID-19 has indeed been a godsend for the Narendra Modi government in hiding its flubbing on the economy.
India celebrated being Independent for 73 years amid news that 18.9 million million people had lost their salaried jobs in the country since April, 5 million in July.
The country has taken it in its severely hobbled stride because the pandemic is a once in two lifetimes event, and every country is reeling.
But unemployment was at a 45-year high in India much before the pandemic struck, even though the government had bristled at that statistic then -- after failing to suppress the National Sample Survey Office data -- by saying it was a 'new matrix' that could not be compared with earlier years.
The GDP had been falling -- despite the numerical jugglery of shifting the base year which makes comparison with earlier times difficult -- before the pandemic struck.
In January-March 2018, it was 5.8 per cent, the slowest in 17 quarters.
In January to March 2020, it was just 3.1 per cent -- before the virus exacerbated the comorbidities.
Now, from the IMF to The Economist, everyone is pointing to negative growth of around 8 per cent for the year for India, which had been growing at that rate -- only positive -- for around a decade.
After Monday's announcement, there is no telling how that would be revised.
The country's performance in the World Bank Doing Business rankings, which the government had flashed as vindication of its policies, is also under a cloud with the global body ordering an audit of the rankings for the last five years and pausing the release of the report.
Inflation, which the first Narendra Modi government had kept in check, is again on full throttle. That means, your money is depreciating faster even as your income shrinks.
The resultant shock has been and will be severe. Job losses, salary cuts, business shutdowns are now commonplace.
However, you would be hard pressed to find a government functionary speaking that truth. In the government's version of reality, all is well and India is doing great.
Except when it comes to paying the states their GST compensation, for which the government passed a law. Then, the Modi government falls back on act of god.
India is being forced to open up even as it emerges as the world's coronavirus central with record new cases every day.
The government has been touting the recovery rate of patients to claim that we are better off than other countries. This nebulous thing called recovery from COVID-19, however, has not yet been fully understood.
For many who have 'recovered', COVID-19 has spelt penury with sky-high hospital bills. Others are plagued with illness months on, unable to function.
In many states, mild cases are not even being tested for recovery. A certain number of days without fever is enough to declare someone coronavirus-free.
The country will regress by decades if it doesn't lock down -- that's what Prime Minister Modi said on TV when he first shut down the country at four-hour notice.
That is exactly what has happened -- despite the longest and most severe lockdowns in the world -- for the economy.
The government has not been sitting idle. It has used every opportunity to ram its agenda through.
For example, it has been merciless in hiking fuel prices even as oil falls to historic global lows.
Laudable thought, you say? Encouraging movement away from fossil fuels, you say? Then why is the government selling coal blocks in pristine forests in the middle of a pandemic? Why are environmental norms being diluted to the point of ridiculousness?
As nearly 1,000 people die every day -- per official data -- from COVID-19, the government is reportedly planning a 'health card'. As if not selling your data to some tech company is what has crippled health care in India all this while.
Even the Supreme Court -- which has ruled that it shall not be criticised -- has told the government that it cannot be 'interested only in business and not about the sufferings of people'.
The court was hearing a petition on the loan moratorium scheme from banks during the pandemic.
Thousands of students are being forced to sit for exams at a time Parliament has not convened.
Yet, even in this darkest hour of a crumbling economy and raging disease, there is hardly a murmur of protest.
Instead, we get minute-by-minute updates on the death of a troubled actor in whose home state around 8 million people are reeling from floods that are now almost an annual affair.
"Bhogobaner maar, dada (It's god's slap, sir)," is how a rickshaw-wallah in Kolkata described the situation in the country.
That feeling perhaps sums up what has saved the Narendra Modi government from being held accountable.
What can the government do -- a sentiment that is a slap for all those who say that India has become less tolerant under Narendra Modi -- is the refrain, from the rickshaw-wallah to the MNC top gun.
The pandemic even came just around the time the protests against the Citizenship Amendment Act and the National Register of Citizens were coming to a crescendo. The pandemic took the pressure off the government.
Meanwhile, M J Akbar, the now former minister and legendary editor who has spawned so many high-profile journalists that there is a virtual omerta around his extracurricular achievements, saw the omnipresence of Narendra Modi in the rise of Kamala Harris as the first woman with Indian roots to be the Democratic party's candidate for vice president of the United States.
Clearly, all recent acts of god have shown India how lucky she is to have a prime minister who makes peacocks preen and loves Indian dogs -- as long as they don't come under his car.
Sumit Bhattacharya is a Kolkata-based freelance journalist and bedroom musician.
Feature Presentation: Aslam Hunani/Rediff.com