Protester Sasi Perumal's death has given a new fillip to the pro-prohibition movement, which was beginning to draw attention across Tamil Nadu after different political parties began to make it a part of their poll manifesto for next year, says N Sathiya Moorthy.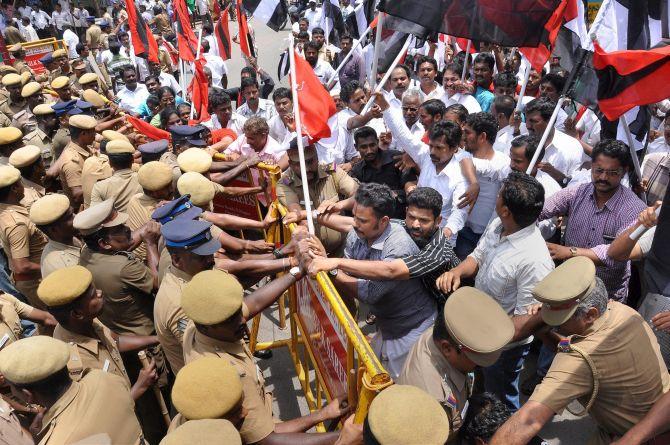 Image: Various political parties and NGOs protest against the Tamil Nadu State Marketing Corporation alcohol sale in Chennai on Tuesday. Photogaraph: R Senthil Kumar/PTI Photo.
Will she, won't she? The unexpected death of 59-year-old Gandhian, 'Sasi' Perumal, while on protest to demand the closure of a state-run Tasmac (Tamil Nadu State Marking Corporation) liquor shop in southern Kanyakumari district, has flagged the question if Tamil Nadu Chief Minister Jayalalithaa would announce a new prohibition policy, say, in her annual Independence Day speech this month.
Sasi Perumal's death atop of a mobile tower, combined with his family's refusal to claim his body from the hospital mortuary and the arrest of his wife and three children, including a school-going daughter, pressing his prohibition demand, have triggered state-wide protests, both by political parties and independent groups, particularly of women and students, demanding total prohibition.
Born in western Salem district, a young Perumal added the prefix 'Sasi' to his name in the 'seventies, after army officer turned Tamil film actor, Sasikumar, when the latter died in a cooking gas explosion in his Chennai home while trying in vain to save his wife, only a week after addressing a Congress party rally in his native village.
An eighth standard drop-out, Perumal had continued with his Gandhian ways of protests for Gandhian values. He drew media attention for the first time in 2009 after undertaking a 13-day march from Salem to Chennai in the cause of prohibition.
Perumal was also at the forefront of such agitations across the state and had also taken his cause to distant 'Delhi', to the Tamil people and politicos living there.
He was in Kanyakumari to join local protestors who were agitated over the state government ignoring a years-old order of the Madras high court for the immediate closure of a liquor shop near a local school.
Versions differ over how he died, but the police first reportedly claimed that he had committed suicide but later registered a case of 'unnatural death'.
According to local protestors, Perumal died when the fire service personnel were bringing him down from atop the mobile tower, using ropes, and say there was bleeding from his nose.
While investigations should bring out the cause of his death, Sasi Perumal's weekend martyrdom, if it could be called that, has given a new fillip to the pro-prohibition movement, which anyway was beginning to draw attention across the state after different political parties began making it a part of their prospective poll manifesto for next year.
Only a day after Sasi Perumal's death, in Kalingapatti in neighbouring Tuticorin district, the native village of MDMK founder Vaiko, people smashed a Tasmac outlet, with his octogenarian mother leading local women from the front.
The working week saw stray groups of students, including teenaged girls, in different parts of the state targeting liquor shops near colleges and getting beaten and kicked by police personnel in full glare of television cameras.
A 'revolutionary' students and youth outfit was said to be behind these protests, as has become the revived practice for left-wing groups to flag public issues even of the Sri Lankan Tamil ethnic kind, since the advent of the 'anti-nuclear protests' centred on the Koodamkulam plant.
Vaiko, who had joined the Kalingapatti protests a day later, claimed that the police had fired six tear-gas shells at him. He was joined in the protest that day by VCK's Thol Thirumavalavan, and later, in a state-wide protest on August 4 by the Left parties and the TMMK, a Muslim political outfit.
The Congress party also lent support to the MDMK protest but the DMK, not to be out-done, has called a separate bandh for August 10. Party treasurer M K Stalin also called on students of Chennai's Pachaiyappa's College, arrested in connection with the street protests, in prison and demanded their immediate release.
By detaining the first batch of student protestors from the capital Chennai in prison, the police strategy seems to be aimed at discouraging future protests and also putting at stake the students' future prospects of landing government jobs.
The first bench of the Madras high court, chaired by Chief Justice S K Kaul, too seems to share the concerns of the state authorities. Declining to fast-track the arrest cases, the bench referred to the submission of television footage on the protests and observed that the public could not take the law into their hands and ransack liquor shops, etc.
However, the protestors have a sympathetic ear in the Opposition-led unions of Tasmac shop employees. While going on record that they too were all for ending liquor sale as it destroyed homes and future generations, the union leaders have said that the staff now working in all the 6800-odd state-run shops should/could be re-employed by the government.
The street protests have meant that Stalin's father and party boss M Karunanidhi has modified his earlier stand of enforcing prohibition if the DMK came to power in 2016, and now wants Chief Minister Jayalalithaa to impose a liquor ban in the state with immediate effect.
Not known to yield to political pressure of the kind, 'Amma' cannot at the same time be seen to be ignoring the cries and calls of the state's women folk beyond a point -- independent of the economic implications of a prohibition policy.
The protesting students have coined a new slogan, 'Padikkava? Kudikkavaa? (Should we study, or should we drink?)'. On TV cameras, they recall Tamil Nadu's very own, the late President A P J Abdul Kalam's call for the nation's youth to 'dream', and say their brethren are instead stupefied by liquor.
Both have caught the imagination of the larger public, going beyond the demands of the political class of the Opposition kind.
After a high-level meeting chaired by Jaya, senior ministers like O Pannerselvam and 'Natham' R Viswanathan, the latter in charge of excise and prohibition, have begun taking pot-shots at the Opposition leaders.
Minister Viswanathan, for instance, asked how the MDMK's Vaiko has suddenly found the virtue of closing down liquor shops in his native village though it has been around for close to 10 years.
The crux of the prohibition problem is not the policy in present-day Tamil Nadu but the government's ability to find alternative sources of revenue, as liquor earnings account for nearly a third of the state's annual budget.
Even while demanding an immediate prohibition parties like the DMK should be concerned, while smaller ones like the MDMK, PMK and the rest could afford to breathe easy as they do not expect to be ruling the state on their own in the foreseeable future.
The DMDK's actor-politician Vijaykanth, however, is cautious. Hoping to be in the driver's seat if the AIADMK's poll chances are seen to be plummeting and he were to lead a third front, along with the BJP and a few others, Vijaykanth wants prohibition but does not say how.
Though not in the race for direct power, state Congress president E V K S Elangovan and AICC spokesperson, actor Kushboo, have been more pragmatic. They have said total prohibition was not possible overnight, and the state government should start with closing down liquor shops near schools and also come up with a staggered programme.
Yet, there are issues. Unlike in the previous decades, when parties could talk of prohibition and still introduce liquor while in power, they would have to now convince the new generation TN voters about alternative feasibility proposals on the revenue/economic front that they really meant business.
In his time, Karunanidhi as CM could re-introduce liquor sale as far back as 1971. His charismatic AIADMK successor and bête noire M G Ramachandran too had his way after lifting the liquor ban, reintroduced by the DMK, and appointing a minister to propagate the values of prohibition.
Maybe, with all this in mind, DMK leaders are now talking in terms of how Karunanidhi's governments had attracted large-scale foreign investments to fund social subsidies, but the present regime was directing officials to boost Tasmac sales instead.
This could mean that the state government would have to take Jaya's dream plan of the 'Global Investors' Meet', now re-scheduled for September, even more seriously than they did.
If at all the AIADMK's plans were to promote the investors' meet as a sure source of large-scale job creation ahead of the polls, to attract the youthful voters today, additional pressure might have fallen on the scheme to chip in additional revenues to offset liquor sale loss, which can be staggered at best and not possibly stopped all together.
With the authorities now planning seminars and meetings with foreign diplomats ahead of the GIM, they may now be under additional pressure to show results and fast-track implementation, so the ruling AIADMK can face the assembly polls when held.
N Sathiya Moorthy, veteran journalist and political analyst, is director, Observer Research Foundation, Chennai chapter.