'The irresistible charm of Indian politics is it can always throw up surprises -- even when it looks as predictable as in Tamil Nadu,' discovers Shekhar Gupta.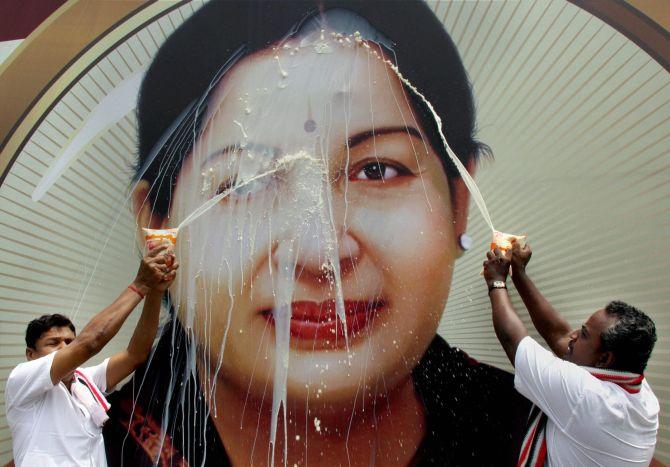 Writings on the Wall is a metaphor that emerged from travels across India, and its neighbourhood, particularly but not necessarily during election campaigns (for some earlier writings, see here, external link).
Writings on the Wall because, as you zip across the cities and the fast rurbanising countryside, your eyes and ears wide open, it's what is written on the walls, or echoes off them, that tells you what is changing, and what isn't.
It tells you that change in this India never slackens. The subcontinent bares its heart on its walls. And there is no reason for Tamil Nadu to be an exception, even if its politics is one of a kind.
For years now, my favourite spot in all of India lies in the famous temples-and-silks town of Kanchipuram, less than a hundred kilometres from Chennai. In the ancient Sankara Mutt on the edge of the old town is the abode of the Shankaracharya, the seat of the most significant centre of spiritual power for conservative Hinduism.
If you hang out here long enough, as I did on my first visit, for the Shankaracharya, and then his 'junior' to emerge for a promised audience, you cannot miss the unintended jugalbandi of recorded Sanskit chanting from the mutt playing out with the azaan from the Jumma Masjid next door.
Just at the street junction where devotees alight to buy flowers and fruits for the sage sits the bust of Periyar, arguably the most formidable iconoclast of the 20th century. For the generations who may have forgotten him, Sunil Khilnani's latest, Incarnations, has a quick peek.
Periyar launched one of India's most powerful and controversial movements of socio-political transformation, fighting Brahminism, casteism, social inequality, and superstition all under the same umbrella of rationalism and atheism.
Now, not only does he have his place looking at the mutt and the mosque, he also has this condemnation of god and divinity engraved in all capitals above his bust:
There is no god
There is no god
There is no god at all
The inventor of god is a fool
The propagator of god is a scoundrel
The worshipper of god is a barbarian
Other rude things are written, calling the 'inventor' of soul, rebirth etc, a scoundrel and a barbarian and their followers as fools. The important thing is, that the man who defied and condemned gods in a manner no other Indian mass leader has done, shares this strategic spot with the great centre of Hinduism and a prominent mosque.
In which other country can you find deep, conservative religiosity and the most forthright rationalism sharing the same few hundred square yards?
Hindu groups had challenged this as offensive. But in a 1979 judgment, the Madras high court held that there was no problem with inscriptions along with a man's statue stating his views. The gist of that order is found on another black stone under bespectacled Periyar, the supreme irony of the great iconoclast mocking the gods in his own stone avatar, engraved in white on black.
Yet atheism, which fuelled the great movement of Dravida empowerment, a purge of Brahminism, is now a thing of old-style romanticism. J Jayalalithaa, a Brahmin, has never hidden her religiosity.
M Karunanidhi, says eminent political scientist Yogendra Yadav (on whose shoulders I lean to substantiate my hypothesis), continues as the last prominent voice of old rationalism -- but there won't be another soon after him.
His son M K Stalin and his family have been visiting temples, though the excuse mostly is archaeology and history. In five days spent in poll-bound Tamil Nadu, I didn't find one voter who remembered the larger idea of godlessness, or missed it.
Temples are full of devotees, a large number of priests are non-Brahmins, the state is home to large followings of prominent southern godmen, Sadhguru Jaggi Vasudev and Sri Sri Ravi Shankar included. Even one of Mr Karunanidhi's wives, as the DMDK's film star leader Vijayakanth tells us, wears a prominent bindi.
So the writings on the wall have it that the gods have staged a full comeback.
A word of caution, however, comes from one of the pre-eminent scholar-historians of Tamil politics and culture, A R Venkatachalapathy, a professor at the Madras Institute of Development Studies. He will agree with my finding, he says, but with the qualification that C N Annadurai distanced himself from atheism when he broke away from Periyar in the late forties, on the question of whether the Dravida movement should join electoral politics or not -- much in the manner Anna Hazare and Arvind Kejriwal parted ways six decades later.
He knew that it was one thing to use rationalism as a cover for attacking social inequality, but quite another to rouse an electorate against the gods. Mr Venkatachalapathy reminds us Ganesha is the most popular god in Tamil Nadu and accordingly the largest number of idols broken by Periyar were Ganesha's.
In 1954, he notes, Annadurai famously said, 'I do not break coconuts for Pillaiyar, (Lord Ganesha) neither do I break his idols.' Today, between 'Amma' and Mr Stalin, that distancing is complete.
This is helped along by the decline of Brahmin domination. Well before Aamir Khan's Martian took on those he called the 'managers of god' in PK, the founders of the Dravida movement had figured it out. Now, with the managers out, their children don't have such an issue with the gods.
Of course, the diehard non-believers find a way around it. For some time I learnt from the same eminent yoga teacher T K V Desikachar (Krishnamacharya Yoga Mandiram) as old Mr Karunanidhi. He never uttered the word 'Om,' I was told, but had no problem with Surya Namaskar as 'the sun, after all, is my party symbol.'
With the decline of rationalism and the split in Dravida politics, two parties emerged with almost similar ideologies. By now, both have become fully non-ideological. There are, therefore, no larger issues in this election, not even Sri Lanka.
No principles, ideas or slogans mark the two poles of Tamil politics and definitely none can accuse the other of being corrupt.
There are just two warring dynasties, Mr Karunanidhi's, and if I may take liberties, MGR's. Their shared belief is populism.
Amma would give you an entire kitchen, family entertainment and even some gold for free.
The DMK would rail against her freebies but promise to waive student and farmer loans.
Mr Vijayakanth has taken the absurdity to another level now by promising home delivery of free rations.
While god has staged a full comeback and the freebie is the new political ideology, there are some shoots of Dravidian revival.
In the smallest towns, the new hot-selling item at book and newspaper shops is Periyar's writings. "When followers of a political theology disown it," says Mr Venkatachalapathy, "the fringes that survive become more stridently ideological."
In Tamil Nadu today, that reflects in the rising number of young, student Periyarites and also his rising pull among educated young Dalits. How powerful this new convergence can be we have seen already, with the rise of the Ambedkar-Periyar group in IIT-Madras.
The irresistible charm of Indian politics is it can always throw up surprises -- even when it looks as predictable as in Tamil Nadu.
IMAGE: All India Anna Dravida Munnetra Kazhagam supporters perform milk abhishekam on a poster of AIADMK General Secretary and Chief Minister J Jayalalithaa in Madurai. Photograph: PTI