BJP leader Ram Madhav's rant about Vice President Hamid Ansari's absence at the International Yoga Day celebrations goes deeper, says Syed Firdaus Ashraf, deep into their brain.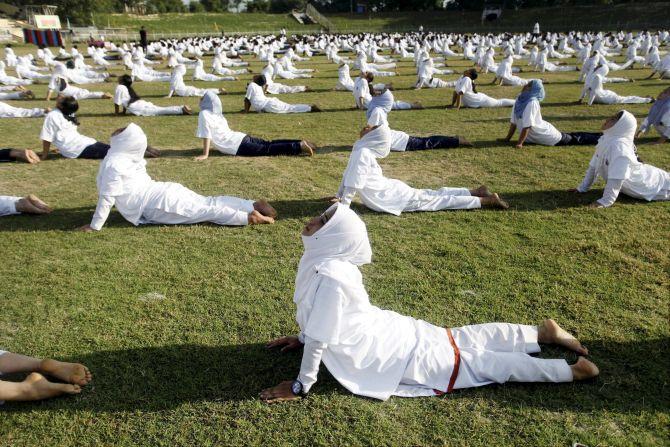 Image: International Yoga Day being celebrated in Srinagar, Jammu and Kashmir, on June 21, 2015. Photograph: S Irfan/PTI Photo.
Question: Why did Ram Madhav, BJP general secretary, react the way he did on Twitter when he did not see Vice President Hamid Ansari on Rajpath at the International Yoga Day celebrations?
Answer: Check his Amygdala.
If you are not a neuro specialist, it is of course natural for you to wonder what is this Amygdala and what that has to do with Madhav's rant.
Amygdala is located in the human brain and performs the primary role of a) processing of memory, b) decision-making and c) emotional reactions.
On Sunday, apparently, Ram Madhav's storage of memories from his anti-Muslim bias days – today, in a complete turnaround, he is cheered as the man behind his party's historical Kashmir pact with the Muslim-majority PDP -- made him emotional and without thinking for a second he decided to tweet the following at 5.14 pm on Sunday.
'Two questions. Did RS TV dat runs on tax payers money completely blackout Yoga Day event? President participated d VP gave a miss?'
Now connect the dots from Amygdala, to Ram Madhav and the RSS.
Why did Ram Madhav only target Ansari?
Simple. Because his name is Ansari.
Did Ram Madhav bother to check whether all the 66 ministers in the Narendra Modi government attended the yoga day celebrations?
No. He only wanted to know why Ansari didn't turn up for the event.
The RSS's overworked Amygdala towards the Muslim community has been in evidence since the organisation was set up by Dr B K Hedgewar in 1925; and as a long-time Swayamsevak, Ram Madhav's intellectual and emotional sustenance flows from the mothership stationed in Nagpur.
As mentioned in his brilliantly written book Khaki Shorts and Saffron Flags: A Critique of the Hindu Right by T Basu, Hedgewar viewed Muslims as 'Yavana Snakes' and felt that Indian Muslims thought of themselves as Muslims first and Indians only later.
Naturally, when Ram Madhav did not see Hamid Ansari doing the Ardhmatsyendrasana and Setubandasana on Rajpath on Sunday, he felt the same way about him as Hedgewar did about the community: A Muslim not doing yoga? Has to be a traitor.
Rafiq Zakaria's book Indian Muslims. Where have they gone wrong? quotes from Guru Golwalker's book We or Nationhood Defined.
According to Zakaria, Hedgewar's successor wrote: 'Muslims and Christians have no place in our national life unless they abandon their differences, adopt the religion, culture and language of the (Hindu) nation and completely merge themselves in the national race. So long, however, as they maintain their racial, religious and cultural difference (with Hindus), they cannot but by only foreigners.'
In other words, if you oppose any of the RSS's beliefs, or for that matter boycott yoga functions even if you are not invited, you are a foreigner and your loyalties do not lie with India.
The least Ram Madhav could have done was to find out why the vice president was not there at the International Yoga Day celebrations; instead he decided to shoot first, and ask questions later.
If he had checked first, he wouldn't have had to eat the humble pie he did on Twitter 24 minutes after his first tweet: 'I am informed dat d VP was unwell. I withdrew my tweet. My apologies because d institution of VP deserves respect.'
And when he got the same outraged reaction online as his party's storm-troopers would engineer during the UPA regime over any infraction, minor or major, he promptly deleted his tweets. But in this digital age, screen shots of his original tweets had already gone viral, leaving him little room to run or hide.
But this is not the first time the Hindu Right has targeted Ansari, ostensibly for his errors of omission but really for what, we all know well. At the Republic Day parade, for which US President Barack Hussein (emphasis added) Obama was the chief guest, Ansari drew the right-wing twitterati's ire for not saluting the tricolour as the national anthem was being played.
As the storm raged and no one from the establishment spoke up for him, the vice president's office had to finally issue a statement: 'When the national anthem is played, principal dignitary and persons in uniform take a salute. Those in civil dress stand in attention.' At the Republic Day parade, the President of India, as the Supreme Commander of the Armed Forces, takes the salute and by protocol the vice president is required to stand in attention, which Dr Ansari, ever the stickler for protocol, did. As per the Flag Code of India, 'When the national anthem is played, all persons present should face the flag and stand in attention.'
Again, no one bothered to check what the protocol was – available at the click of a mouse – before directing their ire at the vice president.
Do you think mindsets like Ram Madhav are a rarity in the BJP? Let me give you just another example.
Last week, in the Katghar area of Moradabad, Uttar Pradesh, a BJP councillor locked up the house of Shahana Parveen and declared that he would not allow a Muslim family to stay in the Brahmin locality.
In the video of the row that is floating about on the Internet, Vidyasharan Sharma can be seen yelling at policemen and pointing to different homes, 'Yeh Brahmin ka ghar hai, yeh Brahmin ka ghar hai, yeh Brahmin ka ghar hai. Toh yeh Mussalmaan yahaan kaise reh sakte hain?' (This is a Brahmin's house, that house is a Brahmin's, this house too is a Brahmin's, so tell me, how can a Muslim stay among them?). I will not let that happen.'
Sharma even put his own lock on Parveen's house, on camera. The house-owner was too shattered to react, only stating that she had purchased the house legally from the previous owner, a Brahmin.
The previous owner had been unable to find a buyer for two years so when Parveen turned up with the money she was only glad to sell, even though she had been warned by the BJP's Sharma to not sell the house to a non-Hindu.
The burqa-clad Shahana Parveen lodged a police complaint against Sharma but, realising the futility of it, finally decided to sell and move out, rather than putting up with a life of being bullied.
For the record they may say politically correct things about the Muslim community, swear by Sab Ka Vikas, but if you want to know what the BJP really thinks about Muslims, look no further than Ram Madhav and Vidyasharan Sharma's utterances. They simply cannot prevent their Amygdala taking control of their behaviour.