'You were a good man, a luminous soul. You gave me more than I could ever thank you for.'
Rajeev Srinivasan remembers a beloved uncle who passed into the ages recently.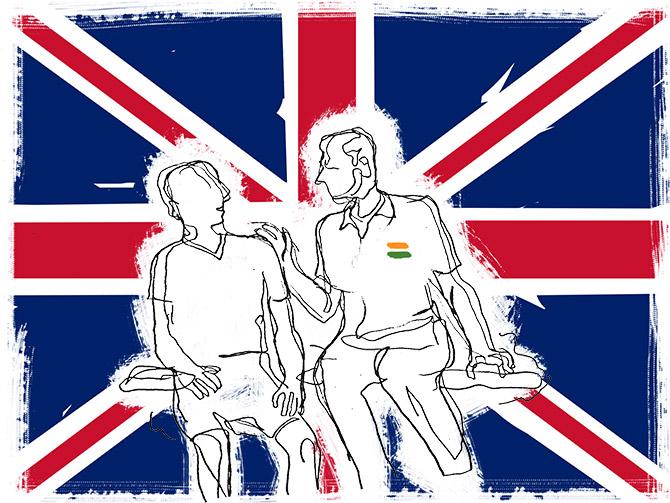 My British uncle passed away.
I should have called him Uncle Jay, because he was my mother's cousin, and a generation older. But for some reason, I called him 'chettan', elder brother, although he was 18 years older.
And he wasn't exactly British. Although he worked most of his life for the UK National Health Service, he remained Indian in outlook.
He was also, after my father died 17 years ago, a father figure, giving me the sage advice a wise and kind elder does, and which usually falls on deaf ears.
My father and he were great friends. My father, a professor of English, called him an unfailingly courtly 'English country gentleman', and he loved visiting him.
Somehow, uncle and I became great friends, too. He transferred his affection for my father onto me. We spoke for hours when he made his annual visits to India, and auntie and my mother would go off to temples.
We didn't agree on politics. He rather liked the Labour party, and, earlier, Nehru. I argued with him endlessly about Nehru.
Uncle and I spoke every couple of weeks. Apart from politics, he loved to tell me about his little grand-daughter A, who was the apple of his eye. I could imagine his eyes lighting up when he spoke about her. She is, in fact, adorable.
I shall miss those long phone calls.
So when uncle passed away in late December, he left a huge void. I used to seek his advice on many things. As a doctor, on health issues, too; every now and then I catch myself thinking, when I experience a medical problem: 'I'll ask uncle'. And then I remember.
I saw him as a pillar of strength. As a physician who had observed people carefully for a half-century, he had developed penetrating insights. He could tell a lot about people from their body language, rather than what they said.
When I had severe marital problems, he told me some home truths that I didn't really want to hear, firmly nudging me towards reconciliation.
Apart from insight, what was most striking was his generosity. He was willing to give his time and attention without being ostentatious about it or making you feel it was a favour.
He was also a good family man. Auntie R and he traveled to India without fail every year. Often, we organised get-togethers so that they could meet a lot of our large, extended family.
Uncle was devoted to his two daughters, and he had great tales about them. Cousin U apparently didn't think much of his medical skills when she was ill as a little girl. She tolerated his treatment, but finally, in exasperation, asked him if she could be taken to see a real doctor!
Cousin S's tribute at his funeral service was moving and funny, as she remembered the little private jokes the family had.
Uncle had a wicked sense of humour, and one of our favorite topics was how to tweak Blimpish Britons who had a wholly unrealistic idea of how their country had wrecked India.
He was amused by the fact that even a thoroughly disorganised India had overtaken Britain's GDP in just seventy years: That showed how much they had looted from us.
Uncle enjoyed history, and was formidably well-read. With his dry humour, he could easily come up with plausible theories that would fox his listeners. We sometimes collaborated on these theories, for instance one about Christian conversions in Kerala.
Uncle had a keen interest in fine whiskey as well, and once when I visited, he had a bunch of his Indian doctor friends over, who were equally fond of his single malts. He picked up exotic brands, too, tasty ones I had never heard of. I like to remember him ensconced in his favorite chair with a crystal glass of amber liquid in hand, chatting away.
Uncle had a way with people: We all liked him, and each of us thought he had a special consideration for us because he treated us with respect and interest.
At his funeral service, I listened to the eulogy by T, his accountant, one of his best friends, and I could relate to everything he said: How uncle always knew the right words, how unfailingly polite and humble he was. A true gentleman and a scholar.
Uncle did have a full life, and even though I am sad that he is gone, he lived well, tasting success in his profession and in the old-age care homes auntie and he set up, helping thousands of elders in their last days, and bringing in Indian/Filipino nurses to care for them.
In between, he had the usual run-ins with the authorities as well as with irate patients. He told me his golden rule: Anybody who wrote him a polite but firm complaint was to be taken seriously, for they would go the distance; someone who ranted and raved had shot his wad.
Uncle also did another intriguing thing he had figured out through observation: When he held a party, he'd tip the wait-staff up front, so they always gave his guests great service; and then he'd tip them some more afterwards. He knew how people react.
My earliest memory of uncle is as a small boy. He was away at college in Bangalore, and he came to visit. He brought me a toy helicopter, which I promptly destroyed.
Then he took me for a walk. I quite happily went one way, but then refused to walk back. My mother says poor uncle, a large man, carried me all the way back, all sweaty and uncomfortable and dishevelled in the heat and humidity of Trivandrum.
Years later, I thought that's what uncle did for me: Metaphorically speaking, he carried me through my trials and tribulations, never mind his own discomfort.
I remember uncle and auntie visiting us shortly after their wedding. There were black-and-white photographs of them in our garden, but I can't find the album.
They have lived in Britain for some 50 years. I have invited myself to their lovely home in Sussex several times, and once I even inconvenienced them by falling ill when I visited.
I never had the opportunity to reciprocate, partly because auntie and uncle never liked to impose themselves on others, and stayed in nice hotels when they came to visit. They would also kindly invite us over for a meal.
The only time I had an opportunity to treat them was once when they came to San Francisco along with auntie's brother and sister-in-law. I packed them all into my little red two-door BMW, which must have been uncomfortable for them, and took them to a Burmese restaurant. They were all well-traveled, and it was nice to see them enjoy my then-home town.
Uncle faced a lot of challenges with equanimity. His father died when he was 19. In Britain, I am sure things were not all hunky-dory for an immigrant doctor (but he always spoke with great affection about a mentor who took him under his wing and trained him).
Auntie and he started a retail venture, and it failed, straining their finances. Some relatives in India cheated them out of a whole lot of inheritance money. Then their nursing homes were a constant worry, but eventually they were running smoothly.
But he suffered a huge blow when his son-in-law P passed away suddenly, leaving behind a baby daughter. I don't think uncle ever totally recovered from that. That was the last time I saw him too, in 2017, when I made a quick condolence trip.
I could have gone to see him in 2019, because I went as close as Paris for a conference, and I now regret not having made the trip. If only...
Farewell and godspeed, uncle. You were a good man, a real mensch, a luminous soul. You gave me more than I could ever thank you for.