Bereft of options when Keya Sarkar arrives at a charitable eye hospital in Santiniketan she is pleasantly surprised -- not just by the building but also by the patience of the tribals who await their turn and the overburdened doctors.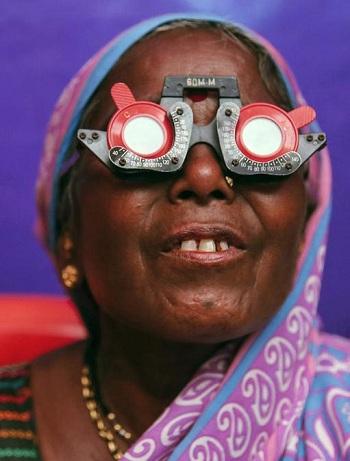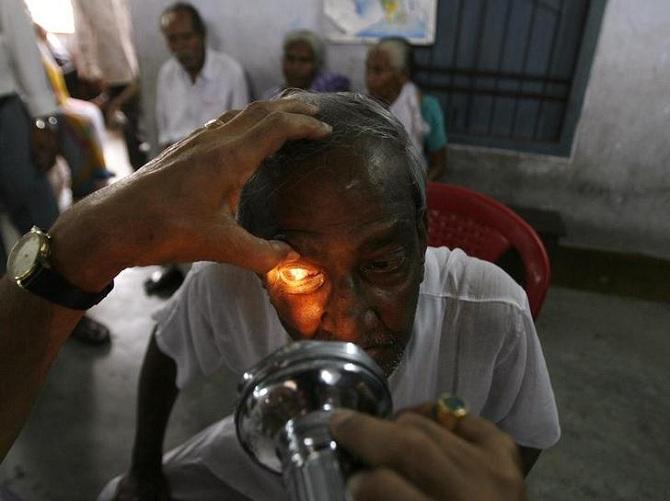 IMAGE:

A man gets his eyes tested at a free eye-care camp set-up by a voluntary organisation in West Bengal.

Photograph:

Rupak De Chowdhuri/Reuters

.

Most doctors' clinics in and around Santiniketan are afterthoughts of medical shops. So most of them are housed either below staircases behind the medicine shop or in some suffocating antechamber. The waiting room often comprises wooden benches placed on top of concrete slabs covering the drain in front of the shop.
Not used to such non-luxurious conditions at a time when one is already feeling wretched, I normally postpone medical attention till I can get to Kolkata. Thankfully, maybe because of the clean air that we breathe and the home-grown vegetables that we eat I do not fall ill too often.
Recently, however, when I had an eye infection and was not planning to go to Kolkata any time soon, I decided to ask around for good eye specialists. A friend suggested I go to a nearby eye hospital run by a charitable trust. Not used to getting charitable medical attention I was a little reticent because I thought it would be unfair to avail of subsidised attention when I could afford more.
Anyway, bereft of options I arrived at this charitable hospital and was pleasantly surprised.
The waiting room was large, airy, with lots of seating. The reception was friendly and efficient; the doctor's fee Rs 20!
Even though I was complaining of an eye infection I was first sent off to do a routine vision test.
As I waited in line I noticed that the old gentleman, who was having his eyes tested before me, was unusually quiet while the ophthalmologist kept trying out new lenses. His daughter or daughter-in-law, who was accompanying him, was shouting at him. "Please read what you see," she was shouting. She waited. The ophthalmologist waited. But the old gentleman refused to say anything.
The woman looked around helplessly, and then realising that I was waiting for my turn, said apologetically, "What to do. He can't see or hear."
Afterwards, as I sat in the large waiting room -- this time to see the doctor -- I noticed that most of the others, who were waiting, were tribals from around the area. Many of them seemed to have had come from far, but were waiting patiently for the doctor's assistant to call their number. They had their legs folded as they sat on the chairs and did not seem at all anxious about the length of the wait. Quiet different, I thought, from my experience in cities, where people are either incessantly talking on their phones as they wait or ask the assistants at regular intervals about how much longer it would take.
When the assistant called me in, the doctor was attending to an elderly gentleman. The doctor asked him about his problem. The gentleman said he could not see clearly. The doctor asked whether the fact that he couldn't see was with his specs or without. He said without. The doctor rebuked him and said, "You came to me with this problem and we gave you a prescription for your spectacles, but if you don't wear it how will you be able to see?"
"Why don't you wear them," she asked.
The patient replied that it was because it hurt his ears. Not wanting to digress, the doctor asked whether he could see with his spectacles. The gentleman kept quiet for a while and then said softly, almost under his breath, "I still see blurred."
The doctor looked exasperated and in an I-give-up tone said, "Wear your specs regularly and come back to report."
I finished my time with the doctor and walked out of the hospital. I could not help but think of the patience of these doctors. It must surely match that of their tribal patients.