'The Aam Aadmi's prophet is out of touch with both the city and his own flock,' says Sunil Sethi.
Illustration: Dominic Xavier/Rediff.com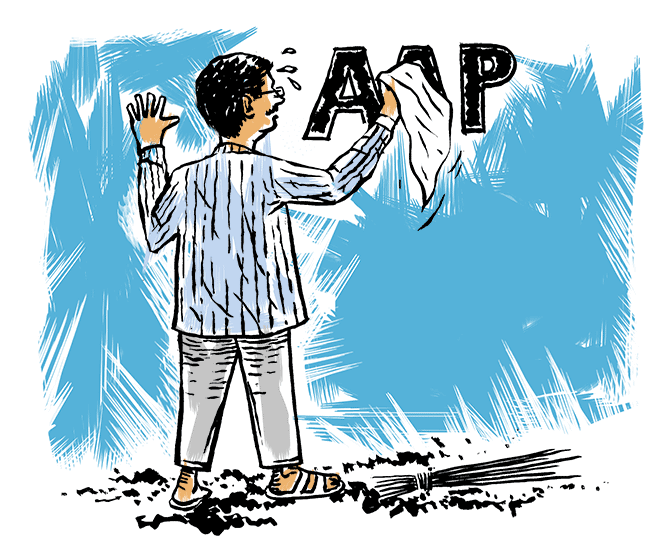 After more than 40 years of living in the same house in a south Delhi neighbourhood, I recently moved to a temporary flat a few blocks away.
Close by the old house stands a magnificent 16th century Lodi dynasty mosque, badly neglected by the Archaeological Survey; next to it a large municipal school.
Both are plagued by a humongous garbage dump that also services the colony next door where, ironically, reside some of the country's most influential legal luminaries.
Years of protests have failed in regular clearance of mountains of refuse where cows and other strays forage freely.
It is a fearful health hazard for hundreds of schoolchildren who cross it daily.
The garbage dump near my new home is smaller, but ruled by street dogs so vicious that they hunt and howl like packs of wolves all night. They put the fear of God in thieves and homeowners alike.
This bleak dystopian scenario in garbage disposal and waste management is visible throughout the city; come the monsoon, epidemics of dengue, malaria and fevers will stretch hospitals and mohalla clinics beyond breaking point.
Researchers like Bhanu Joshi and Eesha Kunduri of the Centre for Policy Research who conducted recent fieldwork in the working-class resettlement colony of Mongolpuri in northwest Delhi report accumulation of filth as a major governance failure.
'Aap gandagi to dekh hi rahen hain, (You can see the filth everywhere),' said respondents, now aspiring to middle class standards, to Ms Kunduri's questionnaire.
The BJP has been entrenched in Delhi's three municipalities for a decade, and in the recent municipal election, the Aam Aadmi Party was thrashed, with the BJP sweeping 181 of the 272 seats for a third term. (AAP was down to 48.)
Unlike its triumph in the assembly election two years ago, there was hardly a broom in sight during the campaign; AAP's 'Jharoo King' Arvind Kejriwal received desultory attention from voters.
Chronic civic ills like garbage disposal, and cash-strapped services like hospitals, are managed by the municipal corporations.
In addition to the capital's multiplicity of power centres, the BJP-AAP political logjam at the top means that 'Swachh Bharat' will leave India's capital untouched.
The BJP's recent success can be ascribed to one main reason: Arvind Kejriwal's incredible loss of image and collateral downgrade of AAP's reputation.
In addition to Narendra Modi's rise as a pan-Indian leader, the BJP fielded new faces in virtually all constituencies.
AAP, on the other hand, has consistently lost its moral compass and moorings.
Many of its ragtag tribe have been exposed as a bunch of cheats, crooks, wife-beaters and wheeler-dealers.
Since 2015 more than a dozen of its 67 MLAs and ministers have faced dismissals, arrests and jail terms.
Former law ministers Jitendra Singh Tomar (fake educational degree) and Somnath Bharti (domestic violence and setting his dog called Don to bite his pregnant wife) have served terms in Tihar; MLAs like Amanatullah Khan, Dinesh Mohaniya and Prakash Jarwal were arrested on charges of molestation and sexual harassment; others have been accused of land grab, assault, abetting suicide, desecrating the Quran, inflaming caste rivalries, among other allegations.
The scandal currently convulsing the party concerns Kapil Mishra (former water minister just as the city is gripped by acute water scarcity) accusing the chief minister of taking a cash bribe of Rs 2 crore, money laundering, fixing land deals for his late brother-in-law and taking cuts on amenities like water tankers and retiling of footbridges.
Mr Mishra may be slyly put up by political rivals, but the irony is inescapable: The crusader who made his name and fame as purging national politics of corruption is now taking a direct hit.
How does that make AAP different from any other party?
In one respect Delhi is a capital unlike others. Many of its past rulers have been long-term residents of the city with an acute awareness of its complex structures of ownership and administration, and a finger on the pulse of competing interests and a restive population.
From Indira Gandhi to Atal Bihari Vajpayee, key appointments, of lieutenant governor and top administrators, were in the prime minister's gift.
Mrs Gandhi (and later Rajiv and Sonia) attended art exhibitions and L K Advani could be spotted browsing in bookshops.
Even an outsider-turned-insider like P V Narasimha Rao had a wide range of non-political acquaintances and interests.
Files pertaining to tree-cutting on the Ridge or cultural appointments went up to the PMO or home ministry.
Mayors were (and remain) powerless figureheads, but corporators were manageable.
Grace-and-favour offerings, including the thankfully abolished habit of subsidised government housing to media favourites, were commonplace.
In short, many of these figures behaved like benevolent monarchs with the common touch.
Narendra Modi and Rajnath Singh don't have old or deep roots in Delhi.
Most unaccountable of all is 'Raja' Arvind Kejriwal, the Aam Aadmi's prophet, who is out of touch with both the city and his own flock.