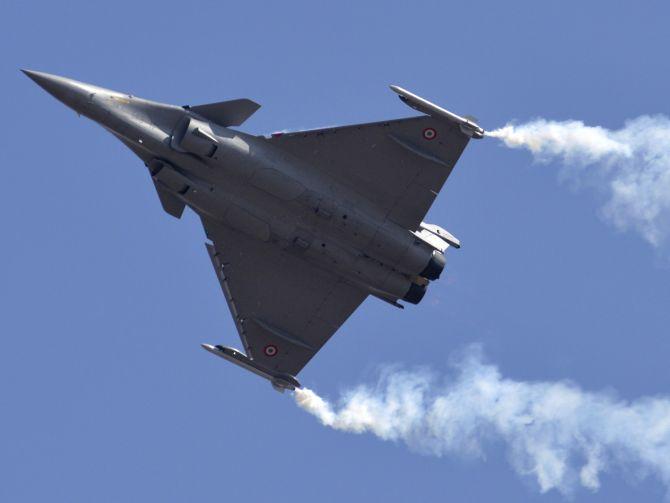 A year into the present government's tenure, several worrying aspects impinging on the country's defence preparedness have been brought into the public domain. The Comptroller and Auditor General has highlighted the inadequacy of weaponry and ammunition stocks, which would enable us to fight a two-front war (against China and Pakistan together) for more than 20 days, against the stipulated norm of 40 days.
At the same time, it has reportedly been decided that the approval earlier given to the army to raise an additional corps comprising some 90,000 soldiers and associated paraphernalia will now stand reduced to 35,000. Outright purchase of 36 Rafale aircraft has been directed, as against the earlier decision to procure 16 and manufacture 110 in India, making for a total of 126. Since there has been no explanation of what has occasioned these changes, the public has been left "reading the tea leaves".
This is as good a time as any to draw up some sort of a balance sheet of how the government, which came in with a promise of enhancing defence preparedness, has performed over the last year.

First, the positives; a much-needed naval base, INS Sardar Patel, has been commissioned at Porbander. A new state-of-the-art destroyer, INS Visakhapatnam, was launched at Mazgaon Docks Ltd in Mumbai a few weeks ago and another major warship, an anti-submarine Corvette, being built at Garden Reach shipyard in Kolkata, will take to the sea later this month.
And yes, with the decision to buy the Rafale aircraft outright through inter-governmental negotiation, contract finalisation may not take too long, though the delivery time frame is likely to extend well beyond the two-year period that is being claimed. Approval for procurement of M77 Howitzers for the army has just been accorded.
As for negatives, there are quite a few. The "buy two and build four" submarine project accepted earlier was converted after this government took over to build all six; a suitable platform was to be identified within three months -- but, eight months down the line, this is still to happen.
The head of the Defence Research and Development Organisation was summarily removed from his post, which has since been lying vacant for several months with a civil servant, the defence secretary, in charge. The 126-aircraft deal that was to be contracted in 2014-15 now lies somewhere unknown.
And what touches veterans directly, the One Rank One Pay promise of the previous government -- reiterated forcefully by no less a person than the prime minister himself -- lies unimplemented, with some reports suggesting that it might be palmed off to the Seventh Pay Commission.
The two ship-building positives mentioned earlier as well as the M77 guns are carry-overs of earlier years. So, in effect, the new cup is pretty empty with not many tea leaves to count.
The reasons for this disappointing state is a question that any responsible citizen must ask of its government. What change in security scenario has occurred, that has led to such a drastic whittling down of the numbers that the army had been projecting for many years as essential to cope with assertive Chinese presence on the border? If we need to be prepared for a two-front war lasting 40 days, why are we capable of doing so for only half that period?
And what are the pros and cons of dumping the 126-aircraft deal in favour of purchasing 36 planes outright? And finally, some even more serious questions: what is the rationale for readiness to fight a two-front war, or for 40-45 squadrons of fighter aircraft?
It was in 1964, after the war with China, that the Emergency Committee of the Cabinet considered the security situation and postulated the threat of a two-front war. While doing so, it approved an 8,25,000-strong army and a 45 fighter-squadron force level for the air force. The first figure has, over the last five decades and through successive increments, risen to over 1.1 million, while the second has never been reached; presently it hovers around less than 35.

In the meantime, several things have changed. Pakistan is no longer the country that it was in 1964, having lost half its size and population. Fighter aircraft are no longer Mysteres, Vampires and Gnats -- or even MiG-21s -- but have gone several steps up the ladder. Missiles which can hit targets at long ranges and with great accuracy are the norm in the inventory of most countries. India and its two possible adversaries are all nuclear weapon states.

The global scenario itself has radically changed, and to talk of conflicts between the three countries which could last 40 days defies credibility. But amazingly, the concept of a two-front war has remained unchanged, as also force levels approved in a different age and time.

Successors of the ECC -- the Cabinet Committee on Political Affairs and the Cabinet Committee on Security -- should have articulated the changing environment, of which military capability was only one part. But, except for some deliberations by bodies constituted to examine the specific needs of the armed forces, no comprehensive reappraisal has been made till today.
In their 2001 report, a group of ministers headed by then Deputy Prime Minister L K Advani, had recommended formulation of a National Security Strategy as a matter of urgency, but 14 years down the line this suggestion remains unimplemented. Not a few National Security Advisory Boards have made attempts to draft such a document but it remains elusive, at least until now; this, when several countries, Russia, China, France, Japan, UK among them and not just the US, regularly articulate their strategies.
In this background, every demand of the armed forces remains essentially anchored to 1964 and its fulfilment or otherwise largely a function of money availability. The military makes its perspective plans but these are essentially 'wish lists', as they do not flow from a well-reasoned and accepted overall security strategy.
Such adhocism will not take us far; on the contrary, it will continue to result in wasteful exploitation of scarce resources. The government must seriously consider constituting a high-level commission which will look at needs of national security in totality, enmeshing its various constituents in one holistic strategy.
This, among other things, will determine the kind of military capabilities that India should have and the methodologies and resources that acquiring them will require. We have to re-establish, de novo, the forces needed to effectively safeguard the nation's security interests in the emerging environment. Nothing should be considered sacrosanct in such a study and every projection subjected to the most critical scrutiny. Unless we do this, defence preparedness will continue to remain insipid, lose credibility and leave even the tea leaves difficult to read.
Image: A Dassault Rafale combat aircraft, which has been selected by the Indian Air Force for purchase. Photograph: Reuters