Prime Minister Narendra Modi's visit to South Korea is considered essential in strengthening defence ties, enhancing economic cooperation and forging cultural ties between the two countries, says Dr Rahul Mishra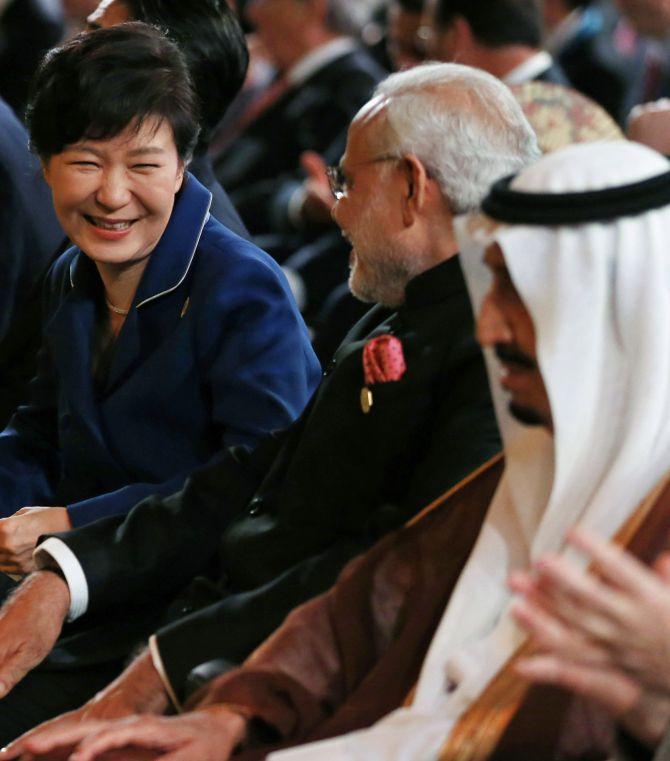 South Korea's President Park Geun-hye speaks with Prime Minister Narendra Modi at the G20 leaders summit venue in Brisbane November last. Photograph: Jason Reed/Reuters

On Monday, Prime Minister Narendra Modi begins his two-day state visit to South Korea as the last leg of his three-nation tour. Modi is heading to Seoul after his successful visits to China and Mongolia, which took place on May 14-16 and May 17 respectively.
While Modi's China visit has been the highlight of his three-nation tour, his visit to South Korea is no less important considering the fact that South Korea is the world's fifth largest exporter and seventh largest importer, 13th biggest economy both in terms of GDP (Gross Domestic Product) (Nominal) and GDP (PPP), and also ranks 10th in terms of annual defence expenditure. Additionally, South Korea is one of the major economies of East Asia, which is of tremendous significance for India's Act East Policy. It may be noted that as part of its Act East Policy, India is striving to look beyond Southeast Asian region, and engage the countries of wider East Asian region in a more comprehensive fashion. Modi's visit is an integral part of that effort.
Modi had met the South Korean President Park Geun-hye earlier, on the sidelines of the East Asia Summit in Nay Pyi Taw in November 2014 and had held bilateral talks on strengthening ties. It was also reported in the media that Modi's bilateral meeting with Geun-hye was one of the most productive meetings New Delhi held on the sidelines of the East Asia Summit. In fact, it was during Modi's meeting with the South Korean leader that she invited him to visit her country.
South Korea has gained considerable salience in India's strategic and economic calculus in the past two decades, especially in the context of Look East/Act East Policy. Consistent exchange of high-level visits between the leadership of two countries in the past years demonstrates that New Delhi and Seoul understand the virtue of working together to realise the Asian Century.
India invited former South Korean president Lee Myung as the chief guest on the occasion of the 61st Republic Day celebrations in January 2010. That was a landmark visit in the history of India-South Korea relations as the bilateral ties were elevated to the level of strategic partnership from the long term cooperative partnership for peace and prosperity.
In July 2011, another milestone was achieved during the state visit of the former president Pratibha Patil to South Korea. The two countries finalised the much-awaited Civil Nuclear Energy Cooperation Agreement. Later, in March 2012, the then prime minister Manmohan Singh visited South Korea to participate in the Nuclear Security Summits; and in January 2014, Geun-hye paid a state visit to India.

During Modi's short but high-octane visit, several pacts are likely to be inked. Modi's itinerary includes several important items, which are worth mentioning: First, during the visit, much focus is likely to be devoted to make the already strong economic relationship more broad-based and sustainable. South Korean companies such as Samsung, LG and Hyundai have become household names in India today, having a major share in the Indian market. Naturally, therefore, widening the scope of economic cooperation with Seoul would be the main agenda of Modi's South Korea visit.
A visit to the Hyundai Heavy Industries shipyard is scheduled to explore cooperation possibilities in shipbuilding, cooperation in IT, science and technology, space cooperation form the core of deliberations on economic issues. With Modi's 'Make in India', several South Korean companies are seeing India as a favourable destination for investment. It is expected that Modi will be able to attract as much as $10 billion investment in the manufacturing sector from South Korea with South Korea's Exim Bank as the main investor. There is a possibility of signing an agreement on setting up Korean industrial parks in India. With the burgeoning economic cooperation with South Korea, India wishes to fulfill its objective to comprehensively integrate in the global economy.
While the India-South Korea Comprehensive Economic Partnership Agreement was implemented in January 2010 to smoothen bilateral trade, the trade imbalance tilted in South Korea's favour and India's hesitation to upgrade the CEPA are two main obstacles in the way of bringing bilateral economic cooperation to the next level. While India-South Korea trade figure is higher than that of India-Japan, it is much below its potential. Given that India and South Korea are the third and fourth largest economies of Asia, both countries need each other for the mutual economic development.
Secondly, on the defence front, upgrading their strategic partnership seems on the cards. Indo-Korean defence cooperation has been a major component of their bilateral relationship. In fact, India is one of the five countries to have a security dialogue mechanism with South Korea; others being the United States, China, Japan and Russia. Also, South Korea is one of India's largest arms suppliers.

Defence Minister Manohar Parrikar was in Seoul in April 2015 for holding bilateral talk in the field of the defence with special reference to 'Make in India'. Hence, when Modi is in Seoul, a major breakthrough is expected to be in the defence area with a few memoranda of understanding dedicated to elevating their defence partnership. Shipbuilding is one of the key issues on which the two countries are poised to coordinate their efforts and work together.
Thirdly, for South Korea, India has been a reliable partner in extending its support on the Korean peninsula issue. Apart from China, India is perceived as a potential mediator in maintaining stability and tranquility in the region. India and South Korea are active and common members in several multilateral forums including the EAS, Asian Infrastructure Investment Bank and G-20.
However, all is not well with India-South Korea relations. One may argue that the biggest challenge before Modi's South Korea plan is implementation. Sadly, India has failed to walk the talk on POSCO investment in India and the project has not been able to take off till date. Furthermore, the decision to develop Ayodhya as a sister city of South Korea's Gimhae was taken in 2001, and even after more than a decade-and-a-half, it has not yielded any tangible results. To start with, the government should focus on implementing these two projects before getting on to new projects.
Clearly, Modi's East Asia tour is closely connected to the 'Make in India' campaign, which is now seemingly transforming into 'Make, Market and Research in India'. There are three prime movers in the Asian economies, namely: China, Japan and South Korea. India's relations with Japan are on the right track. Modi's visit to Japan last year in August-September 2014 was a testimony to India-Japan bonhomie. However, India's hesitant approach vis-à-vis Japanese overture is clearly noticeable.
With China, India still needs to mend the ties in certain aspects such as border dispute, huge trade imbalance and India's concerns on the controversial China-Pakistan Economic Corridor. In the East Asian region, India's relations with South Korea are almost hassle-free, and could realise their true potential if projects are implemented systematically.
Thus, with China, Modi needs to 'repair' ties (which he is doing with considerable success), with Japan there is a need to 'establish' a multi-dimensional linkages, while with South Korea, there is a need to 'strengthen and consolidate' the already existent strong partnership. It is in this context, Modi's visit to South Korea is considered essential in strengthening defence ties, enhancing economic cooperation and forging cultural ties between the two countries.

The author is a research fellow at the Indian Council of World Affairs