The $10.5 billion arms and equipment deal helped to arrest the recent drift in the 'special and privileged' strategic partnership, observes Brigadier Gurmeet Kanwal (retd).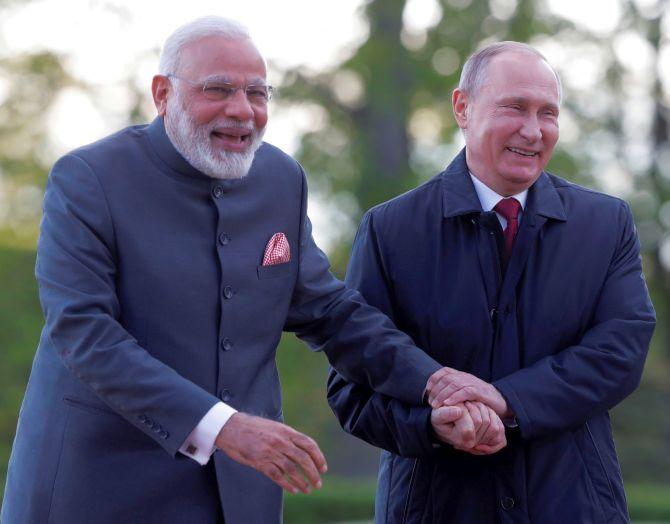 IMAGE: Prime Minister Narendra Modi and Russian President Vladimir Putin at their meeting in St Petersburg, Russia. Photograph: Mikhail Metzel/TASS/Host Photo Agency/Pool/Reuters
Defence Ministers Arun Jaitley and General Sergey Shoigu jointly chaired the 17th meeting of the India-Russia Inter-governmental Commission on Military-technical Cooperation on June 21-23, 2017, in Moscow.
The two sides agreed on a roadmap and signed a protocol to take defence cooperation to a higher level through the joint development of future weapons systems and military equipment, enhanced joint training and the exchange of visits.
According to news reports, India will acquire arms and equipment worth $10.5 billion (Rs 67,604 crore/Rs 676.04 billion) from Russia including five S-400 Triumf advanced air defence missile systems, four Grigorivich-class frigates and 200 Kamov-226T light helicopters.
Russia will also lease its second nuclear-powered submarine to India after INS Chakra. Jaitley invited Russian companies to participate in defence manufacture in India as part of the government's 'Make in India' policy.
The meeting helped to arrest the recent drift in the relationship that has been described as a 'special and privileged' strategic partnership since 2000.
India's new policy to diversify its sources of defence procurement, especially its reliance on Western weapons platforms, despite their greater cost, had not been received well in Russia and the relationship had tended to deteriorate into a transactional rather than a strategic one.
The relationship with Russia goes back to the time India got its Independence.
The erstwhile Soviet Union and its successor State Russia have stood by India on Jammu and Kashmir over several difficult decades. One-sided UN Security Council resolutions on Jammu-Kashmir were vetoed by the Russians many times.
The Indo-Soviet treaty of 'peace, friendship and cooperation', signed before the 1971 War with Pakistan, stood India in good stead. Though the agreement was not a military alliance, India was perceived by the United States and its Western allies to have joined the Soviet camp.
The 1971 agreement signalled the de facto end of non-alignment, which John Foster Dulles, the US secretary of state (1953 to 1959), had called 'immoral'.
As part of its foreign policy, India also did not lag behind in supporting Soviet or Russian positions. Now, an era of 'Cold Peace' appears to have dawned over Eastern Europe and Putin's Russia has begun to gradually drift towards China and its ally Pakistan.
However, it is a relationship on the rebound and may not amount to much in the long run. Due to Russia's apprehension about China's military assertiveness, the China-Russia strategic partnership is unlikely to gather momentum despite the US 'pivot' or strategy of re-balancing to the Indo-Pacific and the growing India-US strategic partnership.
India's acquisition of weapons and defence equipment from Russia has been the most enduring part of the India-Russia strategic partnership.
Almost 70 per cent of India's defence acquisitions are still sourced from abroad, mainly from Russia. Russia had provided several high-tech weapons platforms to India when India was still subject to technology denial regimes.
Civil nuclear cooperation between the two countries has a long history. Russia gave India nuclear submarines on lease and provided assistance for the development of the cryogenic rocket engine.
State-of-the-art fighter-bombers, including the MiG-25 strategic reconnaissance aircraft, were sold to India. The two countries cooperated on the Russian GPS satellite system called GLONASS. The Russians had offered India the S-300/S-300V BMD system as far back as the mid-1990s.
During the December 2014 summit meeting between Prime Minister Narendra Modi and President Vladimir Putin, Russia agreed to supply 12 nuclear power reactors over the next 20 years.
Russia also supports India's quest for membership of the Nuclear Suppliers Group and related groups.
The Soviet Union sold hi-tech weapons and defence equipment to India at 'friendship prices' and on the basis of barter trade as India did not have sufficient foreign exchange reserves.
However, military-technical cooperation remained a buyer-seller, patron-client relationship.
While fighter aircraft and tanks were manufactured under licence in India, no transfer of technology ever took place and India's defence technology base remained low.
The co-production of the BrahMos supersonic cruise missile is the only example of a successful joint venture.
The decline of Russia's defence industry -- production has declined by almost 90 per cent in five years -- after the collapse of the Soviet Union had an adverse impact on India's defence procurement.
India found it difficult to obtain spare parts, get its equipment overhauled and seek upgrades.
There were unacceptable time and cost overruns in executing pending orders.
The five-year delay and the three-fold cost escalation in the acquisition of the INS Vikramaditya (formerly, the Admiral Gorshkov) aircraft carrier is a typical example.
Now these challenges are gradually being overcome, but the Russian defence industry has fallen behind the West in the development of cutting edge weapons technologies.
A new concern is about the techno-commercial feasibility of the joint development and production of the fifth generation fighter aircraft tentatively called PAK-FA or Sukhoi T-50.
The Indian perspective for future defence technology cooperation will be shaped by PM Modi's drive to 'Make in India' with ToT.
Russian OEMs will need to demonstrate their competitiveness and enter into strategic partnerships by way of joint ventures with Indian public and private sector companies to bid for future contracts in keeping with the Defence Procurement Procedure 2016.
If they are nimble enough to rival the MNCs, India-Russia military-technical coop will have a bright future.
Brigadier Gurmeet Kanwal (retd) is a Distinguished Fellow, Institute for Defence Studies and Analyses, New Delhi.