The Maharashtra CM is known to choose the right time to hit back at people he considers a threat, says N Suresh.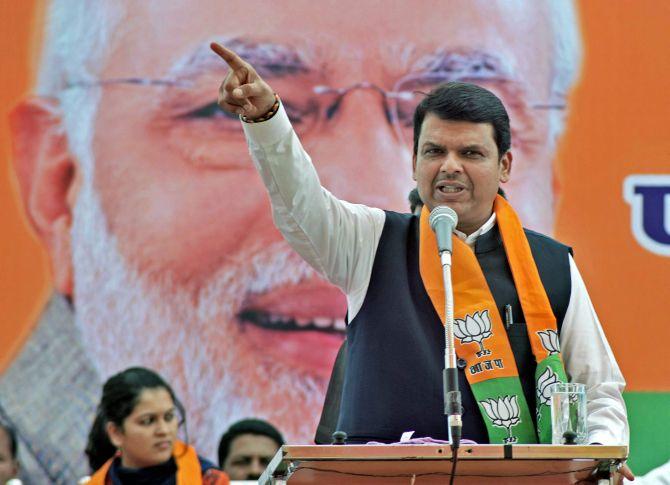 IMAGE: Maharashtra Chief Minister Devendra Fadnavis has sent a clear message across as to who calls the shots, says N Suresh. Photograph: PTI Photo
The Opposition in BJP-led Maharashtra has a new target.
After the resignation of the state's then revenue minister Eknath Khadse, the Congress and Nationalist Congress Party are demanding Maharashtra Housing Minister Prakash Mehta's exit.
Mehta has been accused of allowing an unauthorised transfer of extra building rights in a slum rehabilitation project in Tardeo, south Mumbai, in order to favour a particular builder.
Mehta says he has mentioned, in the concerned file, that Chief Minister Devendra Fadnavis had been informed about the transfer, a statement the CM denied.
Congress leaders have demanded Mehta's resignation, but the CM said Mehta cannot be accused of corruption merely on the basis of a file noting.
Mehta has also been accused of favouring a builder in Ghatkopar, a north east Mumbai suburb, where Mehta's son has been given a flat.
However, the lines in these corruption charges are blurred, so Mehta could get the benefit of doubt.
His proximity to BJP boss Amit Shah is an added point in Mehta's favour.
A senior NCP leader explains the backroom equation.
"The CM's post is the most powerful one in the state. But when he has a minister who has an important portfolio, an officer on special duty and other facilities because of his proximity to the chief of the national party," the NCP leader points out, "it hurts the CM. He keeps it in his mind."
Fadnavis is known to choose the right time to hit back at people he considers a threat.
When Radheshyam Mopalwar, the Maharashtra State Road Development Corporation's then managing director, was being targeted, it was rumoured that photocopied pages of the file noting were mysteriously delivered to the media.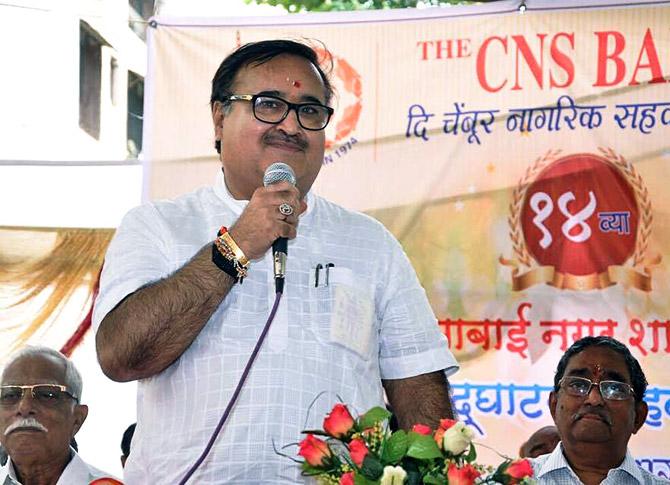 IMAGE: Prakash Mehta is considered close to BJP President Amit Shah. Kind courtesy prakash-mehta.com
The Opposition -- which is in disarray -- has been won over by the BJP and is helping the state government pass bills easily.
Congress leaders are squabbling among themselves. There is a complete lack of leadership with no one taking the initiative.
Even as Congress leader Radhakrishna Vikhe Patil demands Mehta's resignation, the buzz is that he may join the BJP.
Former chief minister Prithviraj Chavan refuses to yield to Vikhe Patil and is fighting to be heard.
Mehta, meanwhile, is slowly building a case of corruption against Congress leaders.
In order to give the impression that the allegations are being taken seriously, an inquiry has been set up.
Meanwhile, Fadnavis has achieved his first goal -- he has sent a clear message across as to who calls the shots.
That, in politics, is enough.